Revitalising economy, improving education
President Barak Obama outlines his agenda for the US and the world in his State of the Union Address
President Barak Obama talked about raising the minimum wage, increasing spending on infrastructure, attacking climate change, streamlining immigration and passing gun-control legislation in his State of the Union Address, which he delivered on February 12. Edited excerpts: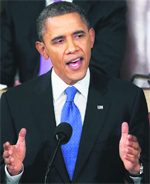 "Tonight, thanks to the grit and determination of the American people, there is much progress to report," said President Barak Obama in his State of the Union Address —Photo: Reuters
Fifty-one years ago, John F. Kennedy declared to this chamber that "the Constitution makes us not rivals for power but partners for progress." "It is my task," he said, "to report the State of the Union—to improve it is the task of us all."
Tonight, thanks to the grit and determination of the American people, there is much progress to report. After a decade of grinding war, our brave men and women in uniform are coming home. After years of gruelling recession, our businesses have created over six million new jobs. We buy more American cars than we have in five years, and less foreign oil than we have in 20. Our housing market is healing, our stock market is rebounding, and consumers, patients, and homeowners enjoy stronger protections than ever before.
So, together, we have cleared away the rubble of crisis, and we can say with renewed confidence that the State of our Union is stronger.
Manufacturing, a priority
Our first priority is making America a magnet for new jobs and manufacturing. After shedding jobs for more than 10 years, our manufacturers have added about 500,000 jobs over the past three years. Caterpillar is bringing jobs back from Japan. Ford is bringing jobs back from Mexico. And this year, Apple will start making Macs in America again.
Tonight, I'm announcing the launch of three more of these manufacturing hubs, where businesses will partner with the Department of Defence and Energy to turn regions left behind by globalisation into global centres of high-tech jobs. And I ask this Congress to help create a network of 15 of these hubs and guarantee that the next revolution in manufacturing is made right here in America. We can get that done.
Now, if we want to make the best products, we also have to invest in the best ideas. Every dollar we invested to map the human genome returned $140 to our economy—every dollar. Today, our scientists are mapping the human brain to unlock the answers to Alzheimer's. They're developing drugs to regenerate damaged organs; devising new material to make batteries 10 times more powerful. Now is not the time to gut these job-creating investments in science and innovation. Now is the time to reach a level of research and development not seen since the height of the Space Race. We need to make those investments.
Energy & climate change
Today, no area holds more promise than our investments in American energy. After years of talking about it, we're finally poised to control our own energy future. We produce more oil at home than we have in 15 years. We have doubled the distance our cars will go on a gallon of gas, and the amount of renewable energy we generate from sources like wind and solar—with tens of thousands of good American jobs to show for it. We produce more natural gas than ever before—and nearly everyone's energy bill is lower because of it. And over the last four years, our emissions of the dangerous carbon pollution that threatens our planet have actually fallen.
But for the sake of our children and our future, we must do more to combat climate change. Four years ago, other countries dominated the clean energy market and the jobs that came with it. And we've begun to change that. Last year, wind energy added nearly half of all new power capacity in America. So let's generate even more. Solar energy gets cheaper by the year—let's drive down costs even further. As long as countries like China keep going all in on clean energy, so must we.
I'm also issuing a new goal for America: Let's cut in half the energy wasted by our homes and businesses over the next 20 years. We'll work with the states to do it. Those states with the best ideas to create jobs and lower energy bills by constructing more efficient buildings will receive federal support to help make that happen.
Education
Study after study shows that the sooner a child begins learning, the better he or she does down the road. But today, fewer than 3 in 10 four year—olds are enrolled in a high—quality preschool program. Most middle—class parents can't afford a few hundred bucks a week for a private preschool. And for poor kids who need help the most, this lack of access to preschool education can shadow them for the rest of their lives. So tonight, I propose working with states to make high-quality preschool available to every single child in America. That's something we should be able to do.
Every dollar we invest in high-quality early childhood education can save more than seven dollars later on-by boosting graduation rates, reducing teen pregnancy, even reducing violent crime.
Four years ago, we started Race to the Top—a competition that convinced almost every state to develop smarter curricula and higher standards, all for about 1 percent of what we spend on education each year. Tonight, I'm announcing a new challenge to redesign America's high schools so they better equip graduates for the demands of a high-tech economy.
Now, even with better high schools, most young people will need some higher education. It's a simple fact the more education you've got, the more likely you are to have a good job and work your way into the middle class. But today, skyrocketing costs price too many young people out of a higher education, or saddle them with unsustainable debt.
Through tax credits, grants and better loans, we've made college more affordable for millions of students and families over the last few years. But taxpayers can't keep on subsidising higher and higher and higher costs for higher education. Colleges must do their part to keep costs down, and it's our job to make sure that they do.
Immigration
Our economy is stronger when we harness the talents and ingenuity of striving, hopeful immigrants. And right now, leaders from the business, labour, law enforcement, faith communities—they all agree that the time has come to pass comprehensive immigration reform. Now is the time to do it. Now is the time to get it done. Now is the time to get it done.
Real reform means strong border security, establishing a responsible pathway to earned citizenship, and fixing the legal immigration system to cut waiting periods and attract the highly-skilled entrepreneurs and engineers that will help create jobs and grow our economy.
In other words, we know what needs to be done. And as we speak, bipartisan groups in both chambers are working diligently to draft a bill, and I applaud their efforts. So let's get this done.
Violence against women
But we can't stop there. We know our economy is stronger when our wives, our mothers, our daughters can live their lives free from discrimination in the workplace, and free from the fear of domestic violence. Today, the Senate passed the Violence Against Women Act that Joe Biden originally wrote almost 20 years ago. And I now urge the House to do the same. Good job, Joe. And I ask this Congress to declare that women should earn a living equal to their efforts, and finally pass the Paycheck Fairness Act this year.
US troops in Afghanistan
Tonight, we stand united in saluting the troops and civilians who sacrifice every day to protect us. Because of them, we can say with confidence that America will complete its mission in Afghanistan and achieve our objective of defeating the core of al Qaeda.
Already, we have brought home 33,000 of our brave servicemen and women. This spring, our forces will move into a support role, while Afghan security forces take the lead. Tonight, I can announce that over the next year, another 34,000 American troops will come home from Afghanistan. This drawdown will continue and by the end of next year, our war in Afghanistan will be over.
Korea, Iran and Russia
America will continue to lead the effort to prevent the spread of the world's most dangerous weapons. The regime in North Korea must know they will only achieve security and prosperity by meeting their international obligations. Provocations of the sort we saw last night will only further isolate them, as we stand by our allies, strengthen our own missile defence and lead the world in taking firm action in response to these threats.
Likewise, the leaders of Iran must recognise that now is the time for a diplomatic solution, because a coalition stands united in demanding that they meet their obligations, and we will do what is necessary to prevent them from getting a nuclear weapon.
At the same time, we'll engage Russia to seek further reductions in our nuclear arsenals, and continue leading the global effort to secure nuclear materials that could fall into the wrong hands-because our ability to influence others depends on our willingness to lead and meet our obligations.
Cyber attacks
America must also face the rapidly growing threat from cyber-attacks. Now, we know hackers steal people's identities and infiltrate private emails. We know foreign countries and companies swipe our corporate secrets. Now our enemies are also seeking the ability to sabotage our power grid, our financial institutions, and our air traffic control systems. We cannot look back years from now and wonder why we did nothing in the face of real threats to our security and our economy.
And that's why, earlier today, I signed a new executive order that will strengthen our cyber defences by increasing information sharing, and developing standards to protect our national security, our jobs, and our privacy.
Gun violence
Of course, what I've said tonight matters little if we don't come together to protect our most precious resource: our children. It has been two months since Newtown. I know this is not the first time this country has debated how to reduce gun violence. But this time is different. Overwhelming majorities of Americans—Americans who believe in the Second Amendment—have come together around common-sense reform, like background checks that will make it harder for criminals to get their hands on a gun.
Senators of both parties are working together on tough new laws to prevent anyone from buying guns for resale to criminals. Police chiefs are asking our help to get weapons of war and massive ammunition magazines off our streets, because these police chiefs, they're tired of seeing their guys and gals being outgunned. Each of these proposals deserves a vote in Congress.
We may do different jobs and wear different uniforms, and hold different views than the person beside us. But as Americans, we all share the same proud title—we are citizens.
It's a word that doesn't just describe our nationality or legal status. It describes the way we're made. It describes what we believe. It captures the enduring idea that this country only works when we accept certain obligations to one another and to future generations, that our rights are wrapped up in the rights of others; and that well into our third century as a nation, it remains the task of us all, as citizens of these United States, to be the authors of the next great chapter of our American story.