TOUCHSTONES
Art, books or faith, it's all a mela
What have they done to promote religious belief, an interest in books or art? If you ask me, very little. They are now rightfully called 'melas' because they are spectacular feasts and little else.
Ira Pande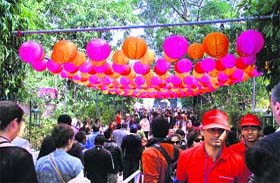 Crowds at the Jaipur Lit-Fest.
THIS is the season for fairs and festivals. Leading them all by a wide margin is the Kumbh Mela at Prayag, an event that is justly celebrated as the largest congregation of human beings at any one spot anywhere in the world. Close on its heels is the Jaipur Lit-Fest, which is surely the largest congregation of writers and readers at any spot on this planet and last – but certainly not the least – is the Art Summit (now called the Art Fair) held each winter in Delhi that threatens to overtake several other smaller art 'melas' held around the world.
Perhaps it is our sheer numbers that make anything the largest event whenever one is organised anywhere in the country, or perhaps it is just our terrific energy and enthusiasm to participate in large congregations. Whatever the reason, it is time to reflect on what they have achieved. Certainly, they have placed us on the world's cultural map, for no one can deny the enormous trade and revenue they generate and the attention they focus on India. But equally, what have they done to promote religious belief, an interest in books or art? If you ask me, very little. They are now rightfully called 'melas' because they are spectacular feasts that add colour and noise to the environment and little else.
In the case of the Jaipur Lit-Fest, it is now mandatory to have a 'controversial' episode. Last year, it was Salman Rushdie, who was targeted by the Muslim extremist groups and this year there was a tit-for-tat response for a ban on Pakistani writers called by the Hindu extremists. Thankfully, that lunatic request was a non-starter but then it was overtaken by some remarks that offended the Dalit community. The fact is that the very success of Jaipur's Lit-Fest has become its greatest liability, for now anyone who wishes to secure his or her two minutes of fame on TV Prime Time has just to find a reason to launch a protest. Of course, our obliging newscasters play the game: after all, heated debates on TV bring in the advertising moolah, don't they? And what of the interesting panel discussions and celebrity authors who come there? Who cares to sit through those dull debates and discussions? Certainly not the celebrity-hunters armed with mobile phones that capture their moment of fame, standing next to an international author. They move from venue to venue, laughing, eating their samosas and drinking their tea or wine: "It is a mela, yaar!"
All this was brought home to me when I attended a great session in Jaipur between Purushottam Agarwal, Diana Eck and Jim Mallinson on the Kumbh Mela. Diana Eck spoke of a project she is currently doing with architect Rahul Mehrotra and her Harvard University students on the concept of the 'instant city' that comes up along the banks of the Sangam that caters to millions of pilgrims and sadhus who come to the Kumbh. It is an academic exercise that touches several areas of human contact, dealing primarily with the notion of urban planning and fleeting habitats. Jim Mallinson is a British sadhu, dreadlocks and all, who came to India to study the Naga sadhus of the Juna Akhara and became a convert. But it was Purushottam Agarwal who reminded us that what we call the Kumbh Mela was once upon a time a congregation of the various heads of the Sanatam Hindu religion who came together at an astrologically appropriate time to debate and discuss the future of their faith. Saints, seers and the learned pundits exchanged their views on spirituality and people heard them expound on life, death and God. Today, it is as if we have sunk to the lowest level of religious belief and decided that the superstitious and pandit-led rituals are greater than the spiritual core of what is possibly the grandest philosophy in the world.
The more we move away from the original Kumbh, the more we begin to focus on what is so immensely impressive: its vast scale, its planning and execution and its outer illumination.
The thought is worth mulling over, for everywhere we have given control over our lives to the dictates of a loud majority. We let our television debates take over what should be an internal dialogue between the mind and heart, our political beliefs to a party of scamsters and hustlers and our own identity to that of the religion we follow. In lit-fests and book fairs, we allow writers and publishers to convince us that if we do not read what everyone is talking about, we must be illiterate, and if we do not appreciate the downright garbage that often passes off as high art, we must be philistines of the lowest order.
Perhaps it is time we re-read the story of an emperor and his new clothes.