OPED

Document
Reasons for Punjab's slow growth
Here is the second and concluding part of excerpts from a chapter by economic journalist Swaminathan S. Anklesaria Aiyar in the report "Economic Freedom of the States of India 2012". Part I appeared on Monday.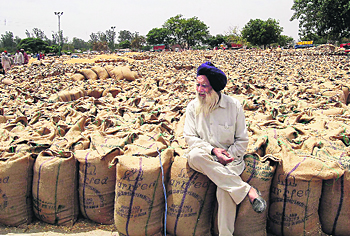 Punjab's relative decline can be traced to several factors, of which the most important is a serious fiscal crunch. This in turn is due mainly to the supply of free electricity to farmers. Other reasons include the agricultural plateau reached by the green revolution; the failure to diversify fast enough out of agriculture; the failure to make the educational investments necessary to induce a switch to service industries like computer software; and very high land prices that have discouraged industry.

The fiscal crunch

Punjab used to have large revenue surpluses in its glory days in the 1960s and 1970s. But in recent decades it has persistently run a high fiscal deficit, which is currently the highest among all major states (budgeted at 3.8% of GDP for 2011-12). This high figure arises mainly out of huge unwarranted subsidies, the chief culprit being free power to farmers. One consequence is that the government is not even able to pay all salaries on time. This leads to demoralisation and cynicism among staff, who look for avenues to make money illegally.

Like other states, Punjab has enacted a Fiscal Responsibility and Budget Management Act, which aims to reduce the state's revenue deficit to zero (that is, borrowing will be used only for capital spending, not current expenditure). [But] the major problem lies in runaway subsidies, above all the supply of free electricity to rural areas.

The ruling coalition of the Shiromani Akali Dal and Bharatiya Janata Party has also resorted to other subsidies to win votes. These include subsidised atta (wheat flour) and dal (lentils and gram), free bicycles to all schoolchildren, and a marriage grant (shagun) to new brides. Punjab is hardly alone in distributing freebies. Other states like Tamil Nadu have given voters colour TVs and laptops. Yet these other states are able to generate a revenue surplus, while Punjab cannot. The main problem is its exceptionally high burden arising from free electricity.

Free rural electricity

Competition between political parties for farmers' votes has led over the years to electricity being supplied by the Punjab government to farmers free of charge since 1998. Canal water is also virtually free.... At one time, subsidised electricity was seen as a way of promoting the green revolution, which required assured irrigation. But, as Ashok Gulati [Chairman of the Commission for Agricultural Costs and Prices] says in a separate chapter in this report, "since demand for such subsidised inputs greatly exceeds the supply, the quantity farmers get is rationed.... Paddy in Punjab and Haryana requires roughly 225 cm of irrigation water per crop. But the annual rainfall is only 60 cm. So, farmers have to pump huge amounts of ground water for the thirsty paddy, depleting the water table at an alarming rate."

Apart from this destruction of aquifers, free farm electricity has now become the biggest cause of the state's fiscal troubles. S.S. Johl, former head of Punjab Agricultural University, says that the state's total debt is Rs78,000 crore ($15.6 billion) and contingent liabilities through guarantees are another Rs 40,000 crore ($8 billion). He estimates that 90 per cent of this debt burden has arisen from the enormous cumulative impact of electricity subsidies, currently running at over Rs 5,000 crore per year.

Johl says that the so-called subsidy to farmers is actually passed on to consumers, and so does not benefit farmers at all. The Commission on Agricultural Costs and Prices determines the minimum support price for different crops based on actual input costs. The subsidy on rural electricity leads to a correspondingly lower support price. This benefits consumers of grain, not farmers. Yet Punjab's political parties find it politically impossible to charge farmers.

Some farmers have huge holdings and up to 150 tubewells each, says Johl, so the rich are benefiting disproportionately from the subsidy.

Meanwhile, fiscal strain means the state government has been unable to build any new power plants for several years... Thus, the political decision to subsidise farm electricity has become an unwitting tax on industry and has hobbled the state's
development.

The green revolution tapers off

Punjab pioneered the green revolution in India through the use of high-yielding seeds, accompanied by high doses of fertiliser and water. Punjab Agricultural University (PAU) modified high-yielding seeds from Mexico and other sources to suit Punjab's agro-climatic conditions. However, by the 1990s, gains from the new dwarf varieties of rice and wheat introduced in the 1960s had mostly worn off. PAU, which had developed the first seeds for the green revolution, has failed to keep up the good work by creating ever-better varieties. Its researchers are demoralised by the state's priorities of wooing farmers and other with massive subsidies, leaving the state government with insufficient money to pay salaries on time, or to fill vacant posts. S.S. Johl says that politicians criticise PAU for not producing enough new high-yielding varieties... but how can demoralised researchers without salaries be expected to produce research breakthroughs? Many good scientists have left for greener pastures.

Private sector agricultural research cannot make good this gap in full. Private seed companies can and have produced excellent new varieties of hybrid maize and genetically modified cotton, because for such crops farmers have to buy seeds afresh from the companies every year and the companies can thus recover their research costs with a profit. But in the case of self-pollinating crops like wheat and rice, farmers can simply save grains from the last harvest and use these as seeds for the next season, without buying seeds afresh from companies. Companies will not do any research for such crops because they have no way of recovering their research costs. For such crops, public sector research is inescapable. PAU used to be at the very fore of R&D in self-pollinating crops like rice and wheat and its decline has therefore affected the growth of agricultural productivity in the state.

Salt deposition on soil

Fast-expanding tubewell irrigation was initially the driving force of agricultural growth, but once 95 per cent of the land had come under irrigation, this ceased to be a source of dynamism. Excessive tubewell pumping, perversely encouraged by the supply of free electricity to farmers, has in some districts exhausted sweet ground water but farmers started pumping the brackish water underneath. This led to salt deposition on the soil, rendering some areas infertile.

The supply of virtually free canal water has deprived the state of revenue to maintain canals and ensure proper drainage.

The state attempted after the 1980s to diversify into fruit and vegetables. But the shift was never fast enough and constant power cuts in rural areas meant that good cold chains-essential for preserving fruit and vegetables-were not possible.

Failures in agricultural marketing

Punjab, like most other Indian states, has an Agricultural Produce Marketing Committee Act that makes it mandatory for farmers to sell most agricultural produce only in government-organised markets called mandis. The Act was supposed to protect farmers from exploitation by private traders offering throwaway prices. The government itself procured major crops like wheat and paddy at specified minimum support prices. However, there is in practice no government procurement of other crops at specified support prices. In the case of these other crops, the mandis have obtained a trade monopoly that is mercilessly exploited by a limited group of traders with political connections. Former Chief Secretary S.C. Aggarwal says that many bureaucrats have attempted to end the monopoly of mandis but met with severe political resistance-traders are prominent politicians and are also traditional financiers of leading political parties. The state government extracts almost 14.5 per cent in various levies from the mandis and this is a major source of revenue.

New Delhi has asked all states to try and make payments directly to farmers if possible, and this has been adopted by some states, including historically backward ones like Madhya Pradesh. But Punjab has not done so.

Failure to catch the services revolution

When Punjab was among the very forefront of states in the 1970s, it had every opportunity to prepare for a switch out of agriculture into industry and services. It was already among India's foremost states in roads, rural electrification and per capita income, and could have invested in education to produce the skills needed for further economic development.... IITs helped spark the computer software revolution in Bangalore, Mumbai and several other Indian cities. But not in Punjab.

One reason for the state's neglect of higher education and information technology was that its politicians never evolved from a mind-set that emphasised agriculture above all else, and focused on buying the votes of farmers through subsidies rather than diversification out of agriculture. Punjab did indeed compete with other states in trying to attract industry but hardly at all in trying to attract high-tech services. So Punjab was left far behind the states in southern and western India that spearheaded the IT revolution.

The state educational system [also] had insufficient interest in pushing for English language education. Other states saw that good English skills were vital to reap the benefits of globalisation, most obviously in the form of business outsourcing and call centres.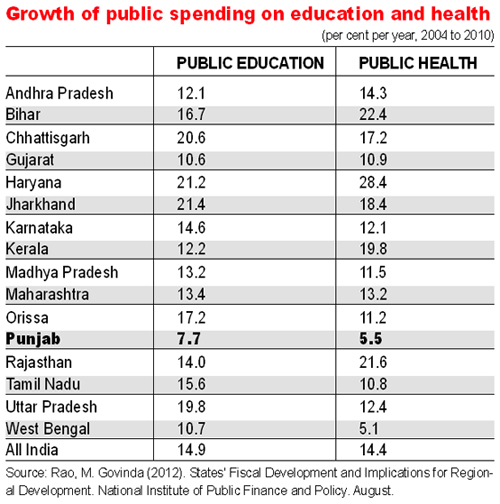 The curse of high land prices
Prosperous rural areas have high land prices and it is natural for Punjab land to be expensive. It is also natural that Punjabis going overseas have for decades sent remittances home and these have typically been used by families to keep buying more land, pushing up prices. However, land prices in Punjab (and indeed in most Indian states) have been artificially inflated by perverse tax and administrative laws.
Unlike other assets, farmland is exempted from capital gains tax and this distortion attracts a flood of money. Moreover, buying land is a hassle-free way of laundering black money. Because of high stamp duty, rural land is typically registered at a tiny fraction of the contract price in order to reduce stamp duty payment. Often half or more is paid in cash under the table and this means that black money can easily be laundered into respectable land. Such money laundering has sent land prices skyrocketing everywhere in India but the rates are highest in areas with flat fertile land, as in Punjab. This is... bad news for industries that need large parcels of land. Other states have plenty of relatively cheap... barren land that can be offered to industries.... But Punjab has very little such land and so is unable to provide land cheaply for industry.
Lack of trade with Pakistan
When the economy was liberalised in 1991, the coastal states boomed, with flourishing exports and imports. Punjab was unable to register similar gains because it was far away from any port.... Trade between India and Pakistan has been blocked or banned since the war of 1965 and existing trade is limited to relatively few items. This has deprived Punjab of the usual gains of international trade.
However, recently Indo-Pak relations have shown signs of improvement, and Pakistan has indicated that it wishes to normalise trade relations. India has welcomed the change. Too much cannot be expected quickly. But it means that Punjab's trade and economic prospects will brighten considerably. Instead of being a deeply land-locked state with poor international trade prospects, Punjab could become the major Indian gateway to Pakistan.