HIMUDA land purchase deals to be probed
Solan, February 11
The manner in which the Himachal Pradesh Housing and Urban Development Authority (HIMUDA) has failed to make use of the 45 bighas of land which was purchased by it in 2011 near Dharampur has put a question mark on the authority's working.
Losar celebrations remain low key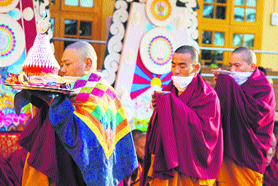 Dharamsala, February 11
The Tibetan new year, Losar, started today amidst prayers. According to the Tibetan lunar calendar it is year 2038. Generally Losar comes in the month of February. The Dalai Lama and other Tibetans offered prayers at the main temple in McLeodganj today. The official celebrations of Losar were missing as the Central Tibetan Administration (CTA) had issued an appeal against these due to the continuing spate of self-immolations in Tibet.
Tibetan Buddhist monks usher in the new year with prayers in McLeodganj on Monday. Photo: Kamaljeet

LPG agencies can't issue new connections
Hamirpur, February 11
The Centre has barred with immediate effect liquefied petroleum gas (LPG) agencies from issuing new connections directly to put a check on the misuse of subsidy on LPG refills by consumers through multiple connections.
Finally, stone of IPH rest house laid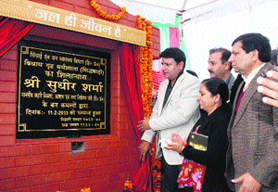 Dharamsala, February 11
The foundation stone of the rest house of the Irrigation and Public Health (IPH) Department was finally laid today by Housing and Urban Development Minister Sudhir Sharma at Sidhbari in Dharamsala. Though funds for the rest house were sanctioned during the stint of previous government, the foundation stone could not be laid due to rivalry between then Industries Minister Kishan Kapoor and then IPH Minister Ravinder Singh Ravi.
Urban Development Minister Sudhir Sharma lays the foundation stone of IPH rest house at Sidhbari in Dharamsala on Monday. Photo: Kamaljeet

Early Detection of Cancer
Hamirpur included in pilot project
Hamirpur, February 11
Hamirpur district has been included in a pilot project for early detection and treatment of cancer in the state. The project being launched by the Indian Council of Medical Research (ICMR) aims to create awareness among people for undertaking tests and screening for identifying cancer cases.
CUHP signs MoU with Chandigarh lab
Kangra, February 11
A memorandum of understanding (MoU) has been signed between the Central University Himachal Pradesh (CUHP) in Dharamsala and the Terminal Ballistics Research Laboratory (TBRL) in Chandigarh for strengthening higher education and research through mutual resource sharing in line with India's defence requirements.
MC against property tax on unit area method
Shimla, February 11
The Shimla Municipal Corporation (MC) has urged the state government to bring about an ordinance so that property tax can be charged on the old system rather than switch over to the proposed unit area method.
Cong leaders warn NTPC, ACC of stir
Bilaspur, February 11
State Planning Development and 20-Point Implementation Committee Chairman Ram Lal Thakur and Bilaspur legislator Bambar Thakur have bluntly told the Kol Dam management of the NTPC to either fulfil in toto the 14-point agreement signed with oustees and other affected villagers or face the music.
Probe into purchase of blackboards sought
Bilaspur, February 11
Ram Lal Thakur, Chairman, State Planning Development and 20-Point Programme Implementation Committee, has alleged misuse of funds worth crores of rupees in purchase of blackboards for schools during the former BJP government regime. He has urged Chief Minister Virbhadra Singh to order a high-level inquiry into this "fishy deal" regarding necessity of these blackboards and purchase at exorbitant cost.
'Dubious' equipment a weather device
Mandi/Kullu, February 11
The "dubious" equipment recovered by the police in Gohar, Mandi, and Anni, Kullu, has turned out to be German-made weather measurement device, said forensic scientists.
Haj-2013 applications invited
Shimla, February 11
The government has invited applications from those intending to go on Haj.A spokesperson said the Haj Committee of India had announced the programme.
Rs 1 crore for mule paths, renovation of cottages
Shimla, February 11
The government has sanctioned Rs 1 crore for the construction of mule paths and renovation of inspection cottages of the Forest Department.
JNV staff strike enters 6th day
Kangra, February 11
The strike by the staff of Jawahar Navodaya Vidyalaya (JNV) at Paprola in the district entered the sixth day today. Their demands include pension and 10 per cent special allowance for non-teaching staff.
Gehra school faces soil erosion threat
Chamba, February 11
In the aftermath of recent heavy rains in Chamba district, the playground and building of Government Senior Secondary School, Gehra, has come in the grip of constant soil erosion arising out of an abrupt landslide, reports said.
Tribune Impact
Owners of 17 vehicles challaned
Una, February 11
The district administration swung into action and filed challans against owners of 17 illegally parked vehicles on the stretch from the Rotary Club crossing to the bus stand road here today.
400 examined at eye camp
Bilaspur, February 11
A two-day free eye check-up camp organised by the Shri Satya Sai Seva Samiti, Ghumarwin, concluded yesterday.
Re-opening of 149 schools hailed
Shimla, February 11
Chairman of the Pollution Control Board (PCB) Kuldeep Singh Pathania has hailed the decision to re-open 149 schools, which were de-notified during the previous regime and provide free travelling facility in the state road transport corporation buses to schoolchildren.
Woman killed in road mishap
Kangra, February 11
A woman was killed on the Pathankot-Mandi National Highway when she was hit by a car last evening.
Man dies playing cricket match
Bilaspur, February 11
Vikram Singh Chandel (32) of Gaaliyan village under Balha Bhalwana gram panchayat died when he was playing a cricket match, near here, today. Reports said Vikram suddenly fell down on the ground while running and died. — OC