CINEMA: NEW Releases



Murder of emotions
Nonika Singh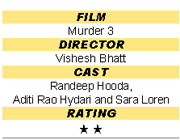 Beautiful bodies, beautiful locales and no soul…. In more recent times Bhatt films have specialised in their brand formula genre that relies on sensuous appeal, hummable songs and spooky quotient. Murder 3, the third part in the Murder trilogy, is no different and creates a cocktail out of the known ingredients. The moot point—is the concoction heady enough?
Well, in the first part with some edge of the seat moments it does hold your attention and before you know the fast pace takes you easily enough to intermission. The way it freezes at the interval point you expect more chills and thrills. But post interval the moment the cat is out of the bag, it does flag if not nosedive completely.
Taking off from the Spanish thriller The Hidden Face (La Cara Oculta), the narrative's premise might seem a bit twisted, even bizarre and mind you we are not talking ghosts here. A thriller of sorts, the tale of a photographer (Randeep Hooda) and his inseparable beautiful beloved (Aditi Rao Hydari) who goes missing provides much of the suspense in the first half. Interspersed in between are some lovemaking scenes, aesthetically shot but not the kind that ignite the screen with smouldering intensity for which Murder prequels and Randeep Hooda the hero of the film is known for. Indeed, as Aditi Rao Hydari said before the release of the film, "It's not only about sex." Granted, but it isn't about anything profound either. Set in modern day world and its ever changing ethos where cupid strikes more than once, anywhere and everywhere, and takes you straight to the bed, perhaps the only moral of the film is—don't you dare test your love.
To be fair, Bhatts have always refrained from creating sugary syrupy characters that would kill you with their goodness. So, grey is the shade that defines all the three lead characters. But on the flip side none of them flesh out strongly enough to make you fall in love with them. Randeep is getting stymied in atypical yet formulaic slot and doesn't offer anything that you haven't seen before. Aditi, who has shown promise, looks pretty and is convincing too and Sara as the third angle of the triangle is without a doubt beautiful.
As for the debutant director Vishesh Bhatt …well as the credits roll in the start of the film, it takes a while before the name of the young director unfurls that too in blood red colour. Actually the film could have been directed by any member of the Bhatt clan and the flavour would have remained the same. Gloss and glitz sans real substance and even the open ended climax doesn't elevate it beyond mediocre and passable fare. Watch it to know how emotions can remain at the surface level yet can lead to 'murder' of love.

What a joke!
Jasmine Singh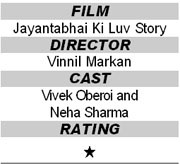 Joking Re…here is one actor who makes the job of the audiences and film critics absolutely easy! All you need to do is walk in (if you have a bad day) and walk out of the movie hall pretty much the same. No matter what Vivek Oberoi does, no matter how much effort he makes to showcase his bhaigiri, you can simply overrule the case in two words - Joking Re! By the way, this is Vivek Oberoi's dialogue in his latest venture Jayantabhai Ki Luv Story. No, not again!
Someone is stuck in a 'bhai' era here. It is definitely Vivek Oberoi. We understand, he was once a Bhai (Shoot Out at Wadala), but as we said it was once upon a time. Directed by Vinnil Markan, Jayantabhai Ki Luv Story (JKLS) does one good thing. It keeps you on your heels, making you find 'luv' in the 'luv' story.
So, the storyline is fairly simple; did you expect Vivek Oberoi to do a Shawshank Redemption? He does what he can be tolerated in, being a bhai. JKLS gives him that platform - definitely not to act, but to play a bhai. But why blame Vivek Oberoi for anything. Love, Paissa, Dilli nothing together or even individually work for him!
Ask the director, Vinnil, it is difficult to tolerate Vivek and on top of that, he makes him fall in 'luv'. And on top of that you give tapori dialogues…Joking Re! We agree completely.
And guess who else is a part of this one big joke - Neha Sharma, the lead actress of the film. She comes, stays, sings, cries, reveals a bit and vanishes. Act? Are you asking did she act? Now, don't take the joke too far. So, in JKLS everything goes around this bhai Jayanta Bhai. He (Vivek Oberoi) tries hard, really hard to introduce humour. But the only one laughing are those who chose some other movie over Jayantanbhai or decided to conveniently ignore it!
The director probably met some soothsayer while making of the movie and introduced something timely music. Dil Na Jane Kyun by good-looking Atif Aslam is the high point of the movie. This could be a discovery, Atif Aslam! Music by Sachin Jigar is a good try to lift the sinking ship. Rest of the movie has characters; you have seen off and on in various don movies. In fact, you have seen everything before, Vivek as bhai. A bhai you can walk away from saying - Joking Re!

Neither dark, nor bright
Jyothi Venkatesh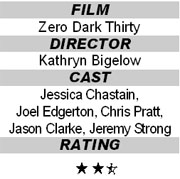 The plot is basically about people behind an office who try to piece together clues of Osama Bin Laden's whereabouts. Director Kathryn Bigelow and screenplay writer Mark Boal have done a lot of half-baked research based on information from within the CIA itself, so much so that there are Pakistanis who speak Arabic.
Zero Dark Thirty begins with terrified voices of people about to die in 9/11 and ends by giving us the catharsis of violent revenge. In a style that is reminiscent of documentaries, the film sets out to follow the career of CIA operative Maya who is on the lookout for Bin Laden. The only other idea is to glorify female determination and persistence in a world dominated by men. Jessica Chastain tries her best to score and do what she can with a poorly written role.
Although the supporting cast comprising Jennifer Ehle, Jason Clarke, James Gandolfini, Chris Pratt and Harold Perrineau have done a good job, what is not pardonable about the film is its lack of cohesion. Zero Dark Thirty works as a crime procedural, but what mars the film is its irresponsible, destructive, dishonest stance on torture. Kathryn Bigelow is not able to measure up to what she had done in her last film The Hurt Locker. It is a film which may not keep you rivetted to it but those who dig pure cinema may find it palatable.