Retired Major Sharma had a bizarre lifestyle
Panchkula, February 15
Dingy room, piled up years' old newspapers with encircled mistakes, usage of the term ''certified idiots'' for those parking cars in front of his house, stinking environment inside his house has been the bizarre lifestyle of the retired Major speaks about his state of mind. Major Harish Chander Sharma (retired) was arrested yesterday for sexually assaulting small girls on the pretext of giving them toffees.
He left his family four years ago
Panchkula, February
Major Sharma left his house in Sector 19, four years ago, after he began behaving strangely.
11-year-old's presence of mind saved her
Panchkula, February 15
For this 11-year-old, it was her presence of mind, which saved her from the clutches of retired Major Harish Chander Sharma. After sensing something was not right, she fought back the Major and fled after biting him on his leg.
CBI lays bare claims of revenue official
Chandigarh, February 15
Laying bare the claims of the accused revenue official, Balraj Singh, that property related documents recovered from his house by the CBI belonged to his brother-in-law, the CBI investigations have revealed that the brother-in-law of accused runs a cycle repair shop near Zirakpur and has never filed an income tax return.
IT raids on 13 business houses of Synergy Thrislinglton
Chandigarh, February 15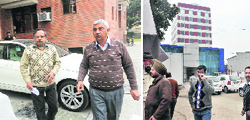 Sleuths of the Income Tax Department today raided 13 business houses of Synergy Thrislinglton in the northern region. The team also raided hotel JW Marriot in Sector 35, which is also owned by the company.
Income Tax officials come out after raiding the house of CMD, Synergy Thrislinglton, at Sector 19, Chandigarh; and officials at Mohali. Tribune photos: Vicky Gharu and Manoj Mahajan
Setback to Chandigarh Golf Club
Chandigarh, February 15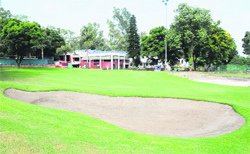 In a major setback to Chandigarh Golf Club, the court of Additional District and Sessions Judge SS Sahni today dismissed an appeal challenging the lower court's order of 2010 in which the membership of green card holders was declared null and void. The court upheld the decision of the lower court pronounced in March 2010, which stated that ineligible members were granted the green card membership. The green holders were enrolled in 2005 allegedly in violation of rules.
589 green card members shown the door
Chandigarh, February 15
With the dismissal of appeal filed by the Chandigarh Golf Club (GGC) Management, the local court has shown the door to 589 green card members of CGC under the dependent category. Many of these 'dependents' were between 50 and 62 years when they were made members.



secy level posts
UT seeks additional panel of IAS officers from Haryana
Chandigarh, February 15
While Punjab is demanding its right over one Secretary-level post out of recently created two secretary-level posts, the UT Administration has sought additional panel of IAS officers from Haryana. The Haryana government has already sent names of three officers and now they will have to send names of three more IAS officers.
Rose festival: 140 varieties showcased
Chandigarh, February 15
The fourth Panjab University Rose Festival was inaugurated today with over 140 varieties of roses at the Prof. RC Paul Rose Garden on the Panjab University campus.



Girls pose after a performance at the inauguration of the fourth Rose Festival at Panjab University at Chandigarh on Friday (L) and Girls admire roses at the fourth Rose Festival at Panjab University. Tribune photos: Parvesh Chauhan
City witnesses rain in February after six years
Chandigarh, February 15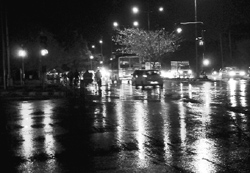 After six years, the city experienced rainfall in February. Met officials said that rain and thundershowers would continue tomorrow due to which there will be a decline in the day and night temperatures. In the last six years, the highest rainfall recorded in the city was 63.5 mm on February 11. As per the records of the met department, in the past six years there has been no report of rain in the month of February in the city.
As it rained, the temperature dipped bringing back chill in the air in the City Beautiful on Friday. tribune photo: Manoj Mahajan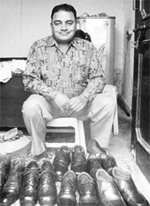 Irony, was inspired by Nelson Mandela
Panchkula, February 15
In an irony, Major Harish Chander Sharma (retd), who has been accused of raping minor girls was inspired by Nelson Mandela so much that he bought two shirts similar to the ones worn by the South African leader a few years ago and treasured those as his prized possession.





Accused Major (retd) Harish Chander Sharma in a Nelson Mandela look-alike shirt with his collection of shoes. A file photo
Family admitted to hospital
Mohali, February 15
The Mohali district administration got Dildar Singh and his three family members admitted to the Civil Hospital in Phase VI today.
Cognizance 2012 winners felicitated at jampacked ceremony
Chandigarh, February 15
Winners of The Tribune scrapbook competition, Cognizance 2012, were felicitated at Panjab University's Law Auditorium here today.



(From left) Mankeerat Narang (class VI), Suman Gautam (Class IX), Sukhveet Kaur (class X) and Jaiyta Sood (class VII), who secured the first position in their respective categories in Congnizance 2012; (top right) students who secured the second position; (right) students who stood third; and (below) students perform during the award ceremony at the Law Auditorium in Panjab University, Chandigarh, on Friday. Tribune photos: Parvesh Chauhan
Centre notifies definition of EWS and disadvantaged group
Chandigarh, February 15
The Government of India has notified the definition of children belonging to the disadvantaged group and economically weaker section (EWS) under Sections 2(d) and 2(e) of the Right of Children to Free and Compulsory Education (RTE) Act.
Panjab University mulls over opening Gate No IV
Chandigarh, February 15
With the growing traffic on the PU campus leading to frequent snarl-ups, the university is mulling over opening the Gate No IV near the law department.
City student excels at moot court
Chandigarh, February 15
Prateek Mahajan, a tenth semester student of the University Institute of Legal Studies (UILS), Panjab University, has been adjudged as the best student advocate among the 150 participants at the 24th All India Moot Court Competition at Thiruvananthapuram.
NTSE: 11 city students make the cut in first round
Chandigarh, February 15
A total of 11 local students, including five girls, qualified for the National Talent Search Examination (NTSE), to be conducted in May this year.
Mistakes in social science textbook annoy teacher
Mohali, February 15
A Chandigarh college lecturer, hailing from Karnataka, today staged a protest in front of the Punjab School Education Board's office highlighting mistakes in a social science textbook.
Achievements of NIPER highlighted
Mohali, February 15
Punjab Governor Shivraj Patil said, "As per the "Innovation Policy of 2013", introduced by the Prime Minister, India will be among the top five global scientific powers by 2020."
PU's School of Communication Studies wins award
Chandigarh, February 15
Panjab University's School of Communication Studies has been honoured with Indy's Leadership Award for outstanding contribution to the field of mass communication education. The award was presented to the school on February 14 in Mumbai. It was collected by the school's alumni, Jyoti Kapoor, Sharin Bhatti and Tahira Kashyap, who live and work in Mumbai.