Grey matter, literally
And we thought it would take us an epoch to make him say more than a few lines.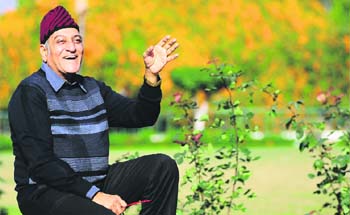 It was just some words we were aiming at. And there, sipping tea, adding a little amount of sugar to the white cup he spoke…clinical psychiatrist, actor and theatre person Mohan Agashe has more words than we had expected, so many that he could address the 4th Panjab University Colloquium lecture on Cinematic Diet For Health, an event that brings him to Chandigarh.

In the act: Mohan Agashe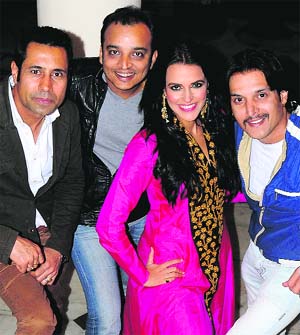 Colours of romance
Who minds something new, something different, some masala…well, who minds a treat! Director Navaniat Singh's soon-to-be-released Rangeelay, starring Jimmy Sheirgil, Neha Dhupia and Binnu Dhillon, sure promises a treat! Sitting, chatting, sharing a joke doesn't come easy to the three actors and the director, who were in Chandigarh for film. It comes only after the work is done! Nods Navaniat and the actors who see the movie hit the theatres on May 16. Before that, we don't mind discussing what's on the menu and how special the treat will be.


FUN TIMES: (L-R) Binnu Dhillon, Navaniat Singh, Neha Dhupia and Jimmy Sheirgill Photo: Manoj Mahajan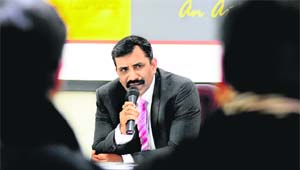 Time to tell
It's a city of mythology and mystery, of confluence of religions, of the great battle fought and the legacy it bestows. IAS officer Vijai Vardhan's spiritual odyssey, Kurukshetra—Timeless Sanctity, puts the spotlight where it is needed the most, on the epic city of Kurukshetra.

comparing notes: Vijai Vardhan

Honour bound
Pracheen Kala Kendra will honour santoor maestro Pandit Bhajan Sopori and kathak exponent Guru Shovana Narayan with the 9th Guru Madan Lal Koser–Guru Shobha Koser award for their lifetime contribution in promoting classical music and dance.
Step-up and dance
Star Plus brings to you yet another blockbuster reality TV show India's Dancing Superstar. And guess what, age, form or style is no bar when it comes to this particular show! What's more? Individual as well as groups can register themselves.
Par Excellence
Short Game
The golf swing is powered by three levers– the body, the arms and the wrists. The biggest lever is the body followed by the arms and the smallest being the wrists. When we hit a full shot all three levers are used to their optimum without losing directional control. Imagine a ship with three engines. If the ship is to move at full speed, all three engines would have to be put on. On the other hand if it had to go slow only one engine would be used.
GET PHYSICAL
Workable solutions


Are you a fitness freak but have no time to hit the gym? Exercising at home is an attractive option offering convenience as well as a way to save time. The real issue is how to create effective home workouts when you don't have much space or equipment. You do have to be creative if you exercise at home, but there are a wide range of effective and accessible cardio exercises you can do to get in shape. Below are some of cardio exercises you can do anytime, anywhere.
Flavours of the Orient
Hold the chopsticks and let the magic from the land of the 'Orient' subsume you. The Schezwan Food Festival at Orient Blade, Park Plaza, has enough for the lovers of the Chinese cuisine and is sure to delight the foodie in you. "We are presenting delicacies from the Sinchuan region of China, which is widely known for its spicy and delicious food," says Rajinder Sareen, executive chef at Park Plaza.
Coming soon
Rock on
The Bella Vista and blueFROG present the Spring Music Concert, bringing the country's best and hottest live and electronic music acts to Tricity. The concert will take place at The Bella Vista Hotel in Panchkula on February 23.


Pun'jab'

Sandeep Joshi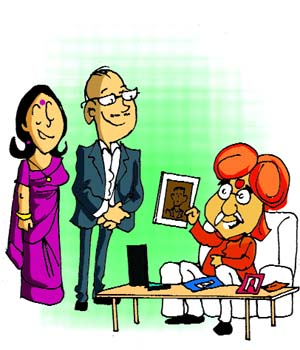 match fixing:

This is an ideal match for your daughter. He has all the diseases of super rich...hypertension, diabetes, obesity...
Flower power
Walk into any of the parties or ceremonies these days and one is greeted with flowers, for they have become ubiquitous as hair accessories. Roses, lotuses, sunflowers in cloth or crystal and in different shapes, sizes as well as colours are quite popular with girls these days.
star track
Bollywood inspires Edward Maya...
International music composer and performer Edward Maya says that he follows Bollywood and likes superstar Shah Rukh Khan the most. "I do follow Bollywood. I like Shah Rukh Khan the most," he told in an interview.



Capital gain


End of agony


New pad for Rihanna


Work vs pleasure


Family is fun


Ground realities


No haunted mansions


Huge expectations


Banking on ex
chatter box
The mysteries of nature
Melting glaciers, increasing sea levels, long and severe droughts and increase in natural disasters—these are some of the known consequences of global warming.  Discovery HD World, the 24-hour high definition (HD) channel brings all new series of I Have Seen the Earth Change, which travels around the world to showcase how climatic changes are affecting the lives of people.



Donning the vamp's avatar


Johnny says goodbye