CM: Bypoll results will see Cong falling apart
Moga, February 18
Chief Minister Parkash Singh Badal claimed today that the Congress would disintegrate after the Moga byelection results as it had disintegrated in other states like UP, Bihar and West Bengal.
Young Turks add muscle to election campaign in Moga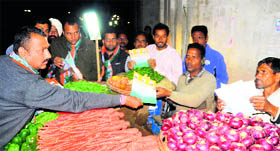 Chandigarh, February 18
Be it the ruling SAD, the opposition Congress or the People's Party of Punjab (PPP), the youth brigade of all these parties is at the forefront in electioneering for the Moga bypoll.



Sangrur MP Vijay Inder Singla campaigns in Moga. Tribune photo

Supporters of Tota Singh, Gill will ensure Jain's defeat: Capt
Moga, February 18
Punjab Pradesh Congress Committee (PPCC) president Capt Amarinder Singh today claimed that the supporters of Akali leaders Tota Singh and PS Gill would ensure the defeat of SAD nominee Joginder Pal Jain in the Moga bypoll.
Migratory birds damage wheat crop in Tarn Taran villages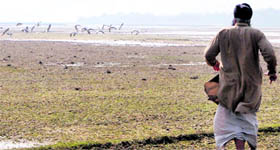 Tarn Taran, February 18
Farmers in a cluster of villages along the Beas, a few kilometres from the Harike head works, are a harried lot. Migratory birds have wreaked havoc on their wheat crop spread over hundreds of acres of land.

A farmer shoos away migratory birds from his fields at Dhun Dhaewala village on Monday. Photo: Vishal Kumar

Z plus security for DGP Saini
Chandigarh, February 18
In view of Intelligence reports on a fresh threat perception, Punjab Director-General of Police (DGP) Sumedh Singh Saini has been provided Z plus security under the Special Security Group.
BKU begins drive against drugs
Sangrur, February 18
Apart from taking up farmers' issues, the Bharatiya Kisan Union (Rajewal) has started a drive against drugs and intoxicants.
Govt yet to honour promise to raise old-age pension
Chandigarh, February 18
Though the SAD-BJP Government is to complete its first year in office, it has yet to meet its promise on doubling old-age pension to widows, destitute women and the physically challenged. The state's shaky fiscal situation appears to be a major hurdle in doing so.
Sidhu writes to MEA to get youth's body from Malaysia
Amritsar, February 18
MP Navjot Singh Sidhu has shot off a letter to the Union Ministry of External Affairs, requesting it to step in to get the body of Amritsar resident Sunny (24) released from Malaysia where he died on February 13.
Six-member team inspects security measures ahead of Cameron's visit
Amritsar, February 18
As many as 3,000 policemen have been deputed for the security of Britain's Prime Minister David Cameron during his visit here on February 20. During his three-hour stay in the city, he is slated to visit the Golden Temple and the Jallianwala Bagh.


Manholes dot Patiala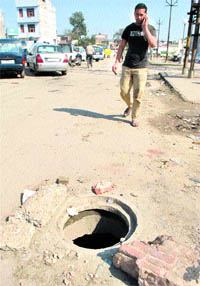 An open sewerage hole at Sain Market in Patiala on Monday. Tribune photo: Rajesh Sachar
Intelligence officials 'working' for SAD
Moga, February 18
Chief Minister Parkash Singh Badal and Deputy Chief Minister Sukhbir Badal, who have been camping here for the past many days, have allegedly deputed Intelligence officials to keep an eye on the activities of Congress leaders and workers at the grassroots level.
Teachers of aided schools threaten stir
Fatehgarh Sahib, February 18
The teachers of government-aided schools yesterday threatened to launch an agitation if the Punjab government failed to regularise the services of acting principals besides filling the vacant posts of teaching and non-teaching staff in these schools.
Direct cash transfer in Fatehgarh Sahib from March 1
Fatehgarh Sahib, February 18
The Centrally-sponsored direct cash transfer scheme is set to be introduced through Aadhaar Cards in the district from March 1.
PRTC employees to join nationwide stir on Feb 20-21
Patiala, February 18
Various unions of the Punjab Roadways Transport Corporation (PRTC) have decided to join the nationwide strike called by Central trade unions on February 20-21 against the "violation of labour laws and privatisation of government sectors".
19-year-old electrocuted while flying kite
Bathinda, February 18
A 19-year-old boy was electrocuted yesterday when he came in contact with live 11 KV electric wires near his house while he was trying to retrieve a kite entangled in the wires from his rooftop.


SHO caught 'implicating' innocent persons
Chandigarh, February 18
A Station House Officer in Amritsar district has been allegedly caught implicating "innocent persons" in a rape case to save his own skin for illegally detaining two persons.
Lewd songs: HC notice to govt
Chandigarh, February 18
Acting on a petition filed in public interest for setting up an effective mechanism to curb the menace of lewd songs, the Punjab and Haryana High Court today issued a notice of motion to the State of Punjab and other respondents.
Nothing wrong in police posting at hometown: HC
Chandigarh, February 18
The Punjab and Haryana High Court sees nothing wrong in the posting of a police officer in his hometown. A Division Bench, during the hearing of a public interest litigation, has made it clear that such a posting was neither against the rule nor law and service jurisprudence.


Three of family die as truck rams into car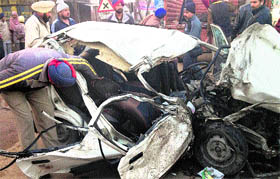 Mohali, February 18
Three members of a family from Chandigarh were killed while two were critically injured this morning when the car they were travelling in was hit by a truck near the Civil Hospital, Kurali, here.




Mangled remains of the car that met with an accident on the Kurali-Ropar national highway on Monday. A Tribune photograph

Nabha Girl immolation case
Accused not present at crime scene, says initial probe
Patiala, February 18
Initial police investigations into the case in which a Nabha girl was set afire on February 14 suggest that the three accused women were not present at the scene of the crime.