Commuters, students at receiving end
Chandigarh, February 20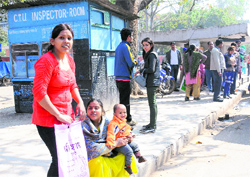 Twentythree-year-old Shikha Sharma's whole day was wasted today. She had come to the city from Zirakpur to meet her relative, who has been admitted to PGI. She kept waiting for a CTU bus, as auto-rickshaw drivers were charging double the fare, At last she had to return without visiting her relative.




Harassed residents wait for buses in Sector 12, Chandigarh, on Wednesday.
Jolt to Admn as MHA refuses to lift ban on land acquisition
Chandigarh, February 20
The Chandigarh Administration has suffered a major jolt with the Union Ministry of Home Affairs (MHA) refusing to give any relaxation in the ban on land acquisition.
Mystery shrouds death of nurse
Panchkula, February 20
A 22-year-old nurse was found dead under mysterious circumstances at a children's home (Shishu Greh) in Sector 15, Panchkula, last night.
Need for developing basic amenities, says Haryana CM
Chandigarh, February 20.


There is an urgent need to improve delivery systems and mechanism to provide basic amenities and essential services like water, sanitation, housing, solid waste management, electricity and power besides infrastructure support like road and rail network and a reliable communication network, to match up with the rapid pace of urbanisation. This was stated by Haryana Chief Minister, Bhupinder Singh Hooda, while inaugurating the CII - ICRIER Knowledge Dissemination Workshop on Urbanisation at CII here today.



IT park: Curtains come down on Phase III
Chandigarh, February 20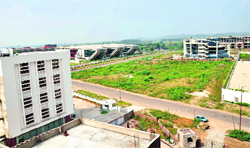 The curtains finally came down on the Phase III of the Rajiv Gandhi Chandigarh Technology Park, a dream project of the UT Administration, with the Legal Department being suggested not to file a review petition against the Supreme Court's order. In October last year the Supreme Court had quashed the acquisition of 272 acres for the proposed Phase III of the IT Park. Thereafter, the UT officials had decided to file a review petition in the Supreme Court. They had sought legal opinion of the Legal Remembrancer, Chandigarh Administration.
DSPs on deputation from Delhi get charge
Chandigarh, February 20
Five Deputy Superintendents of Police (DSPs) who joined the UT police on deputation from Delhi last month were given formal posting today. The postings were affected after a meeting of the Police Establishment Board.
Demolition drive cancelled for want of police force
Chandigarh, February 20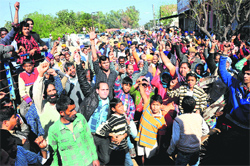 After a protest by the Khuda Lahora residents against the demolition drive of the UT Estate Office, the authorities cancelled it to avoid any disturbance in the area.





Residents block the entrance to the village during a protest against a demolition drive at Khuda Lahora on Wednesday. Tribune photo: PArvesh Chauhan
Camelot project falls in catchment area of lake, claims amicus curiae
Chandigarh, February 20
Referring to the reply given by Tata, amicus curiae in the Save Sukhna case Tanu Bedi has claimed that the company's Camelot housing project falls in the catchment area.
Nishant case
Parents identify kidnappers
Panchkula, February 20
In the infamous Nishant kidnapping case, parents of the child today identified the kidnappers before the court.
Committee oblivious of other patients' medical condition, says PGI
Chandigarh, February 20
In the alleged case of medical negligence resulting in Anupama Sarkar's death, last year, the PGIMER (respondent) today told the UT Consumer Forum that the external committee, which concluded that priority should be given to Anupama's surgery, was oblivious of medical condition of other patients.
No postal deliveries made in city
Chandigarh, February 20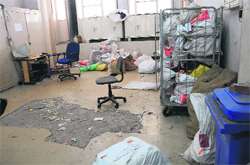 Postal services in the city crippled today as around 1,200 employees went on strike. No mail was delivered by the postal staff in the city. Around 1,500 employees of the departments of post, income tax, central ground water board and Survey of India were on strike.



A deserted General Post Office in Sector 17 in Chandigarh.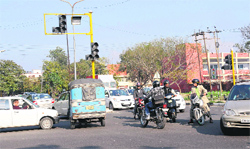 Power supply disrupted
Chandigarh, February 20
As 1,100 employees of the UT Electricity Department participated in the two-day strike, it took hours to restore power supply in many sectors, colonies and villages, where fault had occurred in the supply.

Chaos at the traffic light point of sectors 18 and 19 in Chandigarh as lights remain non- functional.
Strike set to cost banks crores
Chandigarh, February 20
Normal operations like cheque clearances, withdrawing and depositing of money of public sectors banks and 20 nationalised banks, including State Bank of India, Punjab National Bank, Oriental Bank of Commerce, were hit in the city as the employees of the banks went on 48-hour general strike beginning today.
Lukewarm response to bandh call in Mohali
Mohali, February 20
The call for a two-day Bharat Bandh by major trade unions in support of their demands, including checking price rise, creation of more jobs and halting disinvestment in the public sector enterprises, received a lukewarm response here today. There were no reports of violence by protesters.
Sanitation a casualty on PGI campus
Chandigarh, February 20
Sanitation was a casualty at the PGIMER on Wednesday as a majority of contract workers (about 1,600), including safai karamcharis, went on strike. Toilets in all the buildings remained dirty and dustbins could be seen lying in the middle of the ramps and floors in the New OPD block and other buildings.
Experts dwell on art, its history
Chandigarh, February 20
The third day of the Amrita Sher-Gil National Art Week witnessed artist Sheba Chhachhi, presenting a slide lecture on the Politics of Contemplation, here at the Government Museum & Art Gallery, Sector 10.



Pandit Bhajan Sopori, a santoor maestro; and (right) Shovana Narayan , a kathak dancer, perform at the Tagore Theatre, Sector 18, Chandigarh, on Wednesday and JNU Associate Professor Kavita Singh delivers a lecture at Government Museum and Art Gallery, Sector 10, Chandigarh, on Wednesday. Tribune Photos: S Chandan
Trends in democracy discussed
Chandigarh, February 20
The Department of Political Science, DAV College, Sector 10, Chandigarh, organised a lecture on "Recent Advances in democracy with special reference to India' by Prof TR Sharma, former Professor and Head of the Department of Political Science, Panjab University.
Six constables rewarded for swift action
Chandigarh, February 20
The police department today rewarded six PCR personnel for their swift action in tracing a car minutes after thieves stole it from a house in Sector 20 on February 18.
Rs 78 lakh aid for 52 cancer patients
Mohali, February 20
A sum of Rs 78 lakh has been given as financial help to 52 persons suffering from cancer in Mohali district.
PO aspirants harassed
Chandigarh, February 20
Candidates for the upcoming entrance test of the Probationary Officers (PO) today had a tough time reaching the local branches of the State Bank of India to pay their fees. Later, they came to know that they would have to wait for the next two days to pay their fees. A candidate has to submit his or her examination fee within two days of applying for the examination.


PU history dept's alumni meet today
Chandigarh, February 20
The alumni of the Department of History, Panjab University, will be organising a 'Grand Homecoming' at Gandhi Bhawan on the university campus at 10.30 am on February 21.
Education Department introduces exam helpline
Chandigarh, February 20
In order to help the students in relation to their board exams, UT Education Department has introduced a counselling helpline.