M A I N N E W S
Strike ends on violent note, Bengal panchayat officer's ear chopped off
Tribune News Service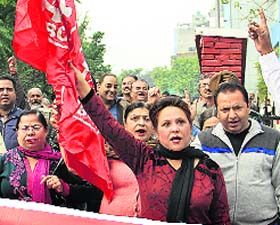 New Delhi, February 21
The final day of Bharat Bandh called by 11 central trade unions witnessed violent incidents in Delhi and West Bengal where a panchayat officer had his ear chopped off as punishment for participating in the strike.
Even as Left parties congratulated workers for making the "biggest working class struggle since Independence a major success", violence was reported from Okhla industrial area, South Delhi and Noida. In Okhla, workers pelted 12 factories with stones. Six persons have been detained by the police in that connection.
In Noida, over 200 workers attacked a factory in Sector 5, damaging vehicles and shattering windowpanes. The police issued prohibitory orders and detained five persons. Attacks were prevented in Sector 10 where around 100 workers had gathered. For yesterday's violence in Noida, 150 cases have been lodged at the Noida Phase 2 police station by industrialists who pegged losses to property at Rs 600 crore.
Things turned extremely ugly in West Bengal's Murshidabad district where a panchayat worker Hazrat Omar's ear was chopped off allegedly by Trinamool Congress workers who questioned his absence from work yesterday. TMC member in the Rajya Sabha Derek O Brien, however, denied his party's role in the violence even as general secretary of the All India Trade Union Congress Gurudas Dasgupta termed it as "inhuman and barbaric".
Banking and insurance services were the worst hit. Public transport was affected across India, especially in Kerala, Delhi and Maharashtra. ATMs ran dry at most places with few public sector banks managing to keep machines cash-loaded.
Dasgupta said the strike was "only the beginning of the struggle". "If the government doesn't begin negotiations now, there would be further action. We have been agitating over these demands for three years now," he said in response to Labour Minister Mallikarjun Kharge's statement that it takes time to resolve concerns.
Central trade unions have presented a 10-point charter of demands to the government. Their demands include urgent steps to control inflation, strict enforcement of labour laws, end to disinvestment in PSUs; job protection; raising minimum wages to Rs 10,000 a month among others.
Seeking control of inflation, four Left parties, the CPM, the CPI, the All-India Forward Bloc and the Revolutionary Socialist Party, protested outside Parliament.
BANKING HIT
The United Forum of Bank Unions (UFBU) participated in the strike seeking immediate wage revision
Private banks did not participate in the strike
No cheque presented in the RBI for clearance as against eight lakh a day in normal course
Around 1,000 branches of the SBI were open as against 14,300