moga bypoll
Parties wrap up campaigning with road show
Congress victory will change course of state politics: Capt
Tribune News Service

Moga, February 21
Punjab Pradesh Congress Committee (PPCC) president Capt Amarinder Singh today held a road show in support of party candidate Vijay Sathi

Braving intermittent drizzling, Amarinder Singh chose not to take an umbrella as he stood in an open car.

A former Chief Minister, the PPCC chief was an immediate hit with the locals who came out of their shops and houses to shower petals on him. A few of them even got a chance to shake hands and pose for a photograph with him.

Talking to The Tribune, he said, "If the love and affection bestowed by people in today's road show is any indication, the Congress will win by a comfortable margin."

Also, he did not rule out simultaneous elections to the Punjab assembly along with that of the Lok Sabha, scheduled for 2014. "The victory in Moga bypoll will change the course of politics in the state," he claimed.

Addressing party workers and leaders while wrapping up his three-week campaign, the Punjab Congress chief exhorted them to keep their momentum alive and show the same enthusiasm in the run-up to the parliamentary elections.

"The disintegration of the Akalis will start once the bypoll result is declared (and Congress wins). Subsequently, the state government will also fall. So, do not think your job is over. Rather, it has just begun," he told his workers repeatedly during the road show.

Amarinder Singh also hit out at Sukhbir Badal and Bikramjit Singh Majithia: "Do not take it for granted that you (Badals) are going to rule for full five years."

The Pradesh Congress president claimed that even a large section of the Akali leadership and workers were "feeling suffocated under the dictatorial, autocratic and arrogant attitude of Sukhbir and Majithia and all of them were waiting for the right opportunity to settle their differences".

"Sukhbir will realise after the bypoll result that the local Akalis themselves defeated their candidate. The local BJP leadership is also unhappy over Jain's induction in the SAD," he said.

Citing the "hostile" response that Sukhbir got from lawyers during the Moga Bar Association function yesterday, Amarinder Singh said the behaviour indicated the angry mood of the public, "which would be reflected in the by-election on the polling day".

While seeking votes for Sathi, he urged the electorate to compare for themselves as to who was a better candidate. "On one side, you have an honest and sincere worker in Sathi who owns just a five-marla house and has never used politics to accumulate wealth. On other side, you have Akali candidate Jain whom even Sukhbir used to describe as a smuggler till recently," he said.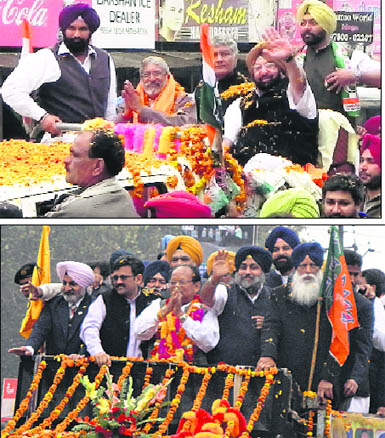 Pradesh Congress president Capt Amarinder Singh along with party candidate Vijay Sathi and other leaders during their road show in Moga on Thursday. A Tribune photogrph

SAD president Sukhbir Badal along with party nominee Joginder Pal Jain and other Akali and BJP leaders during their road show in Moga on Thursday. A Tribune photograph

On final day, unity show by Akali Dal; Tota Singh, Gill attend Sukhbir's rally
Tribune News Service
Moga, February 21
In a bid to show unity on the last day of campaigning, Deputy Chief Minister Sukhbir Badal today held a road show with "dissident" SAD leaders Tota Singh and former DGP PS Gill and state BJP president Kamal Sharma.
SAD candidate Joginder Pal Jain and Revenue Minister Bikram Majithia also accompanied Sukhbir in the road show, which saw participation of a large number of supporters of the SAD and the BJP.
Vehicular traffic on the GT Road and in the main bazaars of the city remained disrupted for a long time as Sukhbir's road show was followed by that of PCC president Capt Amarinder Singh.
Supporters of both the SAD and the BJP gathered near the bus stand early in the morning. They put up an impressive show by showering flower petals as the cavalcade passed through the bazaars.
Sukhbir made supporters of both the SAD and the BJP line up in an orderly manner and follow the cavalcade.
Addressing those in the procession, Sukhbir said, "If the love and affection shown to them by the people of this constituency is any indication, the Congress should think of quitting the electoral battle." He claimed Jain was all set to win by more than 51,000 votes. He said the ruling alliance was secular whereas the Congress was following a communal agenda. Jain said he would work earnestly to ensure speedy development of Moga.

Groupism in Cong will be its undoing: Badal
Tribune News Service

Moga, February 21
Chief Minister Parkash Singh Badal here today alleged that the Congress was in a self-destructive mode as it was the only political outfit whose leaders actively worked to ensure the defeat of their own candidates.
Addressing a gathering while concluding his campaign, he said, "We would have won handsomely anyway on the development plank, but the tribal warfare within the Congress has meant that we will romp home with a huge margin. The Akali Dal will script a new record in terms of victory margin, something that will fuel disintegration of the Congress in Punjab."
Badal spiced up his speech with rugged anecdotal humour, for which the SAD veteran is famous.
Referring to what he described as "internal street fights within the Congress", he said, "Warring leaders of the Congress are known for working overnight to ensure the defeat of their own candidate to weaken each other in the eyes of their high command. This spectacle is on display even in the current bypoll."