Punjab to plant 10 trees for each one uprooted
Patiala, February 19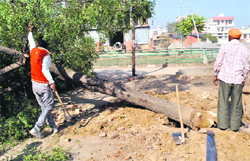 In a green drive, the Forest Department will plant 10 times the number of trees being uprooted in the ongoing widening of roads in the state. Moreover, under the Compensatory Afforestation Scheme (CAS), the department will plant saplings in twice as much compensatory land to protect the green cover in the state.

Forest Department workers uproot a tree to widen the Rajpura Road in Patiala. Tribune photo: Rajesh Sachar
Re-totalling scam
Panel indicts Ayurvedic University officials
Chandigarh, February 19
A two-member inquiry committee constituted on the directions of Chief Minister Parkash Singh Badal has indicted officials of Guru Ravi Das Ayurvedic University, Hoshiarpur, for being involved in a re-totalling scam.
Badal blackmailing voters: Amarinder
Moga, February 19
PCC president Capt Amarinder Singh has alleged Chief Minister Parkash Singh Badal is blackmailing the electorate of Moga by indicating that development works will stall in the area if they did not vote in their favour.
Cong campaign bereft of issues: CM
Charik (Moga), February 19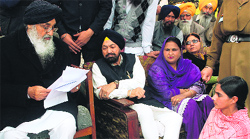 Chief Minister Parkash Singh Badal has said Congress leaders are resorting to personal attacks against their opponents as they have no ideology and issues to present before the people.



Chief Minister Parkash Singh Badal scans the application of a differently abled girl in Kothe Charik village in Moga on Tuesday. A Tribune photograph

SAD focusing on development, Congress harping on 'betrayal'
Moga, February 19
With electioneering for the Moga bypoll reaching its climax, the need for development of the assembly segment after 10 years of "neglect" and "betrayal" by SAD candidate Joginder Pal Jain have emerged as the two main issues which voters will take into consideration while casting their vote.
Capt's diktats forced Jain to quit Cong: Sukhbir
Moga, February 19
Addressing an election rally here today, SAD president and Deputy Chief Minister Sukhbir Singh Badal claimed that Pradesh Congress chief Capt Amarinder Singh's "royal attitude" had pushed Jain into the SAD fold.
Wheeling for change


While most of the leaders have been preferring moving around either on foot or in their high-end SUVs, People's Party of Punjab president Manpreet Badal on Tuesday surprised the Moga people by making a presence on a motorcycle

Manpreet Badal asked the electorate not to fall in the trap of professional turncoats and urged them to vote for his party's candidate Ravinder Singh Dhaliwal
Heavy security for Cameron's Amritsar visit
Amritsar, February 19
After paying obeisance at the Golden Temple, British Prime Minister David Cameron will lay a wreath at the Jallianwala Bagh Martyrs' Memorial during his brief visit to the city tomorrow.



Personnel of the Punjab Police deployed outside the Golden Temple (left) and at Jallianwala Bagh (right) on Tuesday ahead of British Prime Minister David Cameron's visit to Amritsar on Wednesday. Photos: Vishal Kumar
Kin of Jallianwala Bagh victims disappointed
Amritsar, February 19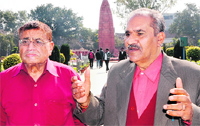 Descendents of Jallianwala Bagh massacre victims are disappointed that no official from the British High Commission in New Delhi met them today (as had been conveyed to them yesterday), to arrange their meeting with British Prime Minister David Cameron who is to visit the city tomorrow.

Bhushan Behal (right) and Tek Chand, descendents of Jallianwala Bagh martyrs in Amritsar on Tuesday.
Fatehgarh Sahib panel directed to provide grant to labourers
Fatehgarh Sahib, February 19
The district administration has urged the Punjab Building and Construction Welfare Board to provide Rs 7.32 lakh as ex gratia grant to 633 labourers.
Army drive draws crowds at Punjabi University
Patiala, February 19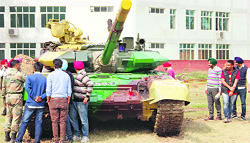 Punjabi University students made a beeline to catch a glimpse of the latest military equipment brought in from Ambala, Sangrur, Patiala and Bathinda cantonments for the exhibition-cum-awareness drive organised by the university.


A tank on display at the exhibition-cum- awareness drive at Punjabi University, Patiala, on Tuesday. Tribune photo



Hearing in 1984 riots case put off
New Delhi, February 19
Additional Sessions Judge Anuradha Shukla today took exception to CBI's failure to conclude its final arguments in a 1984 anti-Sikh riots case. The court was hearing the final arguments on a protest petition filed by a riot victim, Lokender Kaur, whose husband, Badal Singh , was killed in the riots, challenging the CBI clean chit to Congress leader Jagdish Tytler in the case.
Notice to Punjab govt on regulating lottery system
Chandigarh, February 19
The Punjab and Haryana High Court today issued notice of motion to the State of Punjab, its Finance Secretary and Director, Lotteries, on a PIL seeking regulation of the lottery system in Punjab.


Rampant use of drugs in three state jails
Chandigarh, February 19
The police recovered at least 55 mobile sets from prisoners lodged in the Ropar, Ludhiana and Bathinda jails during 2012. In reply to an RTI application, the jail authorities confirmed the recovery of opium and narcotic powder besides 15,640 tablets and capsules from the premises of the three jails.
Mansa Shootout
Aide of notorious criminal arrested
New Delhi, February 19
An aide of one of Delhi's wanted criminals, Surender Malik alias Neetu, was arrested after he was injured in an encounter in Punjab's Mansa district, the police said today.