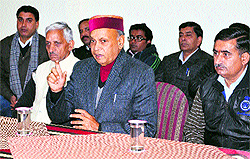 Govt can order judicial probe into phone tapping: Dhumal
Hamirpur, February 19
Former Chief Minister PK Dhumal has denied Chief Minister Virbhadra Singh's charge of his involvement in phone tapping and asked the state government to order a judicial probe in this matter from a sitting judge of the Himachal High Court to unravel truth.

Former CM PK Dhumal addresses a press conference in Hamirpur on Tuesday.
Week after murder, police clueless
Kangra, February 19
The police has been groping in the dark in the case of a murder at Massal village last Wednesday night when 41-year-old tractor driver Rakesh Kumar's body was left in a pool of blood on the roadside.
Govt to seek CAG audit of Mashobra Resorts
Shimla, February 19
The government today decided to entrust the audit of Mashobra Resorts Private Limited owned by the Oberoi group to the Auditor and Comptroller General (CAG) since 1995.
Stokes seeks funds for water schemes
Shimla, February 19
Himachal Pradesh has urged the Centre to provide it funds under the National Rural Drinking Water Programme (NRDWP) on a 90:10 basis as per the policy.
Redress of public grievances priority: DC
Hamirpur, February 19
Deputy Commissioner Ashish Singhmar has assured to redress public grievances on a priority basis.
Cheschu Fair begins today
Mandi, February 19
The three-day state-level Cheschu Fair is set to start at Rewalsar from tomorrow. The fair will feature cultural events and exhibitions of Nehru Yuva Kendras.
11 get 6-month prison for thrashing school teachers
Nurpur, February 19
The Judicial Magistrate, First Class, Nurpur, today sentenced 11 persons to six-month simple imprisonment and a fine of Rs 6,000 each for abusing a principal and thrashing two teachers of Government Senior Secondary School, Lodwan, here.
Medico assaulted
Kangra, February 19
Dr Swroop Sood, a doctor in the Radiology Department of the DRPGMC Hospital, Tanda, was today assaulted by a patient's attendant. However, the accused was later arrested.
Proposal to set up 23 industrial units cleared
Shimla, February 19
The State Level Single Window Clearance and Monitoring Authority (SLSWC&MA) yesterday cleared proposals for setting up 23 industrial units involving an investment of Rs 168.95 crore.
Notification on sale of eatables issued
Bilaspur, February 19
Ajay Sharma, Deputy Commissioner-cum-District Magistrate, has issued a notification of fixing consumer sale prices of all essentials and eatables sold at dhabas and shops throughout the district. These prices have become operational immediately and must be displayed in front of every shop with the shopkeeper's signature.
Independent power developers for govt policy to help raise funds
Shimla, February 19
A newly formed body of independent power developers, the Bonafide Himachali Hydropower Producing Entrepreneurs, has urged the government to come out with a policy to help developers raise funds from financial institutions which are shying away from funding hydropower projects.
2 SSB trainees found swine flu positive
Kangra, February 19
Two trainees at the SSB training centre at Sappri, near Jwalamukhi, were today found swine flu positive and referred to the IGMC, Shimla, for being kept in isolation and treatment.
Under-construction building raided
Solan, February 19
A joint team of officials from the Town and Country Planning (TCP) Department, the municipal committee (MC) and the police raided the premises of an under-construction building here today after a complaint regarding irregularities in construction was received by the Superintendent of Police.
Two held with narcotics
Chamba, February 19
Two persons were arrested in two cases in the district yesterday.