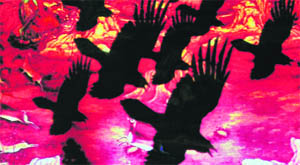 Let there be light
A bird flies on two wings —the conventional truth and the ultimate truth. — Buddhist wisdom.

This is what gifted installation artist Sheba Chhachhi believes in and understands —to get on in the world,even in the realm of art, one needs to balance the mundane and the profound.

Image Magic: Sheba Chhachhi and (right) one of her creations from The Winged Pilgrims series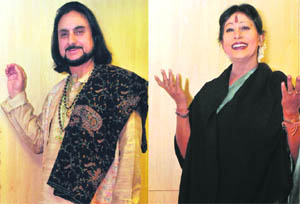 A classic date
Kathak is to Shovana Narayan what water to fish…her life, passion and soul. Like fresh wind, she wafts through mundane life as she shows up at the Tagore Theatre in Chandigarh on Wednesday evening.




Master CLASS: Pandit Bhajan Sopori and (R) Shovana Narayan
Photos: Vicky Gharu

Tasty toast
If the very sight of butter chicken titillates your tastebuds and the smokiness of the tandoor makes you go all wobbly in the knees, then Moti Mahal Delux is the ideal stop to satiate the Epicurean in you. The restaurant serves ethnic Indian cuisine as well as the traditional Tandoori, which is truly a delight for the palate. "At Moti Mahal Delux we bring forth the very essence of Indian cuisine by providing authentic Indian, Mughlai and Chinese dishes. We aim at providing the ultimate finesse when it comes to dining out, through our inventive flavour combinations," says Anurag Verma, partner in Rovikan Hospitality, the owners of the Chandigarh franchise.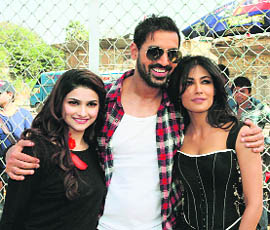 Self portrayal
If you did bear the wrath of Ajay Devgn and Kajol-starrer U Me Aur Hum, then the title of the new John Abraham flick, I Me Aur Main, can scare you. Only when you go a bit further to check out more on this, will you realise John's movie is nothing close to the earlier one. Sitting in a conference room of the Reliance World-9, you can see the three actors, John Abraham, Prachi Desai and Chitrangda Singh, and also debutant director Kapil Sharma share a joke with each other. They look relaxed and ready to take on queries from behind the video on a video calling session.
star track
Star managers
What would any star in Bollywood or anywhere in the world do without his or her manager and right hand man/woman? Every popular and busy star in Bollywood has one who is an essential and integral part of their professional and personal lives. We tell you about the biggest ones.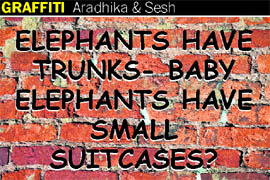 Alia and all things classy


Princess' diary


Aishwarya is angry


Language no bar


Right to decide


Sunny's item number
chatter box
What an act!
When 11 year old Alisha Sheikh of Mumbai landed up at the auditions of India's Best Dramebaaz, she had spooky tricks up her sleeve… dressed in white and carrying a pouch of ketchup that she strategically tore into during the climax of her act.



Parichay to go off air


Back on track


The show goes on


Step up