PUNJAB

HARYANA

JAMMU & KASHMIR

HIMACHAL

REGIONAL BRIEFS

NATION

OPINIONS

LETTERS

BUSINESS

SPORTS

WORLD


Cong infighting comes to the fore at CM's rally
Rewari, February 25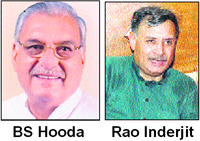 The local residents who attended yesterday's "vikas rally" organised in Bawal block of the district may have expected more significant announcements addressing their concerns like land acquisition and industrial development, especially due to the hype created by the stooges of Haryana Chief Minister Bhupinder Singh Hooda.
Crimes Against Women
Sampat to raise the issue in Vidhan Sabha
Karnal, February 25


A veteran Haryana Congress leader and MLA from Nalwa, Prof Sampat Singh, has expressed serious concern over "crime against women" and suggested a number of measures for the safety of women. Talking to The Tribune here, Sampat Singh said he would raise the matter in the Vidhan Sabha and had given a notice for calling attention motion on the issue.
Chautalas' 'nyayayudh' meaningless
Chandigarh, February 25
Senior Congress legislator from the Nalwa Assembly segment Sampat Singh has described the so- called "nyayayudh" launched by the Indian National Lok Dal (INLD) in the wake of sentencing of former Chief Minister Om Parkash Chautala and his legislator son, Ajay Chautala, to seek justice from the people of Haryana as "absolutely meaningless" as the people had already given their judgement against the INLD several times since 2004.
30 die of H1N1 infection in Haryana since January
February 22, 2013

Teacher who exposed girls' exploitation honoured
February 19, 2013
Hooda approves Rs 891-cr budget estimates for development works
February 15, 2013
Hooda approves Rs 891-cr budget estimates for development works
February 13, 2013
Govt plans golf nurseries in state
February 12, 2013
Karnataka steals the show at Surajkund
February 8, 2013
Direct benefit transfer scheme launched in Sonepat
February 5, 2013
Bahadurgarh-New Delhi metro rail link to come up soon
February 1, 2013
Govt broke promises made to villagers: MP
January 29, 2013
Rao camp accuses CM of fuelling groupism, seeks action
January 25, 2013
Selection criteria for lecturers 'biased' against rural candidates
January 22, 2013