M A I N N E W S
Pc balances populism with prudence
* Bets on growth to curb deficit
* Taxes the super-rich
* Hikes outlays for health, education, social sector, defence & agriculture
Sanjeev Sharma/TNS
New Delhi, February 28
Presenting the last budget of the UPA government ahead of the 2014 General Elections, Finance Minister P Chidambaram unveiled a balancing act between economics and politics by going in for fiscal consolidation and also hiking outlays for welfare schemes, especially for the electorally important target segment of women, youth and poor.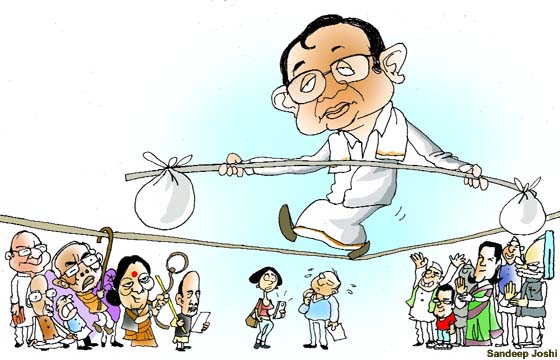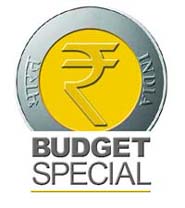 Chidambaram's eighth Budget — and the first and last in this stint as Finance Minister — was devoid of fireworks associated with his previous big bang Budgets, given the precarious fiscal situation focused towards steadying the economy ship to take it to a higher growth trajectory in the months ahead. The Finance Minister kept his promise of containing the fiscal deficit at 5.2 per cent.
The Budget had no changes in customs, excise and service tax rates. There were no changes in income tax slabs and benefits much to the disappointment of the middle class, except that Rs 2,000 tax credit has been allowed for those in the Rs 2-5 lakh tax bracket.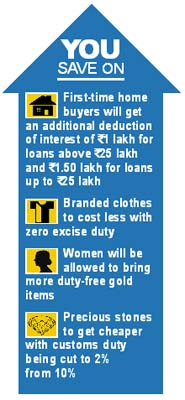 To promote consumption, first-time home buyers can avail a further deduction on interest expense of Rs 1 lakh for home loans up to Rs 25 lakh.
Citing the mantra of higher growth rate for inclusive and sustainable development, the Finance Minister hiked outlays for rural development, education, health, water and sanitation, SCs/STs and tribals. For women voters, a Nirbhaya Fund of Rs 1,000 crore has been set up for safety and empowerment of women, in the memory of the Delhi gangrape victim. In addition, for the first time, an all-women bank has also been announced.
While increasing social spending, the Budget seeks to send a message by taxing the rich. Biting the bullet on super rich tax, a 10 per cent surcharge has been levied on those with income of more than Rs 1 crore, which is over 42,000 people. On the same theme, TDS of 1 per cent will be levied on sale of property of over Rs 50 lakh.
Surcharge on both domestic and MNC companies has been raised on the tax paid. For stimulating investment in manufacturing, an investment allowance of 15 per cent will be allowed for investment of over Rs 100 crore in plant and machinery.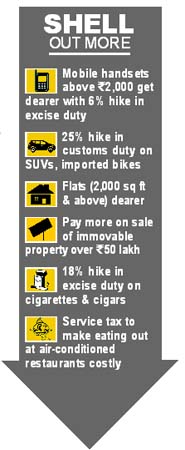 For the consumer, set top boxes have become more expensive with doubling of customs duty. Luxury goods like high-end motor vehicles are also dearer. Mobile phones have also become more expensive.
Eating out has also become more expensive as service tax has been levied on AC restaurants that do not serve liquor. Garments and carpets have become cheaper. For retail investors, STT in stock markets has been reduced.
The Finance Minister admitted that in a constrained economy, there is little room to raise taxes or give away revenues. In his post-Budget press conference, Chidambaram said more measures would be announced during the Budget passage in Parliament. He added that the Budget is not a one-stop measure but is a continuing process.
Though the Budget did face criticism from some quarters for not doing enough to revive growth, the GDP numbers for the October-December quarter came in at a shocker of a number at 4.5 per cent, the lowest in a decade, which is bound to add to the woes of the government.
Reacting to the Budget proposals, Prime Minister Manmohan Singh said it would reverse the pessimist mood and lay the roadmap for investments as he expressed confidence of returning to eight per cent growth within three years.
For the tax payer
A benefit of Rs 2,000 to individual tax payers with taxable income of up to Rs 5 lakh. It will benefit 1.8 crore tax payers
Launch of inflation-indexed bonds to protect savings from inflation
Two-year extension of the Rajiv Gandhi Equity Scheme for first-time investors
Mr Rich, pay more
The super-rich will have to pay 10% surcharge for a year on income above Rs 1 crore. On domestic corporates with taxable income of Rs 10 crore, the surcharge has been raised from 5 to 10 per cent.