Students of the Government College for Girls, Patiala, attend the college's annual prize distribution on Thursday. Punjab Education Minister Sikander Singh Maluka handed out the awards. (L) and Artistes perform on the concluding day of 6th South Asian Universities Festival at Punjabi University, Patiala, on Thursday. Tribune photos: Rajesh Sachar
5 fuel stations sealed for duping customers
Bathinda, February 28
A large number of fuel station owners in the state have been using a remote-controlled device to under-fill tanks of vehicles. This racket came to light after the Mansa police arrested four persons, including Ankur Verma, a service engineer with a national company dealing in petroleum products. Holding a higher secondary certificate, Verma was working as service engineer on the basis of his experience.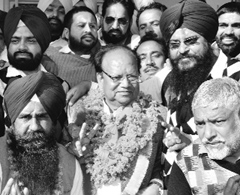 moga bypoll
Akalis deliver crushing blow to Cong
Moga, February 28
The SAD-BJP candidate, Joginder Pal Jain, has defeated Congress candidate Vijay Sathi in the Moga byelection by 18,849 votes. Jain got 69,269 votes while Sathi polled 50,420 votes. The security deposit of all other candidates, including PPP's Dr Ravinder Singh Dhaliwal, was forfeited. The latter secured 7,401 votes.The SAD (Mann) candidate, Birinder P Singh, got just 822 votes.

SAD candidate Joginder Pal Jain flashes victory sign in Moga on Thursday. A Tribune photograph
Canny Sukhbir ensures SAD's majority
Chandigarh, February 28
The SAD president, Sukhbir Singh Badal, has once again proved his mastery in electoral politics by leading the party to a thumping victory in the Moga byelection. Sukhbir has not only successfully carried out the first-ever experiment of co-option of an Opposition legislator, by making him re-contest the seat as an Akali candidate, but also ensured a simple majority for the SAD in the assembly.
Sathi calls it murder of democracy
Moga, February 28


Congress candidate Vijay Sathi today described his defeat as murder of democracy. He alleged that senior Akali leaders had camped in Moga and adjoining villages after the campaigning ended on February 21 evening. " While senior Congress leaders abided by the Election Commission guidelines and left the constituency, senior Akali leaders hid themselves and used money, liquor and muscle power to purchase votes," he alleged. He alleged that Akali workers had resorted to intimidation of voters.
Capt miffed with PPP
Chandigarh, February 28
A Congress - People's Party of Punjab (PPP) alliance, which seemed a certainty a few months back, will be difficult to broker now with Pradesh Congress president Amarinder Singh saying he is no longer in a mood for the same.


'Indicted' by CBI in land scam, Faridkot DC moves court
Chandigarh, February 28
Faridkot Deputy Commissioner Ravi Bhagat today moved the Punjab and Haryana High Court, alleging that he has been indicted by the Central Bureau of Investigation (CBI) without being heard in its inquiry in the Bathinda land scam.
Army extends helping hand to Punjab rowers
Chandigarh, February 28
The Western Command in a formal communication to the Punjab Government has offered to train its rowers who do not have a regular coach at the moment.
National Science Day celebrated
Fatehgarh Sahib, February 28
Sri Guru Granth Sahib World University celebrated the National Science Day to commemorate the contribution of Nobel laureate and physicist Sir CV Raman's discovery of the Raman Effect on this day in 1928.
SGPC to probe molestation charge against 'raagi'
Amritsar, February 28
A day after suspending 'raagi' Ajai Singh for allegedly molesting a woman in Canada, the SGPC has handed over the investigation to its flying squad department. Ajai Singh is the son of former Akal Takht Jathedar Giani Puran Singh.
Rajasansi's carpet industry in knots; govt looks the other way
Amritsar, February 28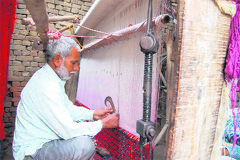 The carpet industry in Rajasansi, that only a few decades ago would supply high-quality carpets to Europe and Russia, has lost its sheen owing to government apathy. The town and surrounding villages, employing hundreds of skilled weavers, would export 1.5 lakh square feet of carpet to European countries every month till 1995."Now, the people know Rajasansi for its international airport. But long before that, it was known for hand-knotted carpets."

Sucha Singh, local artisan


Punjab Bar Council: Polls will be held as scheduled
Chandigarh, February 28
The Bar Council of Punjab and Haryana has made it clear that it is determined to hold the elections on May 31 and June 1.
Advocates' Welfare Fund Act gets nod after 10 yrs
Chandigarh, February 28
Lawyers in Punjab, Haryana and Chandigarh can now look forward to benefits under the Advocates' Welfare Fund Act. More than a decade after it came into existence, the States of Punjab and Haryana have notified it.
HC sets aside DGP's order on protecting convicted cops
Chandigarh, February 28
The Punjab and Haryana High Court today virtually showed the door to tainted policemen in Punjab. Acting on a petition filed in public interest, a Division Bench of the High Court set aside a circular issued by the Punjab Director-General of Police (DGP) as it protected policemen convicted for an offence where the maximum punishment was less than three years.


Inter-state gang of arms dealers busted, 2 held
Fatehgarh Sahib, February 28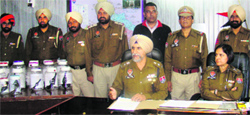 The local police has busted an inter-state gang of arms dealers and seized 30 revolvers and pistols from them. Two dealers have been detained.


Inspector-General Gurpreet Deo displays the seized revolvers in Fatehgarh Sahib on Thursday. Tribune photo
Nagar panchayat president's husband shot dead in Dirba
Sangrur, February 28
Harpal Singh Chatha (32), the husband of Dirba Nagar panchayat president Parminder Kaur Chatha, was allegedly shot dead at Dirba today.
Dasuya sarpanch, brother booked for poaching
Hoshiarpur, February 28
A migrant worker, Vijay Kumar, was sent to 14-day judicial remand and the sarpanch of Tohara village near Dasuya, his NRI brother and his neighbours were booked under the Wildlife Protection Act for allegedly killing a sambar on Wednesday.