Golf Club violated rules, says court
Chandigarh, March 1
"The grant of green card membership to 150 persons was in violation of the bylaws of the Chandigarh Golf Club……It has come on record that some persons, who were above the age of 21 and not even playing golf regularly were given green card membership." These were the observations made by SS Sahni, Additional District and Sessions Judge, while dismissing the appeal filed by the Chandigarh Golf Club over the green card membership issue. Though the order was passed on February 14, the detailed order was made available only today.
Tainted cricket coach ends life
Panchkula, March 1
RP Chopra, a government cricket coach, who was arrested recently by the Vigilance Department for taking bribe from a cricket aspirant, allegedly committed suicide this afternoon at his residence in Sector 21, Panchkula. A case of abetment to suicide under the Section 306 of the IPC has been registered against the cricket aspirant, Krishan Kumar, who had complained to the Vigilance Department.



Punjab govt sends fresh panel for CITCO chief's post
Chandigarh, March 1
The Punjab government has sent the panel of three IAS officers for the post of Managing Director of the Chandigarh Industrial and Tourism Corporation (CITCO). This is the third panel of officers sent by the Punjab government.
Family blocks main road
Panchkula, March 1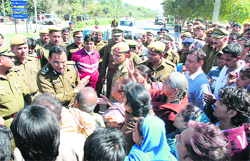 A day after a 26-year-old youth was brutally murdered over just Rs 10, his family members refused to claim the body till the time the police arrested the accused. The protesting relatives of the deceased also blocked the main road separating Sectors 5 and 6 here.



RS Deswal, Commissioner of Police, pacifies protestors on the road separating Sectors 5 and 6 in Panchkula on Friday. Tribune photo: Nitin Mittal
Child labour is hindrance to growth: Expert
Chandigarh, March 1
Dev Samaj College for Women, Sector 45, Chandigarh, organised a one-day national seminar on "Challenges to inclusive growth: The way forward".
Census workers receive commendation certificates
Chandigarh, March 1
KK Sharma, Advisor to Administrator, today gave away census medals and commendation certificates to census functionaries at an award ceremony organised by the Census Operations, Chandigarh (UT), at CRRID.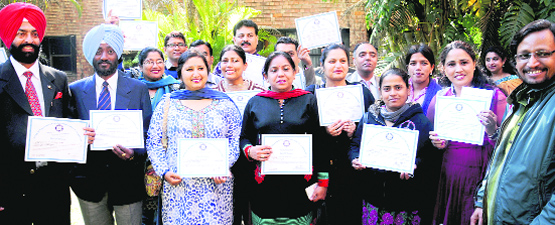 Census functionaries with their certificates at CRRID, Sector 19, Chandigarh, on Friday.
Canada issues record 1.4 lakh visas to Indians
Chandigarh, March 1
A record 1.40 lakh Indians, including students and visitors, were issued visas to Canada. Among the beneficiaries, 1.30 lakh were visitors and 13,000 students. Never before have so many Canadian visas been granted in a year.
Don't use derogatory language: Police Complaints Authority
Chandigarh, March 1
In a stringent order, the Police Complaints Authority (PCA) has requested the Inspector General of Police (IGP) to issue a general direction to all police officers manning police stations to behave in a decent manner and avoid using derogatory language.
Post-mortem reports mystify kin
Mohali, March 1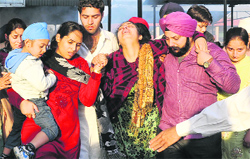 After three postmortems in two days, doctors have not been able to trace any bullet from the body of Amarpreet Singh, a lawyer who died on Wednesday following a firing incident the same day. "The cause of Amarpreet's death is shock and hemorrhage due to firearm injury," said the latest post-mortem report of the board of doctors at the Civil Hospital.
Family members of Amarpreet Singh during the cremation at Phase 7, Industrial Area, in Mohali on Friday. Tribune photo: Vicky Gharu
BDO collapses at High Court
Chandigarh, March 1
A 45-year-old woman employed as the block development officer of gram panchayat, Sangrur, collapsed on the premises of the Punjab and Haryana High Court this morning.
Litigants suffer due to suspension of work
Mohali, March 1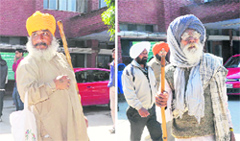 As the work remained suspended for the second day in Mohali district courts, several litigants faced a difficult time.



Ram Partap Singh (left) and Dilwara Singh, who came from Patto village near Chunni (Fatehgarh Sahib) in connection with their land cases in district courts, Phase 3B 1, in Mohali on Friday. Tribune photos: Vicky Gharu
Western Air Command chief visits High Grounds
Chandigarh, March 1
Air Officer Commanding-in-Chief of the western command Air Marshal Arup Raha visited the station High Grounds here today. He was accompanied by his wife Lily Raha, president of the Air Force Wives Welfare Association (regional).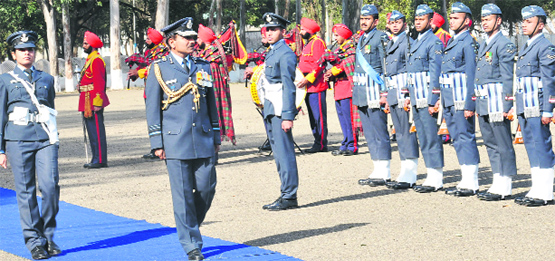 Air Officer Commanding-in-Chief of the western command Air Marshal Arup Raha takes a guard of honour during his visit to the High Grounds in Chandigarh on Friday. A Tribune photograph
City war hero gets Lifetime Achievement Award
Chandigarh, March 1
City-based 1971-War hero and Maha Vir Chakra awardee Brig Kuldip Singh Chandpuri has been conferred with the Lifetime Achievement Award at a function in New Delhi. The function was organised by a prominent national TV news channel to honour the brave heroes of the nation.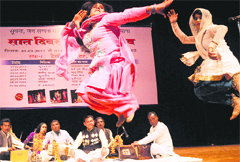 7-day cultural festival kicks off
Chandigarh, March 1
The Haryana Culture Department today began its seven-day cultural festival, Saang, at the Tagore Theatre.




Artistes present a dance during the cultural festival, 'Swang', at the Tagore Theatre, Sector 18, Chandigarh, on Friday.
CBSE EXAMS: Easy paper on day 1
Chandigarh, March 1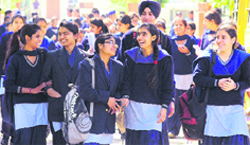 The CBSE adopted "easy to complex" formula for the board exams, which began today in the tricity. While the class XII board exams began with the English paper, the class X boards started with the painting exam.



Students come out of the examination hall at DAV School, Sector 15, Chandigarh, on Friday. tribune photo: S Chandan
150 art works displayed at exhibition
Chandigarh, March 1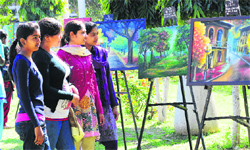 The creative society of the PG Government College for Girls, Sector 11, Chandigarh, Kala-Srijan, organised an annual art exhibition today.




Students take a look at art work at the PG Government College for Girls, Sector 11, Chandigarh, on Friday.