Lifeline not enough
The Finance Minister has served a bland Budget to the realty sector that was looking for nourishing fare to regain its lost vigour
Sanjeev Sharma
Union Budget for 2013-14 has been a mixed bag for the real estate industry with the optimism on sops for first-time home loan buyers being dented by the imposition of 1 per cent tax deduction at source for sale of property beyond Rs 50 lakh.
However, the mood in the sector is largely that of disappointment as several demands of the sector have not been met.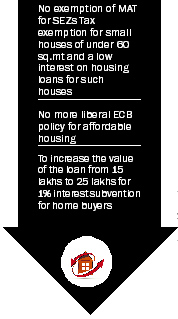 No silver lining

Realty developers' apex body CREDAI expressed disappointment over the Finance Minister missing out on affordable and rental housing and banking reforms.

CREDAI, however, praised the Finance Minister for accepting the suggestion for home loan interest incentives for sub-Rs 25 lakh buyers, "but, honestly we were expecting a lot more," said Lalit Kumar Jain, National President CREDAI & CMD Kumar Urban Development Ltd (KUL).

Jain said the first-time home loan borrowers of properties of sub-Rs25 lakh will be allowed an additional deduction of Rs 1 lakh.

However, the caveat on this sop is that buying a home is a big-ticket decision which is primarily based on future expectations, growth in jobs and income. Given the huge slowdown in the economy with the latest GDP numbers coming in at 4.5 per cent, growth, jobs and incomes are all in serious doubt.

Historically, it has been seen that home purchases have been made even in a high-interest rate regime and tax sops or interest rates are lesser factors in a home buyer's decision. The pre-dominant factor is whether he/she feels that he has a steady job and incomes will grow in the future.

Smaller centres to benefit from tax sop

The benefit of this sop may be felt more in the smaller cities where the ticket size of a home is smaller as compared to that in bigger cities. Tanuj Goel, Executive Director, KDP Infrastructure says, "The Budget seems to have given some hope to the real estate segment though the real expectations remained unfulfilled".

Goel says this provision is only for the first year and with a carry-forward benefit of the unutilised deduction to the second year. This will help boost housing sales in tier II and III cities, peripheral areas and distant metro suburbs, but not within the metropolitan cities.

Sanjeev Srivastva, Managing Director Assotech Limited echoes the same sentiment by maintaining that the additional deduction of interest up to Rs 1 lakh is a good move to encourage new buyers to think of buying a home. This is going to increase affordable home market and may give boost to affordable housing projects.

Multiplier effect may bring some solace

This can also have a multiplier effect for related industries. Gagan Banga, CEO of Indiabulls Financial Services says it will not only help housing as such, but will also lead to an increase in demand for steel, glass, cement and several other industries.

Among the beneficiaries of a growth in real estate demand could be the air conditioner manufacturers. Kanwal Jeet Jawa, Managing Director, Daikin India , says by stressing on one of the most critical components of the Indian economy — the real estate sector, the Finance Minister has opened the doors for greater bloom in the Indian HVAC market as well.

With a direct correlation between the two sectors wherein growth of the real estate sector supplements the growth of the HVAC sector, factors like issuance of an additional deduction of Rs 1 lakh for people taking a home loan on their first home during the period 2013-14, shall help investors invest more in real estate which will thus augment the reach of the HVAC industry as well.

The bitter-sweet TDS pill

The real estate industry, however, is peeved at the Budget provision of levying TDS at 1 per cent on sale of property above Rs 50 lakh , which, they fear, may hurt demand. According to R.K Arora, Chairman and Managing Director, Supertech Limited, "The real estate industry which has been looking to the annual budget for relief, is highly disappointed with the decision to levy TDS on property transactions beyond Rs 50 lakh". This decision is likely to create a recession in a market already facing a slump, he added.

The idea is to get more transactions under the tax net. Says Pankaj Bajaj, President CREDAI NCR & MD Eldeco Infrastructure on the high value transaction tax, the idea behind 1 per cent TDS on property transactions of more than Rs 50 lakh is clearly to bring more and more property transactions under the tax ambit especially in the re-sale market where a significant component of the transaction value tends to be in black.

This provision will also curb speculation in the property market.

Goel says , "TDS of 1 per cent to be charged on the transfer of immovable property shall curb speculation and bring about improved reporting and accountability in high-value immovable property transactions. Considering that the TDS is to be charged on the gross transaction value rather than net gains, sellers will have a cash-flow impact in situations where the sales are at a loss or at zero/negligible gains".

Expensive luxury

However, luxury properties will become even more expensive due to changes in service tax rules. Goel adds that the rate of abatement on homes and flats of above 2,000 sq ft or costing Rs 1 crore and above has been reduced from 75 to 70 per cent. Effectively, this translates into an increase in service tax outflow, which means that luxury housing will now become even more expensive.

Fringe benefits

The real estate industry will benefit from increase in outlays of government schemes. Suresh Gogia, CMD, Ascent Buildtech says the proposed raise in allocation to the Rural Housing Fund from Rs 4,000 crore to Rs 6,000 crore also can't be ignored as a motivator. Goel adds that the additional allocation of Rs 14,873 crores to JNNURM towards public road transport will help make lagging real estate locations more viable over the longer term. An urban housing fund for Rs 2,000 crore has also been announced in the Budget.

Industry reacts

The sector feels disappointed for not getting infrastructure status and the imposition of 1 per cent TDS on property worth more than Rs 50 lakh will create an impact on the overall growth of the real estate industry.

— Nikhil Jain , CEO, Ramprastha Group

There were no announcements to grant an industry status to the sector and no clarity is there on the continuation of interest subvention of 1 per cent on home loans for affordable housing. — Rajendra Kumar Panpalia, MD, Wave Group

The real estate sector is constrained in supply, and none of the items: granting an industry status, infrastructure status for township projects or FDI rules have been mentioned. Affordable housing supply will remain constrained because of this. Luxury houses will also cost more due to decrease in the rate of abatement. Overall a "do not rock the boat" Budget. — Vineet Singh, Business Head, 99acres.com

Indian real estate will continue to struggle with its larger hurdles. While the affordable housing category has been rightly given due attention, aspects relating to improved transparency and corporate governance within the sector have been largely ignored. — Anuj Puri, Chairman & Country Head, Jones Lang LaSalle India

I hope that measures proposed in the Budget aimed at promoting infrastructure growth, reforms in the financial sector and industrial development will be implemented effectively, in order to propel India towards a high growth trajectory. — Anshuman Magazine, CMD, CBRE South Asia Pvt Ltd.

This was a reasonably encouraging Budget in general, but unenthusiastic for the Indian real estate sector. — Sanyam Dudeja, COO Punjab, Taneja Developers & Infrastructure Ltd.

High interest rates and soaring land prices have been the major resistance factors in reviving the demand for housing stock and the Budget could have announced a few long-term steps aimed at improving the supply of land and reducing interest rates. — David Walker, Executive Director, SARE Homes

Sore points

Input costs like those of marble have gone up. Arora says raising the excise duty on marble from 30 to 60 per cent is also likely to affect the cost of housing. He adds that the effect of increasing the income tax exemption from Rs 2 lakh to Rs 2.20 lakh is marginal and not sufficient to increase the purchasing power of taxpayers. "The proposal to raise surcharge from 5 to 10 per cent for companies earning profit beyond Rs 10 crore is highly discouraging and is penal in nature", he adds.

The disappointment in the industry is more on account of several demands that have not been met. Jain of CREDAI says the developer community is thoroughly disappointed that the Finance Minister has not given any directions to the RBI on the imperative to support real estate funding.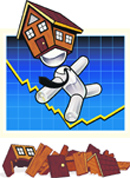 Bajaj said that what is disappointing is that the FM has not chosen to give any direct fillip to affordable or mass housing in the form of some kind of tax incentives. "Any loss of revenue, in my opinion, would have been more than compensated by way of increase in construction activity as a result. Housing is a sector with maximum forward and backward linkages. Coupled with acute housing shortage, there was a real case for giving tax breaks for mass housing which has been ignored in this budget", he adds.
Arora laments that none of the suggestions of real estate industry like giving industry status to real estate, allowing benefit U/s 80 IB to developers to promote affordable housing or reduction of excise duty on cement or steel have been considered in the budget proposals.