Moga debacle triggers war of words among Cong MLAs
Patiala, March 2
The issuance of show-cause notices to three Congress MLAs and a former minister by PCC president Capt Amarinder Singh for "not campaigning" in the Moga byelection has evoked a sharp criticism. Patiala Rural MLA Brahm Mohindra has shot off a letter to Capt Amarinder stating that rather than issuing notices to others, "he should go into a serious introspection as to why the Congress lost elections in 2007 and 2012 under his leadership".
Exports hit as fewer airlines fly abroad from Amritsar
Amritsar, March 2
The perishable cargo facility at Sri Guru Ram Dass Jee International Airport here is used rarely ever since the British Midland International Airways (BMI) discontinued its Amritsar-London flight in October last year.
Godforsaken border villages finally have a few official visitors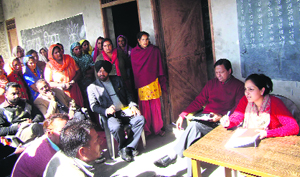 Ferozepur, March 2
With a hostile neighbour (Pakistan) on one side and the ravaging Sutlej, which separates them from India, on the other, the hapless residents belonging to the villages along the Indo-Pakistan border here are seemingly caught between the proverbial devil and the deep sea.
Sonali Giri, ADC(G), and government officials interacts with residents of border villages in Ferozepur. A Tribune photo

CM: Govt to consider demands of teaching, non-teaching staff
Chandigarh, March 2
Punjab Chief Minister Parkash Singh Badal today assured the teaching and non-teaching associations of the state that the government would sympathetically consider all their legitimate demands and resolve those in a time-bound manner.
CBI raids rice mills across state
Moga, March 2
The Central Bureau of Investigation (CBI) today raided rice mills across Punjab to look into the allegations that the state Food and Civil Supplies Department had allocated paddy to blacklisted firms.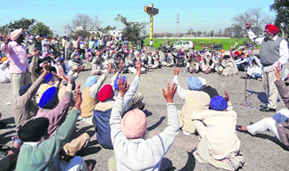 Forceful protest

: Residents protest against non-functional traffic lights at Sirhind chowk in Morinda on Saturday. A Tribune photo

Punjab seeks report on ailing carpet industry
Amritsar, March 2
Following a report of the ailing carpet industry published in The Tribune, a government agency Punjab State Cooperative Handloom Federation Limited (WEAVCO) has sought a report from its local office on how to revive the age-old handicraft industry at Rajasansi town near here.
Anna's Punjab tour from March 31
Jalandhar, March 2
Social activist Anna Hazare will be on a weeklong tour of Punjab from March 31. Hazare, who is also the head of the newly constituted Jantantra Morcha, will address a number of rallies at various places in the state to spread awareness against corruption. General VK Singh (retd), a leading member of team Anna, will come to Jalandhar on March 3 to meet social activists on the Anna's proposed visit.
Two surrender in Dirba murder case
Sangrur, March 2
Two accused persons, namely Darshan Singh and Teja Singh, today surrendered in a court at Sunam in the murder case of Harpal Singh Chatha, husband of the president of Dirba Nagar Panchayat Parminder Kaur Chatha. Another accused, Avtar Singh Bhola, was arrested by the Dirba police yesterday.


103 rape cases pending for over a year in Ludhiana: Home Department
Chandigarh, March 2
In Punjab, law is on the slow track in Ludhiana, with 103 rape cases pending trial for more than a year. In all, 393 cases are awaiting orders for more than 12 months. Ranked by the World Bank in 2009 as the city with best business environment, the atmosphere is just not congenial in Punjab's industrial hub, Ludhiana, for brining the rapist to book.
Take steps to check depleting water table: HC to govt
Chandigarh, March 2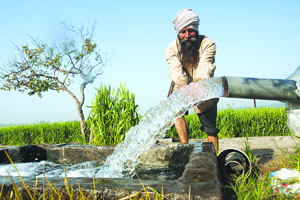 The Punjab and Haryana High Court has taken a serious view of inaction on part of the Punjab Government and Punjab Urban Planning and Development Authority to prepare a concrete action plan for meeting the challenge of depleting underground water level. The rap on the knuckles came during the resumed hearing of a petition filed in public interest by advocate HC Arora. He was seeking enforcement of notifications issued by the Central Ground Water Authority for declaring a number of blocks in Punjab as "notified areas" and for banning the use of underground water in the construction of buildings.


Clashes inside Patiala jail, 4 inmates hurt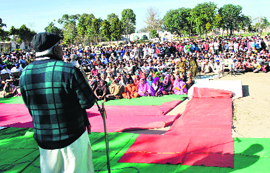 Patiala, March 2
Group rivalry led to violent clashes inside the Patiala Central Jail during a cultural programme last evening. Twenty members of a theatre troupe, including three women, were stuck inside the jail during the clashes. While the troupe members escaped unhurt after they were escorted out, four prisoners sustained injuries in the incident.
Inmates watch a play minutes before the first clash took place at Central Jail, Patiala. Tribune photo

15 booked for pilfering fuel using remote-control device
Bathinda, March 2
The 'fuel pilferage with remote-control device' scandal involving petrol pumps across the state got bigger with the state police booking as many as 15 persons, mostly salesmen at fuel stations, for fleecing consumers.