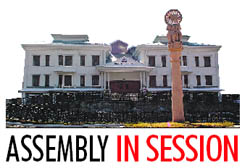 Shimla, March 12
Pandemonium prevailed in the Assembly on the opening day of the Budget session as members of the Bharatiya Janata Party (BJP) resorted to relentless slogan shouting to press the demand for taking up their adjournment motions over the issues of phone tapping, renaming of schemes and closure of colleges started by the PK Dhumal regime.
Trouble started as soon as the House assembled. Suresh Bharadwaj and Rajiv Bindal were on their feet, urging Speaker Brij Bihari Lal Butail to allow their adjournment motions to discuss the serious issues.
The Speaker said he had received their notices and the matter was under consideration, but the members insisted that the issues were of utmost importance and needed to be discussed immediately.

Torrid Opening

BJP presses for adjournment motions

Speaker says matter under consideration

Virbhadra's statement doesn't satisfy BJP

Treasury benches raise counter-slogans
Chief Minister Virbhadra Singh gave a suo motu statement on the phone tapping issue, but it did not satisfy the BJP members. Noisy scenes ensued as they started raising slogans when Butail did not allow their adjournment motion. The treasury benches also joined in and started raising counter-slogans.
As the BJP members refused to budge, Butail went ahead with the business listed. The BJP members continued to raise slogans during the Question Hour and the election of the Deputy Speaker was conducted amid the din.
In his statement, Virbhadra Singh said interception of phones could be ordered only in extreme cases in the interest of public safety and security of the country and an order in writing to this effect had to be passed under the authority of the Home Secretary.
He said every such order had to be reviewed by a committee headed by the Chief Secretary and having the Law Secretary and another Secretary as members to avoid its misuse and all records pertaining to interception of phones were to be destroyed every six months.
He further said the Right to Information (RTI) Act provided that any information which could be given to a legislator would not be denied to any person and as such, if members were provided information, it would have to be supplied under the RTI Act to applicants for all times to come.
He pointed out that this situation had the potential of compromising investigation of crimes and security and integrity of the country and it was privileged information as per Section 4 of Indian Telegraph Act which could not be disclosed.
The Chief Minister also presented the supplementary demands amounting to Rs 870 crore for 2012-13. It included Rs 355.93 crore under Plan schemes, Rs 317.8 crore under non-Plan expenditure and Rs 197.15 crore under Centrally sponsored schemes.
Major expenditure included Rs 73.25 crore for payment of arrears of pay revision to Himachal Road Transport Corporation employees, Rs 52.6 crore under decentralised planning, Rs 51.5 crore for implementation of the JNNURM and Rs 33.41 crore under the Scheduled Caste sub-plan.
Under the non-Plan expenditure, Rs 70 crore had been provided for power subsidy, Rs 47.17 crore for payment of interest, Rs 26.37 crore for salary of staff and members of panchayati raj institutions and Rs 19.6 crore for food subsidy.