M A I N N E W S
Sops to various sections, no fresh taxes in budget
Rakesh Lohumi/TNS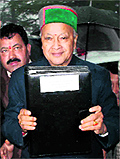 Himachal CM Virbhadra Singh arrives at Vidhan Sabha in Shimla to present budget on Thursday. Photo: Amit Kanwar

Shimla, March 14
A tight fiscal situation failed to deter Chief Minister Virbhadra Singh from announcing sops for various sections without putting any additional burden on the people, except smokers, while presenting his 16th budget on Thursday.
No fresh taxes have been proposed in the Rs 21,767-crore budget which focuses on compression of expenditure rather than mobilisation of resources.
By making some major announcements like skill development allowance of Rs 1,000 per month for jobless youth, 80% subsidy on anti-hail nets and 85% on poly-houses, appointment of a state commissioner (public grievances), increase in fixed medical allowance of employees and remuneration of PTA teachers, the Chief Minister has tried to send across the message that the government was serious about implementing its poll manifesto.
While pleasing the common man, Virbhadra Singh did not forget the legislators and provided Rs 2 lakh each to them to be utilised as discretionary grant.
Smokers, however, will have to shell out more as the VAT on cigarette, cigar and other such products has been raised from 18% to 36% and on bidis from 11% to 22%. In case of footwear, the VAT has been rationalised by having a uniform rate of 9 % in place of two different rates of 5% and 13.75%. New hotels in the backward panchayats have been exempted from payment of luxury tax for 10 years.
"Footwear dealers had requested for uniform tax rate. I have accepted their request and announce that the government will take steps to charge 9% tax on all types of footwear," said Virbhadra. The VAT on aviation turbine fuel has been reduced from 5% to 1% to encourage aircraft to fly to Shimla, Bhuntar and Kangra.
Registration fee under the HP VAT Act, CST Act, Passenger & Good Tax Act and Luxury Tax Act has been abolished for the new dealers to facilitate their early registration and any change in the rate of tax in future will be made applicable from the 1st day of the month in place of middle of the month to enable dealers to calculate the rate and tax period correctly. Token tax on tractors has been exempted for agriculture purpose.
The bonanza
Skill development allowance of Rs 1,000 per month for jobless youth
80% subsidy on anti-hail nets, 85% on poly-houses
Increase in fixed medical allowance of employees and remuneration of PTA teachers
Subsidy on "sasta ration" scheme goes up.
Subsidy to domestic power consumers increased to Rs 270 crore
Smokers to shell out more
Smokers will have to shell out more as the VAT on cigarette, cigar and other such products has been raised from 18% to 36%