15-year run as Cong chief not easy: Sonia
Anita Katyal/TNS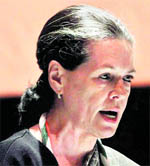 New Delhi, March 14
Sonia Gandhi has completed an unprecedented 15-year run as Congress president, creating history as the longest-serving head of the party.
Sonia has reasons to reflect on this period with immense satisfaction as she successfully steered the party through an extremely rough period to ensure that it remained united and brought it back to power at the Centre for two consecutive terms.
But it is also an occasion for her to pause and introspect as the 127-year-old party faces a tough challenge ahead. Having scaled the heights in 2009 when the Congress surprised even itself by winning 206 Lok Sabha seats (the highest since 1991), 66-year-old Sonia today finds herself in the same spot where she was when she took over the party's reins in 1998 when it was in a state of disarray.
The party's credibility today is badly dented, its cadres are a demoralised lot, the "first family" is once again the target of personal attack while its popularity is fast waning on account of poor governance and corruption scandals.
Given this dismal scenario, the forthcoming Assembly elections which will be followed by the 2014 General Election will prove to be an acid test for Sonia.
Sonia today acknowledged that heading the Congress had not been easy for her. "It was not an easy task. But it was made possible due to your support and love and affection of the grass-roots and ordinary workers which made the task easier and the credit goes to them," she told leaders who called on her to congratulate her.
Sonia is criticised for her status quoist approach and her inability to take quick and timely decisions. She has also not succeeded in building the Congress as a viable political force in states where regional parties are in command.
The Congress remains on the margins in Uttar Pradesh, Bihar, Tamil Nadu, West Bengal and Odisha with little hope of any revival. Sonia has failed to groom effective regional leaders in states who can take on BJP's strong chief ministers like Narendra Modi, Raman Singh and Shivraj Singh Chauhan.
In fact, she is struggling to hand over the mantle to son Rahul Gandhi whose leadership capabilities remain a matter of debate.
Yet, Congress leaders maintain Sonia's leadership cannot be belittled as she successfully stitched up alliances and brought the party to power in 2004 after a long spell in wilderness.