G R O U N D Z E R O
Ground Zero

Shikhar, Sachin, Sunny and of all things cricket
Being left-handed, Dhawan has the elegance of Sourav Ganguly but combines it with the aggression of Virender Sehwag. Apart from style, Dhawan had attitude — twirling his moustache like a duellist before gunning down the opposition.
Raj Chengappa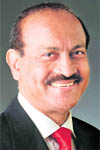 I had gone out of curiosity to see the ongoing third Test match between India and Australia at Mohali on Saturday. I timed it so that when I arrived India would be batting. I had secretly hoped to watch the great Sachin Tendulkar bat. Years ago, when I used to write on cricket, Sunil Gavaskar was one batsman I would travel miles to watch. That loyalty shifted to Tendulkar after Gavaskar retired from Test cricket in 1987. I had the privilege of covering matches when Tendulkar emerged as a phenomenon that saw him inherit the mantle of being cricket's 'Little Master' that Gavaskar had worn for so long.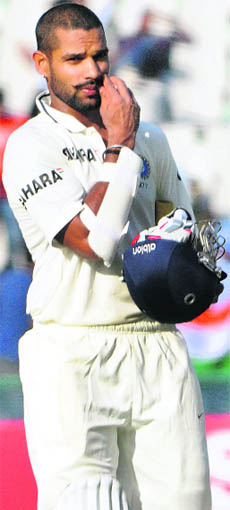 Shikhar Dhawan. Photo: Pradeep Tewari
At Mohali, although I was denied the pleasure of watching Tendulkar, I wasn't complaining. For I was witness to history as Shikhar Dhawan demolished the Australian bowling, breaking several records on the way, including notching up the fastest century and the highest individual score by an Indian on debut. Being left-handed, Dhawan has the elegance of Sourav Ganguly but combines it with the aggression of Virender Sehwag. There were times that he hit the ball so hard that I couldn't spot it as it raced to the boundary. Even the Australian players were left standing. Apart from style, Dhawan had attitude — twirling his moustache like a duellist before gunning down the opposition.
Dhawan is 27 years of age — old by cricket players' standards. That he had to wait so long to find a place in the team was because Sehwag and Gautam Gambhir had been the most successful opening pair for India till recently. Dhawan more than made up to the crowd for Sehwag's absence with the rapid rate at which he mounted runs. It could be argued that this was a second-string Australian attack but that still does not take away credit from this talented debutant.
What was also evident was the wealth of young talent India has on the bench. They are gradually beginning to fill in the void left by great players such as Rahul Dravid, VVS Laxman and Anil Kumble. I still remember the fierce determination that Sachin Tendulkar possessed when I covered India's 1992 tour of Australia, including the World Cup that year. Though he had scored a century, Tendulkar had tears in his eyes when he talked of how he got out and wasn't willing to forgive himself. He told me, "I know it is not possible but I would love to be perfect in the game of cricket." His T-shirt number was always 10 and he strived to be a perfect 10 in whatever form of the game he played.
Though Tendulkar was then just 19 years of age, he had a level of maturity far ahead of his years. In the same interview he told me, "Cricket is a mental game and you have to be mentally tough to hang on. The moment you relax you are out of the game." I wrote then that Tendulkar was not just cricket's future but was determining how the game would be played in future. The rest as they say is history.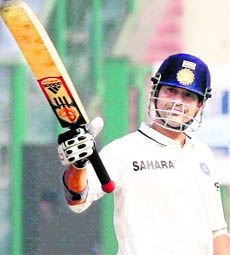 My encounters with Sunny Gavaskar were always memorable. I first interviewed Gavaskar in Bangalore in 1978, when India was playing West Indies then captained by the mercurial Alvin Kallicharan. I was a cub reporter then, but Gavaskar, despite his superstar stature, was courteous answering my questions patiently. It would be another nine years before I met Gavaskar again and this time it was at a World Cup match in 1987 with India playing against New Zealand in Nagpur.
When I buzzed Gavaskar, I was flattered that he immediately remembered me and the interview I had had with him. He invited me to his room, offered me tea, even pouring the decoction himself and chatted with me for over an hour. I was struck by his remarkable memory, his humaneness and how greatness sat so lightly on his shoulders.
I do not have such happy memories of Ravi Shastri, though I respect his achievements and think he is probably among the better commentators of the game. Shastri was particularly miffed about an article I had written about him in 1992, around the same time as I interviewed Tendulkar. When he scored a fine double century against Australia, I called him up for an interview and to my surprise he asked me to come up to the players' dressing room.
When I arrived in the room, Shastri in front of stalwarts like Kapil Dev and the then captain Mohammad Azharuddin raised his voice and told me he didn't think much of my assessment of the game or my writing. I was deeply embarrassed and Kapil, understanding my predicament, took me aside and told me not to bother.
It was not for that reason that I stopped writing on cricket, though Shastri may have been right about my knowledge of the game. Cricket writing had always been a pastime, and after the series I focused on issues that were of more pressing concern for the nation. I still love watching the game as a spectator and I hope Tendulkar would bat when the match resumes today as I can never tire of watching the genius at play.