Taxation management
Money solutions
Usha Albuquerque
If numbers are your forte here is a career where you can manage your own tax problems and also help others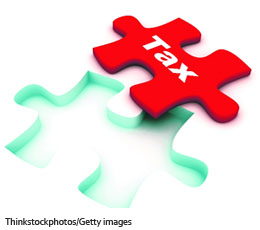 This is that time of the year when everyone starts thinking about Income Tax — how much we may need to pay and how we can invest wisely to save tax. The close of the financial year is the time when tax managers and accountants step in to oversee our tax planning. This is a specialised field of accounting best undertaken by professionals trained to devise, implement and oversee the tax plan for a business or client.
The work: Tax managers prepare the required government documents concerning taxes, ensure the accuracy of these documents, and offer solutions to pressing tax problems.
Career Hotline
Try fashion marketing
Q. I have done a course in fashion design from a polytechnic and am working in a small boutique. Someone has suggested that I should do a course in fashion management to improve my career prospects. Although I enjoy being in the fashion industry, my designing skills are average. However, I like dealing with clients. — Priyanka Satija
Scholarship roundup
Fellowship
The Indian Institute of Science Education and Research (IISER) Mohali, India invites applications for PhD fellowship in humanities and social sciences. Currently, the specializations offered are in the areas of architecture, disaster relief, gender studies, history, human geography, social theory and urban studies, English literature and philosophy.
Testing times: diet mantra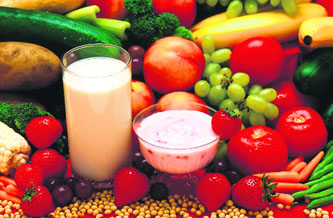 Eat right to stay bright
No matter whether one is appearing for board exams or entrance or graduation and post graduation exams, examination time is the time of stress and anxiety. However, some positive steps may help the examinees to reduce their stress and assist them in achieving their target. Better eating habits and a sensible diet help a lot in improving mind power and combat the so-called examination stress.
Field in focus: textile industry
Weaving magic through textiles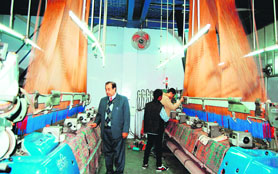 Every day newspaper supplements and fashion magazines cry hoarse that fashion is big business and the textile trade is booming. People are increasingly been known by what they wear. However, here is a lot more to textile indistry than fashion — haute or otherwise. The industry is peopled by different kinds of professionals, who possess different kinds of skills.
Textile engineering is an innovative field that involves creative research, study, and exploration of new techniques for production and improving the existing textiles

The perfect cut
Gone are the days when a haircut was a casual affair. Today, hair means big business. And it's not just the celebrities who are constantly reinventing their looks. More and more people are willing to experiment and in turn spend money on getting the perfect hairstyle. They turn to professionals for treatments that enhance and maintain their locks.
Make your GATE score count
Results of GATE 2013 are finally out. For most of the successful candidates it is the beginning of yet another ardous journey as they have a number of decisions to make. Which institute to join? Which course? What is the admission process like? The post-GATE admission process is quite complicated and without proper guidance, it is easy for an aspirant to miss out on the programme of his choice. The following information will give a basic idea about the institutes and their admission processes. We have classified the institutes/colleges into 7 groups, with Group I being the most desired/preferred.
Course cruising
MASS COMMUNICATION
Delhi School of Communication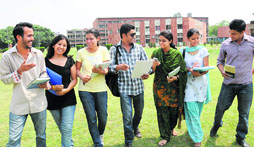 The Delhi School of Communication (DSC) invites applications for its XIXth two-year Post Graduate Programme in Communication (PGDPC). This is a dual-qualification programme awarding both the PGDPC (Post Graduate Diploma Programme in Communication along with the MMC (Masters in Mass Communication) from Guru Jambheshwar University (UGC and AICTE approved). The programme is a broad based course covering advertising, public relations, marketing, and branding. Work exposure via internships is an integral part of the programme.
News board
Skill training tie-up
Sharda Group of Institutions (SGI) will integrate the Oracle Academy Introduction to Computer Science curriculum into Sharda University, and Hindustan College of Science and Technology, located in Greater NOIDA and Mathura respectively, to help the next-generation of technology professionals. This effort will allow SGI to help prepare 4,000 students for successful IT careers, and help meet growing demand for a highly skilled technology workforce.
How Well Do You Know Your Boss?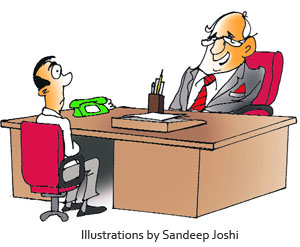 No matter what your position in an organisation (unless you own it, of course), you'll always have a boss. And bosses come in an assortment of temperament and personality types — ranging from the downright bossy and toxic variety to the petulant and grudgingly supportive ones. But all said and done, it helps to remember that bosses are human beings. Just like the rest of us. So do take some time out to find out what makes your boss tick. Understanding how s/he handles emotions and work pressure will give you valuable insights into their personality. Assessing your boss' strengths and weaknesses, will show you the key to make your relationship work better and smoothly. Besides, if you're smart enough, you just might win an important ally.
CareerCature
SANDEEP JOSHI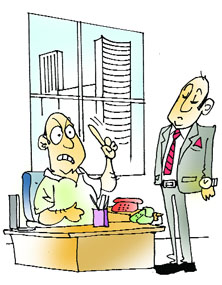 With the kind of salary we give you, how do you buy such expensive clothes and accessories?

Bookshelf
Rooting for change
In order to stay relevant and win one has to continuously innovate and reinvent newer formulas to keep running when others who don't are bound to meet the face of dark yet certain fates. Jason Jennings' book The Reinventors takes one down that path. The author has unveiled a reinvention code whose relevance can be stretched far beyond the world of business. It is about the way forward and demands a complete shift of mindset from being static to being in a state of constant and meaningful dynamism.
Happiness @ work
Gems of ancient wisdom
Reformers take the tough road
Many of us criticise most deeds of others at the workplace, but have nothing to show by way of their own contribution. Accepted that others are bad, but are you any better? Indian reformers in the 19th century talked highly of equality. One day, a certain Gopalrao Joshi decided to test if the Indian reformers had the courage to practise what they preached. So he offered them tea at a Christian mission which MG Ranade, Gopal Krishna Gokhale and Bal Gangadhar Tilak had. Tilak even refused to perform the Brahminical purification ceremony the next day saying, "Is my religion so fragile that it can be polluted by a cup of tea?"
Hiring zone
Tough competition for engineers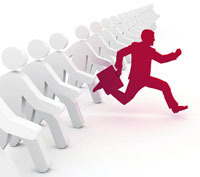 With more number of graduates passing out from high-quality engineering colleges, job aspirants in the engineering arena seem to be facing tougher competition compared to their peers from the business administration stream, says a study. The findings are based on an analysis of data compiled from more than 50,000 job seekers and 3,000 employers across the country, according to Youth4work.com, a portal for student community which conducted the study. As per study, there are 17 aspirants for every one engineering job available.
Cubicle trends
Good looks pay
Good-looking male workers can earn 22 per cent more than their plainer colleagues doing the same job, a new study has claimed. However, good looks do not result in increased salaries for women, the study found. Researchers also found that below-average looks or outright ugliness can reduce a man's earnings by 26 per cent compared to an average-looking worker, The Sunday Times reported.