World theatre Day
Now, time to take city theatre productions beyond Punjab
Aparna Banerji
Tribune News Service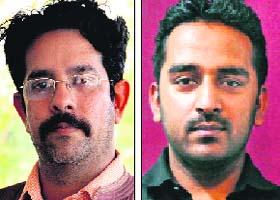 Jalandhar, March 23
About a decade ago, theatre in the city was just about trying. Trying to keep the act (play) together, remember the lines, prevent the microphones from creaking and prevent costumes or wigs from falling off. Actors used to mumble melodramatic lines which were difficult to understand for the audience because both the intonation and the accents were bad.
From those quaint bad-theatre days, Jalandhar has come a long way to a place where "trying" no longer means putting up a decent performance but making a mark beyond Jalandhar, in some cases even out of Punjab.
Tired, hackneyed stories are being replaced by brave new scripts, which dig deep into the psyche, unafraid to explore the dark and nasty areas of the human mind.
With just four days to go for World Theatre Day (March 27), The Tribune talked to some theatre artistes, whose groups have been responsible for such change in the theatre industry of the city.
Ankur Sharma of the group YUVAA, an English professor at a local college, started off with theatre for his college youth festivals but, "Seeing the youth festivals end up increasingly being exploited as a medium for aged directors to loot colleges and establish their monopoly in the college circuit, we broke away from the youth festival and decided to do something new and independent of our own."
"Our resolve has paid off," Ankur beams.
Ankur became the first Punjab-based theatre artist to get permission from the legendary Gulzar Sahib to perform his play in Punjab. He also tied up with TV veteran and producer Harjit Singh on one of his productions and subsequently shocked audiences with his dark, realistic take on addiction, (the script was from a Mumbai-based playwright) and made a lasting mark.
While he will now be taking one of his productions to Delhi "tying up with Ambrish Saxena, a theatre person from the National School of Drama, for his upcoming project on March 24, Delhi's Akshara auditorium will be showcasing the production.
"The play looks into the psyche of men. What they pretend and what they actually think about women. It showcases their double standards and changing moralities depending on their own wives and the wives of other men."
Aptly titled S for Sex, Ankur plans to tone down the title when he brings it for the Jalandhar-based audiences in April.
The cherry on the top is that Ankur is slated be honoured at the Punjab Natshaala, along with some other eminent theatre persons of the region, on World Theatre Day for his contribution in this field.
On March 30, Ankur shall also be bringing two of his production to the region.
Gurvinder Singh, another Jalandhar-based artist, took his play to Kolkata recently.
Performing for a four-day international theatre festival for Institute of Factual Theatre (IFTA), Gurvinder's play "Mother Impossible" (based on the story of a man who loses his mother early on but during his work at a maternity centre, he finds himself vying to be a mother, to give birth to a baby) featured alongside theatre teams from Jammu and Kashmir, Madhya Pradesh, Chennai, Bangladesh, Delhi and Bihar.
Gurwinder, too, shall be taking his production team titled "The Bohemians" to perform a play at Bihar next month.
Gurvinder says "It feels good see where we have reached today from the primitive theatre days in Jalandhar to the theatre boom. Productions are being called from outside, schools are arranging street theatre contests and audiences are ready for brave scripts, which earlier would have been booed away. However, we still have a long way to go and efforts are on to bring Jalandhar on the national map." Some of the most important contributions that the Jalandhar theatre has seen are from Neeraj Kaushik, whose plays on the underprivileged, the political system, the (theatre) politics behind the scenes (Parde Ke Peeche) and about deep conflicts in a writer's mind were the first ones to set the stage for others to venture out.
A lawyer by profession, Kaushik has displayed an undying passion for the stage and his contribution has been vital for other artists to dream big.