Working with nature and wildlife
Call of the wild

Choosing to work in wildlife and environment conservation ensures an exciting and satisfying career
The wanton felling of trees, the plunder of the forests, and the indiscriminate killing of wild animals, and destruction of their habitats has already created great damage to our world. There are many opportunities for you to take up the challenge. There is a huge need for dedicated young wildlife and forest professionals to protect nature and what is left of the environment that we are misusing. A large number of dedicated organisations, government agencies and NGOs are involved in wildlife conservation, working to retain the country's amazing wide variety of wildlife. They work at various levels on a variety of programmes — some handle tiger monitoring and anti-poaching operations, others, rehabilitation work and education of those living around tiger reserves.
Career Hotline
Who should not do MBA
Q. I'm in the second year of English (Hons). Everyone I speak to is rushing to begin preparations for the CAT, AMCAT, etc. With every other person opting for an MBA, is there a category of people who should not go for an MBA? — Piyoli Roy
A. Even in this economic climate, a good MBA/PGDBM affords far better career and economic prospects than most other post graduate programmes. However, it's not everyone's cup of tea. Before plunging in head-first into CAT/XAT/MAT preparations, it is wise to ask yourself this question – Is an MBA what I really want to do? There a few examples I can think of who don't necessarily need to pursue management studies

Scholarship roundup
Commonwealth Scholarship in Mauritius
Mauritius is offering one Commonwealth Scholarship for master's study at the University of Mauritius in 2013, supported by the CSFP endowment fund. The scholarship is provided to study in agriculture, engineering, law and management, science, social studies and humanities, lifelong learning cluster board.
News board
Two from India among 2013 Yale World Fellows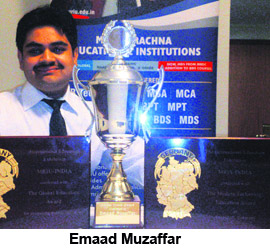 Two of the sixteen 2013 Yale World Fellows are from India, bringing the total number of fellows from India to 13 since the programme started in 2002. India has had more fellows in the programme than any of the 81 countries represented since 2002. Yale World Fellows Programme is the University's signature global leadership development initiative. The 2013 fellows from India are — Prodyut Bora, State Secretary General, Bharatiya Janata Party (BJP) in Assam and Abhik Sen, Managing Editor, The Economist Group
From August to December, the 2013 World Fellows will participate in specially designed seminars in leadership, management, and global affairs taught by leading Yale faculty; audit any of the 3,000 courses offered at the University; engage in discussion and debate with a wide range of distinguished guest speakers; receive individualised professional development training; and deliver public talks on their work, their countries, and the issues about which they are passionate.
Career compass: sound engineers
Sound tracks
Resul Pookutty's Oscar award for Best Sound Mixing last year has thrust the otherwise ignored and unheralded field of sound mixing/engineering into the spotlight. Sound engineers make high quality recordings of music, speech and sound effects in recording studios and "on location". They use complex electronic equipment to record sound for: commercial music recordings, radio, TV, film and commercials, corporate videos, websites, computer, video and mobile games.

Course cruising
Ergonomics course
The Design School at UK's Loughborough University is inviting applications for its postgraduate programmes in Ergonomics (MSc/Diploma/PG certificate). The four programmes under the course, namely Ergonomics (Human Factors), Ergonomics in Health and Community Care, Human Factors in Transport and Human Factors for Inclusive Design, provide necessary knowledge and skills to address ergonomics issues in the design of products, jobs, workplaces and systems.
From the fields: bee-keeping
Sweet gains
Honey has been important in human diet since ancient times. It is a rich source of protein, minerals and has great medicinal value also. Bees conserve biodiversity and strengthen gene pool of flora. As a profession of global importance bee keeping has created opportunity for self-employment. It can provide extra income to farmers without the need to acquire additional land. The technique involved in rearing of honey bees is relatively easy and a large number of rural women are taking to this profession.
Career compass: script writer
Script of success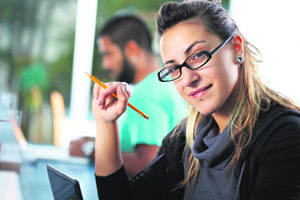 With movies like Barfi and Paan Singh Tomar winning awards at the award ceremonies, it is not only the director and the actors who are enjoying the glamour of success, the scriptwriters who penned powerful scripts of these runaway hits are also in the limelight. Strong scripts are an important element of the success of a movie or a serial and this specialised field of writing is gaining popularity now. It brings about a marriage of mind and media. Script is the very first step in the making of a classic. It is one of the primary things an actor would like to hear before signing a contract. Scriptwriters often specialise in a specific genre which can be comedy, drama or sci-fi etc. Thinkstockphotos/Getty images
Summer lessons
Summer school programmes are the flavour of the season as institutes gear up to offer a variety of courses to students this year. We take a look at two such courses that 16 to 18 years olds can try out this year:
Smart strategy: sharing workspace
Space sutra
Swati Rai
Sharing office space can be an enjoyable or a dreadful experience depending on your attitude as it does come with its own set of challenges. Space sharing at work is a breeding ground for altercations, run-ins and irritable moods. The situation can take a nasty turn if not handled patiently and delicately.
Cubicle trends
Facebook popularity may land you a job
Your popularity on social networking sites such as Facebook, Twitter and LinkedIn may help you bag a job as companies are increasingly looking for well-connected and influential people, experts say. Digital experts say social media and recruitment now largely go hand in hand. While at the most basic level, companies check up on prospective employees to see if they make unsavoury postings online, they are also using LinkedIn, Twitter and Facebook to find new employees — both by listing opportunities and by increasing the chatter between recruiters and the people looking for jobs, website stuff.co.nz reported.
CareerCature
SANDEEP JOSHI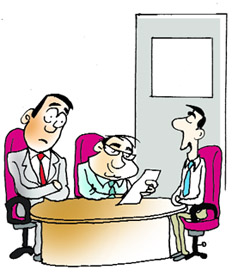 Sir, I am a perfect candidate for a management job. I have been managing my unemployment successfully for the past 10 years.

More women open to challenging jobs
An increasing number of women employees in India are taking up high-pressure jobs, including those involving long working hours and frequent travelling, a survey has said. According to the survey conducted by recruitment consultancy firm, CareerBuilder.com, two-third of women employees in India are now open to travelling as part of their job and another 33 per cent actually prefer a 'high pressure-high rewards' work environment.
Make plans click
D. C. Sharma
With the dawn of a new financial year on April 1, new plans will be implemented enthusiastically in various organisations. However, implementing new plans is not a cakewalk. Some management leaders take their planning system casually and non-seriously and this leads to costly failures for the company as well as the manager. Making annual plans to iron out the earlier flaws is not only a pressing need but a must for an organisation to survive. Here are some tips to ensure that good beginnings are ultimately taken to fine fruition:
Happiness @ work
Gems of ancient wisdom
Boss, act before a showdown
It generally takes a disaster to shake authorities out of their slumber. Bosses, who put off decisions till the last moment, don't realise the harm that the delay is causing. Blind to his son Duryodhana's misdeeds, King Dhritrashtra of Hastinapur allowed atrocity after atrocity to be committed on the Pandavas. All this resulted in the Mahabharata war where 100 sons of the blind king were killed.
Hiring scene
Appraisal season slows down hiring
The ongoing appraisal season has lead to a minor dip in the hiring activity in different industries in the past month, according to the job index released by job portal naukri.com. The index revealed a minor dip of 1.1 per cent for March, when compared with the index for February, 2013. However, the overall index has shown an increase in hiring by 11.5 per cent year-on-year. Hiring levels dipped in sectors like IT- Software, Auto and Oil & Gas. However, hiring in Pharma, Construction and BPO sectors have remained positive in March, 2013 in comparison to the previous month. Commenting on this trend Ambarish Raghuvanshi, CFO Info Edge (India) Ltd said, "While some of this can be attributed to seasonality, it is also a fact that business confidence levels which play a strong role in hiring intentions continue to be fragile."