Adventure Sports
When vacation turns vocation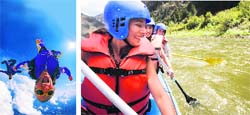 It's holiday time, and not just you, but many of the young people today want a different kind of a holiday — one that might include trekking and hiking, camping, white-water rafting or even para-sailing. No longer are holidays just spent with dada-dadi or nana-nani — these have become a time to taste some risk-taking thrills.
Thriving on thrills: Whether it is extreme adventure sports for adrenaline junkies, or soft adventures for those looking for excitement without the daring, there are a range of exciting activities that an adventure sports instructor can arrange. (L) andA career in adventure sports can bring excitement, fun and good income too. This field offers an ideal career for those to whom a 9-5 job sitting in an office or in front of the computer seems like a boring idea.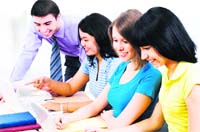 Playing with lines and shapes
If you want a job that will allow you to walk the line between art and technology, with a little bit of drama thrown in, a career in animation could be a great choice for you. A creative bent of mind and an artistic inclination measure the unrestricted boundaries of the world of animation. Animation multimedia is an amalgam of text, sound effects, graphics and visual skills.
Organic Leadership Course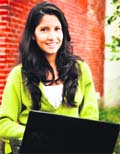 In order to support organic leadership, the International Federation for Organic Agriculture Movements (IFOAM) is offering a course for those who will be assuming responsibilities in the organic world in the near future. Through the Organic Leadership Course, IFOAM will offer a space for learning and experience, and for developing innovative strategies and strong networks. The course is targeted at present and future leaders of the organic movement. During the course of one year, it will provide an intensive, on-the-job learning process that will empower them to actively assume greater responsibility in pushing the world towards increased sustainability.
New institute for realty, construction courses
The Royal Institution of Chartered Surveyors (RICS) has entered into an agreement with Amity University to open a school for specialised degree courses in real estate, construction and infrastructure.
MBA curriculum should focus more on practical skills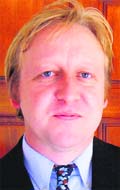 Management education is essential for a growing economy, but it needs a global approach as well as a strong interface with the Industry to be an effective learning platform for students. A strong proponent of hands-on consultancy experience for students, Dr John Kawalek, Director of the MBA, Sheffield University Management School (UK)), during his recent visit to India shares his views on a "productive" management course. Dr Kawalek's work in Innovation Systems has been used to challenge traditional approaches and methods in management.



first person : Dr John Kawalek, Director, Management School, Sheffield University, UK
course cruising
Diploma in mass communication
IMCS Media School, affiliated to Makhanlal Chaturvedi National University of Journalism and Communication invites applications for bachelor's, master's and PG Diploma in Journalism and Mass Communication courses.
smart strategy: getting along with work
Let go of ego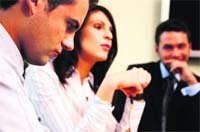 A random poll of employees will tell you that the major problems at work arise out of ego issues. There is a fine line separating ego and self-respect; and between taking pride in oneself and being too proud. Ego at work can break down all communication, generate misunderstanding thereby affecting productivity. Ego is a negative force that comes in the way of creativity and initiative at work. Keep the following tips in mind to steer clear of ego clashes at work.
work station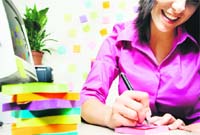 Take note
Be it an office meeting, a speech, a one-on-one interaction, a class lecture, or a summary of written material or online research, effective note taking allows you to store and use the information for future use. To our memories, that usually don't seem to get better with age, these jottings and scribblings are like a large breath of pure oxygen.
40,000 dream of landing a 'dream job'
Tourism Australia's 'Best Jobs in the World' competition has attracted interest from more than 330,000 people in 196 countries, with 40,000 entries to win one of the six dream jobs.
hiring scene
Infy to trim hiring
Reeling under flat revenue growth and bleak outlook, Indian IT giant Infosys will go slow on hiring this fiscal (2013-14) to cut down operational cost and minimise bench strength, an official said recently.
CareerCature
Sandeep Joshi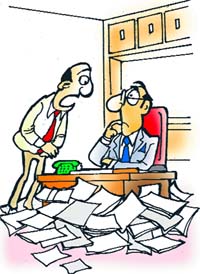 Will you please decide... we are running out of paper
Career Hotline
Pervin Malhotra email your queries to careers@tribunemail.com
What are the career options in radio?
Happiness @ work
Gems of ancient wisdom
Treat failure as a temporary setback