In the aftermath of the chit fund scam in West Bengal, there has been a formal denial from the Trinamool Congress (TMC) that Chief Minister Mamata Banerjee was connected in any way with Sudipta Sen, the chit fund operator who is under arrest, and his Saradha group.
But preliminary inquiries and circumstantial evidence suggest Sudipta Sen and his group was not entirely unknown to her, though it is likely that the Chief Minister herself was not aware of his detailed biodata and other particulars regarding the fund and its operation.
Two of her trustworthy journalist-friends, Kunal Ghosh and Srinjoy Bose, allegedly had professional as well as business relations with Sudipta Sen and his group.
While Srinjoy is the son of Satyasadhan Bose (Tutu Bose), owner of the Bengali newspaper, Pratidin, Kunal's presence in the media circuit has been quite recent. He is not known to many senior and veteran journalists in Kolkata and has not worked with any big newspaper.
Kunal's colleagues claim that he had been a frequent visitor to Mamata Banerjee's house. During the Left Front rule, he was also reportedly close to many CPM leaders, particularly Gautam Deb, the then state Housing Minister and trustworthy lieutenant of Chief Minister Buddhadeb Bhattacharjee.
Past catches up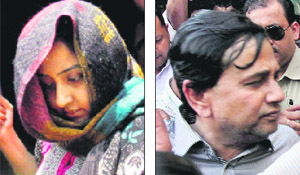 Saradha director Debjani and Sudipta Sen held Rs 13,440 crore in joint accounts with four others.
How Kunal forged a connection with Sudipta is not really known. Sudipta was formally known as Sankar in the Behala area, where he had his ancestral house.
No one knew about Sudipta's whereabouts after he fled Behala following his alleged involvement in a case pertaining to the trafficking of women in the late 70s. But after the lid blew off the Saradha chit fund scam, many of his old associates identified him as their "Sankar".
It is alleged that Sudipta was the nephew of another chit fund operator, Bhudeb Sen of Sanchayani, who had been arrested and his property attached at the intervention of the former Finance Minister, Dr Ashok Mitra, during Jyoti Basu's tenure as Chief Minister.
The Saradha group was in operation during the Left Front regime also, but it was not doing well. It is said Sudipta approached several political leaders belonging to various parties for help. He was once reportedly taken to Gautam Deb by Kunal, but the meeting yielded nothing.
Kunal, however, found Mamata Banerjee as the right person to help Sudipta, who was then in extreme trouble because of his company. The TMC chief thought Kunal could help publish her achievements as minister and the pro-people works of her party.
Give and take
Later when Mamata Banerjee became the Chief Minister, she chose Kunal as her main mediaperson for building a network in the print and electronic media for contradicting the alleged propaganda against her by the CPM, the Congress and other vested interests.
She would often complain publicly that the CPM owned and controlled several television channels and newspapers that were engaged in spreading canard about her and the state government.
But soon with Kunal's help, Mamata allegedly found several fledgling newspapers and television channels at her service for countering the propaganda against her and her government.
Seven daily newspapers, including two English, one Hindi and another Urdu, had been brought out with chit funds provided by Sudipta. Kunal controlled these until these were closed down by Sudipta for want of funds.
The Saradha group also owned three television channels, which were also under Kunal.
Tables turn
Sudipta alleged that he had funded all these newspapers and channels following assurances that he would be bailed out from his business problems by the Chief Minister and the TMC, which was then a part of the UPA-II government.
Sudipta alleged in an 18-page letter to the CBI that he was "cheated and blackmailed" by Kunal and Srinjoy. The judicial commission set up by the Chief Minister will be looking into Sudipta's charges. The police has also launched a separate inquiry into the allegations.
Earlier Mamata had been satisfied with the services rendered by Kunal and Srinjoy and had suitably rewarded them with TMC's Rayya Sabha membership from West Bengal. They are suspected to have helped the TMC monetarily as well. The financial assistance was coming from Sudipta and his chit fund business which was booming with large-scale deposits from people all over the state who had rightly or wrongly identified Saradha chit fund with the TMC.
Sudipta had also given an impression that he had the blessings and support of "Didi" (Mamata).
Mamata's paintings
The Chief Minister as well her party ministers and leaders have, however, denied any association with Sudipta and his group. They said they had not asked anyone to deposit money with his chit fund.
At the same time, Mamata has not denied that Sudipta had been a frequent buyer of paintings she would casually draw. She also did not contradict the report that he bought one of her paintings for Rs 1.80 crore.
The Chief Minister often claimed publicly that she did not need the assistance of any businessman to run her party as she was competent enough to mobilise large funds by selling her paintings.
It has now been proved that Sudipta cheated millions of poor depositors and agents. At the same time, he, too, has allegedly been cheated and blackmailed by TMC leaders who used him as a "milch cow" to meet their financial needs.
Mamata Banerjee now realises that her clean image and popularity have been tarnished because of the party's associations with Sudipta and his chit fund, though publicly, the party is denying any involvement in his chit fund operation.
As damage control, the TMC is trying to make both Kunal and Srinjoy scapegoat since their close links with Sudipta have been well established.
The Chief Minister has ordered a judicial probe and a SIT inquiry into the scam. She has also announced the formation of a Rs 500-crore relief fund for meeting the needs of genuine depositors who are poor. But the small relief fund will be a futile attempt to please thousands of depositors and agents who have been defrauded.
Chit operation
The chit fund operation is not new in Bengal. It is also not an illegal financial operation if sanctioned by the RBI and SEBI. Such legal chit funds have been in operation and quite popular in Kerala, Chennai, Navi Mumbai, Lucknow, Chandigarh and Agartala.
In West Bengal, barring the Balussery Chit Fund, no other chit fund is legal. But still they have been in operation for several years. Chit fund operation witnessed a boom in the state in the 90s during the former Left Front regime and now during Mamata Banerjee's rule.
The Left Front government did not pay much attention to the illegal chit fund operations and several such funds now exist in the state.


Police findings thus far
Rs 35,000 cr collected from chit fund
160 companies under Saradha group
Rs 115 cr withdrawn by Sudipta from his first wife's account in Feb
Rs 300 cr withdrawn from second wife's account in Feb
Sudipta's story

Sudipta has two wives. His son Subhojit is a director in Saradha. Their houses are locked and there is no trace of the occupants. A sum of ~3.50 crore in his wives' accounts has been sealed.


In 1999, he started the chit fund. Was accused of killing his partner Biswanath Adhikhery.

Links revealed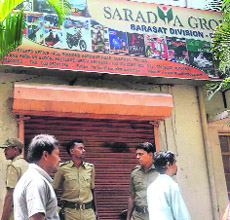 A sealed office of the Saradha group.

Transport Minister Madan Mitra was president of the TMC workers' unions at Saradha.


Minister Firhad Hakim visited Saradha offices.


Deben Biswas, former CPM MLA, was company's security adviser.


Saumitra Sen, impeached former judge, was legal adviser.


Actor Satabdi Roy was brand ambassador of the group.


Actor Mithun Chakraborty was consultative editor of a Bengali weekly run by the group.
(Most of them were drawing Rs 10 lakh to Rs 1 crore a month)