M A I N N E W S
No wealth tax on agriculture land, Chidambaram tells Cong leaders
Delegation from Punjab, Haryana, Rajasthan gets assurance from FM
KV Prasad/TNS
New Delhi, April 29
Union Finance Minister P Chidambaram today assured a Congress delegation that the Centre would not impose wealth tax on agricultural land in the country that has turned into a major issue across several states.
With the latest proposal in the Union Budget to impose one per cent wealth tax on agriculture land falling within 8 km of municipal limits turning into a political hot button issue, a delegation led by Haryana CM Bhupinder Singh Hooda with 30 MPs drawn from Punjab, Haryana, Delhi and Rajasthan met Chidambaram in his North Block office.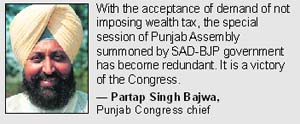 "The Union Finance Minister assured us that no wealth tax would be imposed on agricultural land in the country. It will not be imposed on such land especially when the holders have not applied for change in land use'', Hooda said after the meeting.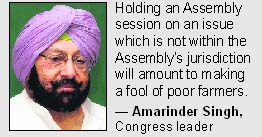 Members of the delegation also called on Congress president Sonia Gandhi. Punjab Congress chief Partap Singh Bajwa hinted that the Finance Minister could announce the withdrawal of proposal in the Lok Sabha tomorrow when the House is scheduled to transact financial business. Haryana MP Deepender Hooda, too, echoed similar views.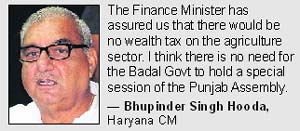 The latest move by the Congress to send its delegation comprising two Union Ministers, Perneet Kaur and Manish Tewari, to Delhi was clearly an attempt to put the Opposition, including the Shiromani Akali Dal, on the back foot.
The SAD was planning to 'cash in on' the wealth tax issue terming it as anti-farmer.
The delegation urged the Finance Minister to 'intervene and order withdrawal of the proposed amendment and issue a clarification stating that the urban land does not include agricultural land and no wealth tax is liable to be paid'. Delegation members asked Chidambaram to issue administrative directions to the Income Tax Department and put on hold issuing of fresh notices seeking payment of wealth tax on agricultural land.
"The Finance Minister said the UPA government's policy is to protect the interests of the farmers and therefore, nothing would be done against them. If necessary, due procedure would be adopted, so that no wealth tax is imposed on agricultural land," said Hooda.
While Punjab has called a special session of the Assembly early next month to discuss the issue that is agitating farmers, in Haryana, the Opposition Indian National Lok Dal has sought a similar session.
The delegation included MPs Bhakta Charan Das, Sandeep Dikshit, Ram Parkash, Vijay Inder Singla, Jyoti Mirdha, Santosh Chaudhary, Ravneet Bittu, Shadi Lal Batra, AICC Secretary and MP Harish Chaudhary, Punjab Leader of Opposition Sunil Jakhar and MLA Jagmohan Singh Kang.
What's at stake
As part of the Chelliah Committee recommendations, the wealth tax on unproductive assets was levied in 1992. These assets included farmhouses, motor cars (except those not used for earning livelihood), yachts, boats
Finance Act 1992 excluded some lands while defining what urban land is
The exempted list, however, had no mention of agriculture land. As the farmland was not exempted, income tax officials are free to assess tax on farm land within notified municipal limits and around cities
Political fallout
Many northern states have a farming community with huge stakes. No political party can overlook this section
The farmland owners proposed to be taxed also include small and marginal farmers. Again a big political chunk. With LS polls just about a year away, no party can afford to annoy the farmers