Govt agrees to re-open land fraud cases
Chandigarh, April 29
There could be fresh trouble for land grabbers across Punjab. The state government has accepted Justice Kuldip Singh panel's recommendation to re-open cases involving "fraud".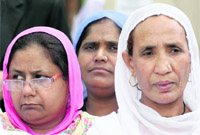 Verdict in Sajjan Kumar case today
New Delhi, April 29
The Karkardooma District Court will pronounce its verdict in the 1984 anti-Sikh riots case tomorrow in which senior Congress leader Sajjan Kumar and five others, former MLA Mahinder Yadav, former councillor Balwan Khokhar; Krishan Khokhar, Capt Bhamal and Girdhari Lal, are accused.


Eyewitnesses in a 1984 riots case outside the Delhi High Court on Monday. Tribune photo: Manas Ranjan Bhui

HC: Further hearing on Sultanpuri killings on May 15
New Delhi, April 29
The Delhi High Court said today that further hearing was required in Congress leader Sajjan Kumar's plea, challenging a trial court order framing charges against him in a 1984 anti-Sikh riots case related to the killing of six persons in the Capital's Sultanpuri area.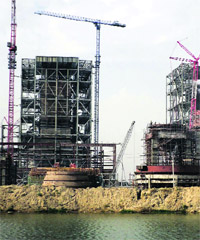 Upcoming power plants unlikely to bail out state
Jalandhar, April 29
With the fate of three upcoming thermal plants remaining uncertain, claims made by the SAD-BJP government of making Punjab a power surplus state by year 2013-14 seem a distant dream. Though the government was citing coal linkage as a major stumbling block for the thermal plants, highly placed sources in Punjab State Power Corporation Limited (PSPCL) said project developers are not interested in setting up the power plants.




The Talwandi Sabo plant under construction. Tribune file photo

Bajwa wins political victory on wealth tax
Chandigarh, April 29
As assertive Punjab Congress has won a political victory over the SAD on the wealth tax issue by taking up the matter aggressively with its party high command and persuading Union Finance Minister P Chidambaram to toe its line before the Akalis could launch an agitation and make political gains.
Varsities for decentralised counselling for MBA/MCA
Jalandhar, April 29
Various state universities, including Guru Nanak Dev University, Punjabi University, Punjab Agricultural University and Punjab Technical University (PTU) may not go for a centralised MBA/MCA admission process this year, a trend prevalent for the past over a decade.
Re-employing officers creates admn issues: Personnel Dept
Chandigarh, April 29
In a delayed corrective move, the Department of Personnel has taken a strong note of re-employment of IAS, PCS and Grade "A" officers after their retirement. Terming it against the government policy, the department has pointed out that in case of re-employment, the officer concerned could not draw the same salary and maintain the same official status as on the day of his retirement.Over the years, the practice of re-employing officers as chairmen of boards, councils and corporations has become an accepted norm.
Govt mulls absorbing teachers of aided schools
Amritsar, April 29
With a view to streamlining the education system, the state government is contemplating absorbing teachers of aided schools across the state, just on the lines of the neighbouring Haryana, Rajasthan and Himachal Pradesh.
Security up for bus to Lahore
Amritsar, April 29
In the aftermath of the brutal assault on death row convict Sarabjit Singh in a Lahore jail, security for the New Delhi-Lahore bus service has been beefed up, said Amritsar Deputy Commissioner Rajat Aggarwal here today.
Punjabi University to house former PM IK Gujral's books

Patiala, April 29
The Punjabi University library will now house more than 2,000 books from the personal collection of former Prime Minister late IK Gujral. In order to give a special display to these books, the university has created a space called 'IK Gujral Corner' in its library. The corner is all set to be inaugurated tomorrow by Punjab Chief Minister Parkash Singh Badal during the sixth All India Punjabi Conference.
Punjabi University VC Dr Jaspal Singh reads a book in the 'IK Gujral Corner' at the campus library in Patiala on Monday. Tribune photo: Rajesh Sachar

Doctors' delegation inspects Rajindra hospital
Patiala, April 29
A high-level medical team, including Dr Anand Zacherias, Dr Vishvajeet and Dr Thomas from the CMC, Vellore (Tamil Nadu), and Dr Subodh from the Mahatma Gandhi Institute of Medical Sciences, Wardha (Maharashtra), today visited Government Rajindra Hospital to scrutinise the health services being provided here.
Police to start helpline to curb drug menace
Patiala, April 29
A round-the-clock helpline to curb drug menace will soon be started in six districts of the state and every call made on that number will be recorded for monitoring by senior officers.


Chambers of lawyers gutted in Hoshiarpur

A fire broke out at the District Court Complex in Hoshiarpur on Monday. As many as nine sheds of advocates and three of stenographers and typists were damaged. It took firemen half an hour to douse the flames. A number of case files were gutted in the incident. A short-circuit is stated to be the cause of the fire. Tribune Photo: Malkiat Singh
Panchayat poll: HC relief to govt on uploading delimitation details
Chandigarh, April 29
Just over a fortnight before the gram panchayat poll in Punjab, the Punjab and Haryana High Court has refused to direct the state government and its functionaries to upload on its website notifications on final wardbandi or delimitation process. It has also brushed aside as incredible the allegations that applications for supplying the notifications were not being accepted.



Heroin worth Rs 12 cr seized
Phillaur, April 29
Following the questioning of an accused arrested in a rape case, the police today recovered 2.5 kg of heroin valued around Rs 12.5 crore in the international market.
Man booked for dowry death
Sangrur, April 29
In a case of dowry death, the Moonak police has booked Balkar Singh, a resident of Ballran village, the husband of the deceased woman, Sushma Rani. The case was registered on the complaint of a brother of the victim, Naveen Kumar from Kaithal, who had alleged that his sister had been strangulated by his brother-in-law.