Convicted ex-MLA Bansal's wife alleges frame-up by CBI
Bathinda, April 21

Former MLA Mangat Rai Bansal, who has been convicted in the paddy scam case, will move the Punjab and Haryana High Court against the judgment of the CBI court. Talking to mediapersons here today, Mangat's wife Manju Bansal alleged there was no scam and instead figures were juggled to frame Bansal. She claimed her husband was paying the price for deserting the Congress.

Mangat Rai Bansal was convicted on Saturday
Police probes Maoist link in sandalwood smuggling case
Ludhiana, April 21
Three days after Customs officials seized 27 tonnes of sandalwood worth over Rs 14 crore in the international market from a shed in Doraha, the Khanna police today launched a parallel probe into the matter. The investigation was initiated following apprehensions of Maoist involvement in the smuggling of red sandalwood.




Harsimrat seeks Rs 3,500 cr package to help farmers
Bathinda, April 21
Bathinda MP Harsimrat Kaur Badal today urged the Central Government to provide a special package of Rs 3,500 crore to Punjab in view of the deteriorating agriculture scenario in the state.
Bajwa: Badal govt burdening people with power tariff hike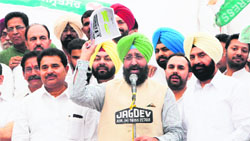 Amritsar, April 21
Lashing out at the SAD-BJP Government for the hike in power tariff, the Punjab Pradesh Congress Committee (PPCC) president, Partap Singh Bajwa, today said the ruling alliance had failed to keep its promise to the electorate to make Punjab a power surplus state.


Partap Singh Bajwa, PPCC chief, addresses party activists during a district-level protest against power tariff hike in Amritsar on Sunday. Photo: Vishal Kumar

Decade on, no major repairs on Mukerian channel
Khatigarh (Hoshiarpur), April 21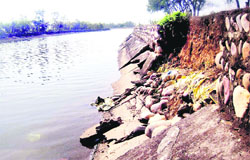 Punjab PowerCom has virtually abandoned the Mukerian hydel channel with no repair work carried out for the past more than 10 years. The channel, that carries 11,500 cusecs of water and generates 207 MW power at the Mukerain hydel power plant daily, has four power houses. Despite generating power worth over Rs 2 crore per day, the state government has turned a blind eye to maintenance of the channel that is crying for care.
The damaged embankment that has been temporarily plugged by the authorities at Khatigarh village near Mukerian in Hoshiarpur district. A Tribune photograph

Exams next month, Faridkot dist school students yet to get books
Faridkot, April 21
Students of classes VI and VII in government elementary schools and classes I to X in three Adarsh schools in the district are forced to spend the first three weeks of their academic year without text books.
Car dealers want installation of auto-dippers halted
Moga, April 21
Automobile manufacturers and dealers are up in arms against the Punjab Government's decision to install auto-dippers in all motor vehicles, excluding 50 cc two-wheelers, in the state. The order has come into force from April 1.
ASI's death: 43 farmers named accused so far
Tarn Taran, April 21 The controversy surrounding the mysterious death of Assistant Sub-Inspector (ASI) Kulbir Singh at Jeobala village here appears to be unending.
Major political outfits forget Ghadar Party's centenary
Jalandhar, April 21
While the establishment of the Ghadar Party is considered by many as the foundation of the country's freedom struggle, all major political parties forgot its centenary celebrations today.
Customs Dept to dispose of garbage consignment
Ludhiana, April 21
The Customs Department has written to the Ludhiana Mayor and assured him that it will appropriately dispose of 825 tonnes of garbage recovered from 40 containers at Dhandari dry port. Department officials said the garbage would be dealt with strictly as per the norms.
Strange illness kills 2 in Moga village
Moga, April 21
A strange illness has claimed two lives in Lopo village of Moga district in the past three days, triggering panic among its 1,300-odd residents, even as the health authorities say there is nothing to be alarmed.
Head constable dies as his SLR goes off
Muktsar, April 21
A head constable posted at the Kot Bhai police station in Muktsar district allegedly committed suicide with his service rifle inside the police station this afternoon. However, the police said he had died in accidental firing. Inquest proceedings under Section 174 of the CrPC have been initiated." Gurdeep Singh, 40, a resident of Bhullar village, was cleaning his SLR at around 1.30 pm when the weapon accidentally went off and a bullet pierced his throat," said NPS Sidhu, Superintendent of Police, (H), Muktsar, who examined the spot. He said on hearing the gunshot, policemen on duty rushed towards the head constable. They found him lying in a pool of blood. "No suicide note has been found. It appears to be a case of accidental gunshot," the SP said.
After years, relief for Central Excise officers
Chandigarh, April 21
Central Excise gazetted officers, who have been waiting for restructuring of their department since seven years that had resulted in severe stagnation in their ranks, have a reason to cheer. The Union Finance minister has given his approval to their key demands.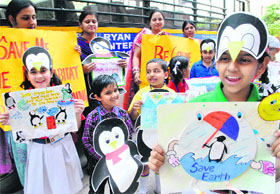 Schoolchildren and teachers at an awareness rally on the eve of Earth Day in Patiala on Sunday. Tribune photo: Rajesh Sachar
Sangrur to have five RO plants
Sangrur, April 21
The local municipal council has decided to install five reverse osmosis (RO) water treatment plants in the city for providing safe drinking water to its residents.
One killed in road mishap
Sangrur, April 21
One person was killed and 11 persons injured in two separate road mishaps today. A car overturned on the Sangrur-Patiala road near a public school. Gurpreet Singh (35), a local resident, died while five persons, including a newlywed couple, were injured. They were admitted to a private hospital.
Patiala trust on mission to educate poor girls
Patiala, April 21
Three years ago, the infant daughters of Surinder Kaur didn't realise that their soldier father had left home not to return. Now they have started coming to the terms with realities of life. But the girls are happy that they are studying in a good school along with children from well-to-do families.
'Harassed' over dowry, woman sets herself ablaze
Tarn Taran, April 21
Fed up with her in-laws who had been "pressurising" her to get dowry, a 23-year-old woman allegedly tried to commit suicide by setting herself ablaze at the Muradpur locality here.