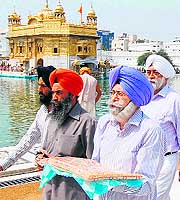 Bhullar's case is unique, claims advocate Phoolka
Amritsar, April 14
Senior advocate HS Phoolka today said the execution of Davinder Pal Singh Bhullar's death sentence would be a unique case in judicial history of free India as Bhullar had been prosecuted only on the basis of a confessional statement. He was here on a thanks-giving visit to the Golden Temple after a Delhi court recently set aside the CBI closure report giving a clean chit to Congress leader Jagdish Tytler in an anti-Sikh riots case.


Senior Supreme Court lawyer HS Phoolka at the Golden Temple in Amritsar on Sunday. Photo: Sameer Sehgal

SAD indulging in doublespeak, alleges Congress
Chandigarh, April 14
The Punjab Congress today claimed that Chief Minister Parkash Singh Badal's demand for clemency for militant leader Davinder Pal Singh Bhullar smacked of double standards as the CM had adopted a contradictory approach on the issue.
Power rates have more than doubled in 12 years
Chandigarh, April 14
For the past 12 years, the Punjab State Electricity Regulatory Commission has determined the power tariff for each fiscal year. Except in 2004-05, when it reduced the tariff and in 2006-07 when it ordered a "nil" increase, the commission has been raising the tariff rates for various categories.
Panchayat elections: Bajwa for e-filing of nominations
Jalandhar, April 14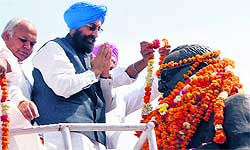 Expressing apprehensions of large-scale rigging in the upcoming panchayat elections, Punjab Pradesh Congress Committee (PPCC) president Partap Singh Bajwa said the Congress would file a public interest litigation (PIL) in the Punjab and Haryana High Court for seeking e-filing of nomination papers and counting of votes at a common centre in each district.

Punjab Congress chief Partap Singh Bajwa pays tributes to Dr BR Ambedkar on the occasion of his birth anniversary in Jalandhar on Sunday. Tribune photo: Malkiat Singh

PPP's 2-day 'chintan shivir' begins today
Chandigarh, April 14
The People's Party of Punjab (PPP) has invited representatives and stakeholders from various sections of the society for its two-day 'chintan shivir' (brainstorming session) that begins tomorrow at Desh Bhagat Yadgar Hall in Jalandhar.


Wheat not procured, farmers block highway
Sangrur, April 14
A group of farmers today blocked the Sangrur-Patran highway for over an hour in Dirba, 25 km from here, to lodge their protest against the non-procurement of wheat.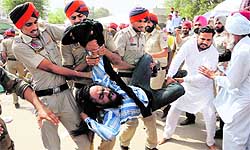 Badal (Muktsar), April 14
Deputy Chief Minister Sukhbir Singh Badal today claimed the state government could not do anything about the protesting unemployed linesmen as a case related to their demands was pending in the Supreme Court.


Scenes of unemployed linesmen being gagged and detained at the ruling SAD's rallies have been common over the past quite some time. A Tribune file photograph


SGPC impasse
In talks with Deputy CM: Sehajdharis
Amritsar, April 14
The Sehajdhari Sikh Party is considering to bring the SGPC out of the legal tangle over the issue of voting rights to Sehajdhari Sikhs.The party claims to be in talks with Deputy CM Sukhbir Badal over the matter. But SGPC president Avtar Singh Makkar and SAD secretary DS Cheema say they are not aware of it.

Gurdaspur gets new police chief
Chandigarh/Moga, April 14
The state government today issued the transfer orders of three Senior Superintendents of Police (SSP).

PAU: Need Bt cotton gene to develop own varieties
Ludhiana April 14
To counter the monopoly of private players in BT cotton seed, Punjab Agricultural University has urged the Indian Council of Agricultural Research (ICAR) to buy BT cotton gene from Monsanto (the company which has the germplasm of BT cotton) for the transformation of its own varieties and multiplication of seed.

BSF repatriates Pak national
Amritsar, April 14
In a goodwill gesture, the BSF today handed over a Pakistani national who had inadvertently entered into Indian territory a few days ago.

SIT formed to trace 'abducted' teenager
Bathinda, April 14
The Bathinda zone police today formed a special investigation team (SIT) of two police districts to trace a 16-year-old girl who was allegedly abducted from Bathinda on March 25.

State to plant 4.75 cr saplings
Chandigarh, April 14
To increase forest cover in the state, the Punjab Government has decided to plant 4.75 crore saplings in the 2013-14 financial year.

Cars with vanity numbers under lens
Patiala, April 14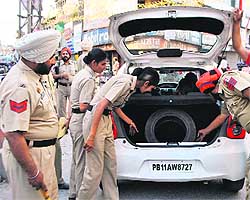 The state police has launched a drive to check violation of norms by vehicles flaunting vanity numbers. Perturbed by recent crime cases involving vehicles with vanity numbers, some of them against police officers, the police has launched the campaign in certain districts to check the movement of such vehicles and to ensure that their registration documents are verified on the spot.




Police perssonel check a car during a naka in Patiala on Sunday. Tribune photo: Rajesh Sachar


Brawl at patiala ex-Mayor's house
Despite voice clip, police loath to book MC staffers
Patiala, April 14
Seven days after a brawl took place at former Patiala Mayor Jaspal Pardhan's house, which left three people injured, bribery charges have been levelled against some Municipal Corporation officials. These include an SDO, whose name has surfaced in the voice-recording clip made available to the police.

State to launch GK project in govt schools from
Sangrur, April 14
A general knowledge project called Udaan will be launched in all government schools of the state from July 1. At present, there are about 26 lakh students in 19,250 schools in Punjab.




HC raps police for detaining man illegally
Chandigarh, April 14
The Punjab Police has received yet another rap on its knuckles for taking a person in custody in a blind murder case without following the prescribed procedure.

House tax assessment
23 years on, HC allows petition against Kharar Municipal Committee
Chandigarh, April 14
Twenty-three years after the Punjab State Electricity Board challenged Kharar Municipal Committee's order in a house tax assessment matter, the Punjab and Haryana High Court has allowed its petition.



Newlywed woman goes missing, in-laws booked
Amritsar, April 14
The Amritsar rural police has booked three persons, including the husband of a newlywed woman, Kulwant Kaur, who allegedly went missing last night.

House burgled in Ropar
Ropar, April 14 Some unknown miscreants allegedly broke into a house in Shaheed Bhagat Singh Nagar and decamped with jewellery, camera and cash worth over Rs 2 lakh here yesterday. The owner of house, Dr Mandeep Singh, said he and other members of the family were not at home at the time of the incident.

Woman held for killing spouse, mother-in-law with lover's aid
Fatehgarh Sahib, April 14
The district police claims to have solved the case of murder of a man and his mother in 2011 in Nalina Kalan village with the arrest of the man's wife and her lover. The accused, Paramjit Kaur and Bahadur Singh, confessed to the crime during interrogation by the police.