Former Patiala Mayor among 4 injured in clash
Patiala, April 7

Four persons, including former Mayor Jaspal Pardhan, were injured in a clash at Pardhan's house here this afternoon over a monetary dispute. Gunshots were reportedly fired during the brawl.







One of the injured at the residence of former Patiala Mayor Jaspal Pardhan. Tribune photo: Rajesh Sachar

Further remand for Ram Singh
Fatehgarh Sahib, April 7
Olympian boxer Vijender Singh's sparring partner, Ram Singh, has been remanded to police custody for another two days till April 9. The dismissed head constable has been arrested for his links with Ravicharan Singh alias Ravi Deol, a proclaimed offender, who is related to him.
SAD no longer a party of jathedars alone
Goa, April 7
The two day SAD-BJP Vichar Manthan that starts here tomorrow in five-star surroundings amid exclusive private beaches points to the change in the SAD under the presidentship of Deputy chief Minister Sukhbir Singh Badal.
State headed for fiscal disaster, warns Bajwa
Chandigarh, April 7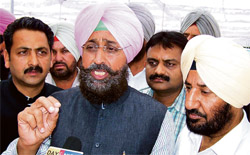 Punjab Pradesh Congress Committee (PPCC) president Partap Singh Bajwa today expressed solidarity with Punjab Government employees who are not being paid salaries in time. Stating that the SAD-BJP Government had lost all sense of responsibility, Bajwa warned that Punjab was headed for an economic disaster. He flayed the Badal government for its faulty policies that would reduce the people to "paupers".

Punjab Congress chief PS Bajwa talks to mediapersons at the residence of Sangrur MP Vijay Inder Singla in Sangrur on Sunday. A Tribune photograph

'Sadda Haq' team meets Takht chief
Amritsar, April 7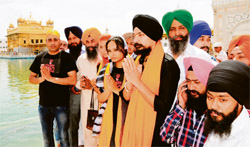 Led by its producer-actor Kuljinder Singh Sidhu, the crew of banned Punjabi movie 'Sadda Haq' today approached the Akal Takht Jathedar, Giani Gurbachan Singh, urging him to intervene in the matter.



'Sadda Haq' producer Kuljinder Singh Sidhu (with siropa) and his film team members at the Golden Temple in Amritsar on Sunday. Photo: Vishal Kumar

After 4 deaths, fitness plan for revenue staff
Moga, April 7
Shocked over the untimely death of four revenue officials probably due to cardiac arrest in the past three months alone, the district administration has come out with a novel idea of 'wellness initiative' to help the staff stay fit.
Sniffing trouble, state police bolsters its dog squad
Jalandhar, April 7
The state police has finally got 60 more sniffer dogs. Its dog squad had been facing a huge shortage of such dogs for a long time. The newly inducted canines are being trained at the Dog Training Centre of the Punjab Police Academy (PPA) at Phillaur, the biggest police-run dog training facility in North India.
Policy on regularising illegal colonies soon
Ludhiana, April 7
Developers of unauthorised colonies as well as those who have invested their hard-earned money in such projects to buy plots or houses can breathe easy now as huge relief is on its way for them. The Punjab Laws (Special Provisions) Bill 2013, approved by Punjab Assembly in its budget session in March, aims to grant amnesty to all such colonies in the state for a period of one year from the date of its publication in the official gazette.
Power tariff revision in Punjab soon
Jalandhar, April 7
With the Punjab State Electricity Regulatory Commission (PSERC) yet to issue the tariff order for 2013-14, it has directed the Punjab State Power Corporation Limited (PSPCL) to continue to charge the existing tariff from all categories of consumers.
40% workers exploited by brick-kiln owners: Report
Amritsar, April 7
A brick-kiln workers' union has alleged around 40 per cent of the workers in Punjab, most of whom are women and children, are exploited by the owners of brick-kilns. More than 2,700 brick-kilns in Punjab employed around six lakh workers and most of them were from the marginalised sections of society, said Jai Singh, general secretary of Brick Kiln and Construction Workers Union, Punjab, which has prepared a comprehensive report on it.
Retired IAS officer booked for selling Rajasthan land
Faridkot, April 7
Following directions from the Punjab and Haryana High Court, the local police has registered a case of cheating and forgery against a retired IAS officer who allegedly sold government land worth over Rs 2 crore to a property dealer.
2-yr-old drowns in village pond
Ropar, April 7
The body of a two-year-old boy was found from a pond at Dugri village near here last evening. The deceased has been identified as Gurkirat Singh. The police said Gurnam Singh of Dugri village, near Chamkaur Sahib, had lodged a complaint that his son was missing since afternoon.
Power corp warns bill collection companies against irregularities
Jalandhar, April 7
Following complaints of "gross irregularities" at the Easy Bill and Suvidha outlets where consumers can deposit their electricity bills without being charged for the service, Punjab State Power Corporation Limited (PSPCL) has issued a warning to Suvidha Infoserve Pvt Ltd, Mumbai, and Easy Bill Ltd, New Delhi.
Former DGP dons a new mantle
Chandigarh, April 7
Chander Shekhar has joined a select band of police officers who continued to pursue their interest in academics while donning uniform. Belonging to the 1977 batch of the Indian Police Service, Chander Shekhar has now got his doctorate from Guru Nanak Dev University.
Online course on Gurmat Gyan launched
Patiala, April 7
Punjabi University has launched Gurmat Gyan online teaching programme. Under this programme, started by the Gurmat Sangeet Chair and Department of Gurmat Sangeet, the university has started various courses like elementary, foundation, certificate, under-graduate diploma and post-graduate diploma. In these courses, teaching of Gurmukhi, gurmat studies, gurmat sangeet as well as training will be undertaken.


Golden harvest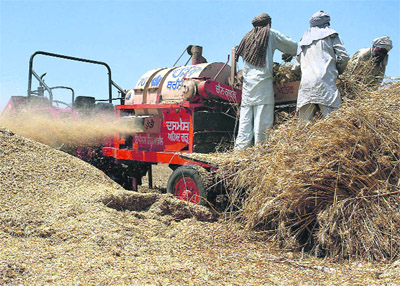 Farmers harvest their wheat crop at a village near Rajpura on Sunday. The harvest season began on April 1. Photo: JS Virdi