To check tax evasion, House passes amended VAT Bill
Chandigarh, March 25
To plug tax evasion, the Vidhan Sabha today passed the Punjab Value Added Tax (Amendment ) Bill, 2013, paving the way for electronic monitoring of all intra-state transactions and bringing into force e-TRIP service.
Congress objects to maximum security for SAD leaders
Patiala, March 25
Even as the SAD-BJP government withdraws security from several senior Congress leaders, including former Bholath MLA Sukhpal Khaira and Youth Congress president Vikramjit Chaudhary, it has decided to give maximum security to 30 persons associated with it.
Bajwa gives brother charge of party office
Chandigarh, March 25
Within two days of being formally installed as Pradesh Congress chief, Partap Singh Bajwa today made changes in the party office here and gave its charge to his brother Fatehjang Bajwa, besides making Sukhpal Khaira the chief spokesperson of the party.
'Ban' on kirpan: Sikh clergy summons US gurdwara chief
Amritsar, March 25
Taking serious note of the alleged ban on 'kirpan' at Gurdwara of Rochester, the Sikh clergy today directed the gurdwara management committee chief, Santokh Singh Badesha, to appear before the Akal Takht within a month and clarify on the court orders in this regard.
Hola Mohalla celebrations begin at Anandpur Sahib
Anandpur Sahib, March 25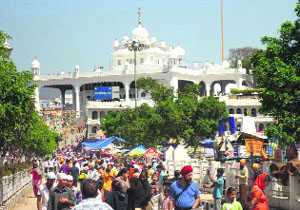 The second phase of the six-day Hola Mohalla started here today. The celebrations of the historic festival began on March 23 at Kiratpur Sahib. The "akhand path" will start at Gurdwara Keshgarh Sahib tomorrow. "Paths" and religious diwans will also be held at other gurdwaras in the town, including Sheesh Ganj Sahib, Bhoura Sahib, Shaheedi Bagh, Guru Ka Bagh, Harian Velan and Gurdarshan Parkash Sahib.
Devotees throng gurdwara Keshgarh Sahib to pay obeisance during the second phase of the six-day Hola Mohalla festival at Anandpur Sahib on Monday. A Tribune photograph
CRPF takes on police for 'irrational' deployment
Chandigarh, March 25
The Punjab Government today found itself at the receiving end with the Central Reserve Police Force (CRPF) IGP blaming the state Additional Director General of Police (Security) for his "failure" to rationalise the deployment of central forces for providing security to the Tarn Taran police assault victim.
Lakshmi Mittal may hike stake in Bathinda refinery
Chandigarh, March 25
Steel magnate Lakshmi Mittal, who holds 49 per cent stake in Guru Gobind Singh oil refinery at Bathinda, is keen to double the investment in the project. He has conveyed this to the state government. But he has urged the government to first clear all the incentives promised to him earlier.
Property tax format to be simplified, says Minister
Chandigarh, March 25
Property tax, which was levied in the state in November last year, will not be charged as per its existing format that is based on the Gujarat model.
Prison warders can now check inmates for drugs
Bathinda, March 25
Following a series of incidents of smuggling of drugs and other prohibited material inside various jails in the state, the Punjab Government has armed head warders and head matrons with powers to take action against culprits under Sections 42 and 67 of the NDPS (Narcotics Drugs and Psychotropic Substance) Act.
Amended anti-rape law to ensure women's safety: Harsimrat
Mohali, March 25
As many as 75 per cent of those booked for rape go scot-free and money usually plays a major role in turning the law in their favour, said Harsimrat Kaur Badal, Bathinda MP, on the sidelines of a seminar organised on women empowerment by the Doaba Women Institute of Engineering and Technology here today.
Harassed, chemists decide not to buy or sell certain drugs
Ludhiana, March 25
You may no longer be able to fetch sedatives and painkillers from your local chemist. Fed up at being booked under the NDPS (Narcotic Drugs and Psychotropic Substances) Act, chemists throughout the state have decided not to purchase or sell drugs containing six salts beginning today.
Jail staff get special powers to fight drug menace
Patiala, March 25
In a major decision that would help the jail department fight the menace of drugs inside Punjab prisons, the state government has given special powers to junior staffers to conduct checks inside jails. As per the new decision, the jail staff would be competent to check drugs inside jails and book the accused under appropriate sections of the Narcotics Drugs and Psychotropic Substance (NDPS) Act.
Court refuses bail to Moga MLA's family
Faridkot, March 25
In a setback for the newly elected SAD MLA from Moga Joginderpal Jain, the court of Additional District and Sessions Judge today dismissed the anticipatory bail application of his wife, two sons and a daughter in a criminal case.
Keep tabs on bidders' cartels, says HC
Chandigarh, March 25
The Punjab and Haryana High Court has directed the state of Punjab and its functionaries to log on to technology for adopting the procedure of e-tendering. "Forms should be available on the internet and likewise the submission for forms should be facilitated through e-tendering," a Division Bench of the High Court has ruled.
Man booked for misbehaving with Naib Tehsildar
Barnala, March 25
On the complaint of the Naib Tehsildar, Bhadaur, Jaspal Kaur, the Tallewal police has registered a case against one Ranjodh Singh of Bhotna village under sections 186, 341 and 355 of the IPC.