Modern Art: From Pigment to Pixel
In its existence of 60 years, NGMA has not been able to demystify and popularise modern art. In the absence of a vision that allows influence of social media, technology-aided rendering and materiality, art still remains an exclusive and elusive activity
George Jacob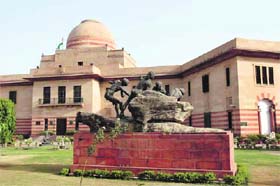 A passive witness to change: The policy on museum management has to be tied to tourism, culture, commerce and education policies to make a difference
AS the National Gallery of Modern Art enters the 60th year since its inception, a mere estimated 0.2% of Delhi's population visits it annually, calling into question its very mandate as a "national" institution. The appalling stagnancy of stalled acquisitions of art works devoid of clear policy for a decade, flawed processes mired in red-tape, lack of trained curatorial personnel, vacuous professional outreach and a near-absence of any national strategy of relevance, research and resonance with reason, flies in the face of a country of a billion strong that prides itself in its artistic contributions to the world.
The confusing incongruence of decision making, muddled museum-gallery semantics, lack of delegation, committee-based advisories led with limited museum experience or expertise, and the oft-repeated deference by default to the Ministry of Culture for answers, is symptomatic of a deeper festering dysfunction that has plagued and painted a legacy of low expectations from tax-payer funded art museums. With Indian artists increasingly finding unbridled creative, mixed-media platforms abroad after facing frustrations with bureaucracy, it is perhaps time to convene a solution driven strategy to harness ingenuity and celebrate indigenous creativity.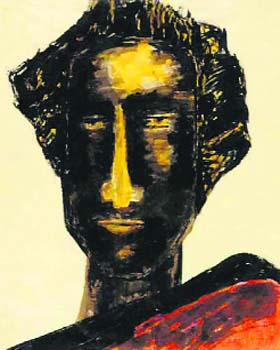 Ask an average Indian about modern art and the response could border on a bemused dismissive scoff. Often laced with a sense of wasteful disdain for the untalented who masquerade as "artists" and serve as a pre-occupation of the elitist, modern art in India has always struggled with a schizophrenic identity crises. Many are nearly clueless about what modern art represents and how this form of expression differs from contemporary art and post-modern art.
It was 59 years ago in March that the first Vice President of India Dr. Sarvepalli Radhakrishnan unveiled the National Gallery of Modern Art (NGMA) in the presence of Prime Minister Jawaharlal Nehru in yet another colonial building that was the residential palace of the Maharaja of Jaipur. The curatorial rigours were institutionalized under the direction of its first curator Hermann Goetz- a German art historian who came to Punjab to study Himalayan art with his wife Annemarie in 1936 on a Kern Grant. The seminal literary work produced by Hermann Goetz on Indian historiography continues to be the only comprehensive scholarly body of fieldwork of its kind to this day. Whether it should be a cause of glee or grief is for the current curators and consumers of visual expression to gauge.
Art and acquisition
According to Rajeev Lochan, the present Director of the NGMA, the museum presents an exhaustive trajectory of the largest collection of modern and contemporary art in India in conjunction with a strong research-based publication programme. Works of Indian modernists such as Abanindranath Tagore, Nandalal Bose, Binod Behari Mukherjee, Ramkumar Kinkar, Amrita Sher-gil, Dhanraj Bhagat, and others are juxtaposed with Pablo Picasso, Jacob Epstein, Giorgio de Chirico, Peter Lubarda, Henry Moore, Sonia Delaunay and Kozo Mio. Oddly enough, in the absence of an acquisitions/ collections policy, 7000 of the 13,000 works belong to one artist!
Senior artists bemoan the fact, for years the museum has not been bale to acquire fresh works of art to maintain its contemporary appeal. Can they ever afford to buy a Subodh Gupta, the artist who represents Indian art abroad and whose works are acquired by major foreign galleries and museums? Perhaps the biggest embarrassment for the NGMA came when it seemed apparently clueless about the Sotheby's auction of 12 paintings by India's first Nobel Laureate- Rabindranath Tagore on his 150th anniversary fetching £1.6 million. So great was the concern that the Chief Minister of West Bengal urged the Prime Minister and the Minister of Culture to intervene to avert the loss of national treasures, to little avail, as the existing Antiquities & Art Treasures (AAT) Act of 1972 has no in-built provisions or jurisdiction to address such acquisitions and private auctions. Adding to the woes were his great grandson Siddharth Tagore's concerns about the poorly curated exhibition at the NGMA with glaring typos, missing dimensions and year of some of the works on display, reflective of careless malaise, elusive excellence and lack of accountability, unbecoming of a national institution.
The other museums
While the expression of modern art in India has drawn from the alien western roots, the conversations in color have yielded to cultural adaptations and sensibilities- often forced with clichéd metaphors and predictable overuse of symbols that are associated with India in the western mind, yet evocative in their own right.
Traveling exhibits, biennales, auctions, art fares and associated retail are seeping into an educated, widely travelled, aesthetically inclined middle class that is beginning to look beyond the decorative and or conversational power of a work of art, and looking for personal meaning and value to their own acquisitions.
While classical art and Folk art traditions in India have seen a revival and continued acceptance in the national aesthetic, modern art still struggles to find a voice. The paralysis of relating intrinsically to contemporary art is not just within the galleries and museums, but is pervasive in the absence of resonance of relational aesthetics in public spaces and our way of life.
There is a growing movement among art patrons, private collectors, auctioneers and corporate businesses to invest in art and art galleries. While the house of Tatas, Birlas, Sarabhais, Naders, Godrejs and others have been buying and displaying art for decades, there are some unique examples of public-private-partnerships that are raising the bar for art appreciation. A vanguard initiative is the Rs.290 Crore Kolkotta Museum of Modern Art (KMoMA) designed by Swiss architects Herzog & deMeuron, known for the Walker Art Center in Minneapolis, the deYoung Museum in San Francisco and the Tate Modern in London.
An equally ambitious initiative has found voice in the capital at the decommissioned Indraprastha Power Plant along the lines of the Tate Modern in London. With a whopping estimated price tag of Rs.560 Crore that would endorse sustainable design practices on the 60 acre site by the Yamuna river. In addition to these prospects, the Louvre is eyeing the possibility of establishing an extension of its artistic reach in India. In 2011, the President of the Louvre Museum, Henri Loyette led a French delegation to many Indian museums and held gainful discussions with the ICCR (Indian Council of Cultural Relations) President, Dr. Karan Singh on long-term engagement and cooperation.
Educational eclectics
Much of the publications and research in the realm of modern, contemporary and post-modern art in India has been collections oriented and entailed examining existing collections- with the exception of oddities such as the mummies and other artifacts offering an obtuse curious alliance with modern art. Very little attention has been given to gathering data and trends from across the diverse sub-continent to discern the influence that shapes post-modern Indian art and its influence on societal relational aesthetics. Art history and appreciation programs at universities, art galleries and museums in India are equally guilty of not recognizing the need for continual research that would impact institutional mandate, commercial and non-commercial forces and other spheres of visual communication and birth of eternally evolving experimentation.
The internet has been a tremendous influence in the structure of artistic anthology. The seamless symbiosis of artistic trends and styles of expression on one hand flit through the cyber realm at an unprecedented pace while on the other hand, it threatens to pollute purity of original work. The viral vector of key-strokes and google images, makes it impossible for artists to shed the subconscious influence on their ingenuity. The sensory leap provided by the internet is here to stay and will only get increasingly pervasive and adaptive. The contemporary artist has to now affront the accalia and draw inspiration from a newly summoned sensibility of the aesthete.
Void and vision
Though the NGMA has set up satellite museums in Mumbai and Bengaluru at enormous costs borne by the tax-payer, its metro-centric approach with dismal visitation numbers is at odds with its national mandate, especially in a country where 80 percent of the population resides in semi-rural to rural suburbia. Unlike the National Council of Science Museums that made a calculated strategic thrust by expanding into National, Regional, District and Rural Science museums to address India's diverse needs, the NGMA has no such master-plan on the anvil. Art is still perceived and perpetuated as an elitist engagement, even as ironically, the overwhelming pre-occupation of modernist and post-modernist artists has drawn from the rural aesthetic- be it brahman priests of Anjolie Ela Menon, the loitering cows in abstraction of Manjit Bawa or the village girls from around Amritsar immortalized by Amrita Sher- Gil.
With China investing in 100 museums and the UAE committing upwards of $30 billion, India as an aspiring superpower, lags behind in vision, competence and drive in failing to recognize the tangible power of the intangible.
India needs a comprehensive Art Policy in conjunction with a Museum Policy and an implementation strategy aimed at a rural and urban cultural renaissance of sorts, for expressing, appreciating, celebrating, promoting and sustaining the arts industry that could in-turn be an economic driver for regional and national growth. The artistic vocabulary of the vernacular is unlike any other and needs a uniquely 'Indian' sensibility of adaptive cognizance.
The author is a well-known museoloist
NGMA- some laurels
Over the years, the NGMA has made laudable incremental strides to improve on its exhibitions, international collaborations and expansion of its satellite facilities. However, commendable as they may be, much needs to be done in articulating a vision to collaborate actively with India's 28 States and 7 Union Territories.
Memorable among its recent achievements are; Anish Kapoor show, retrospective on Ram Kinkar Baij and the Skoda Prize show of Contemporary Art.
NGMA : Visitation Woes
National Gallery of Modern Art, New Delhi
Former 1936 Residential Palace of Maharaja of Jaipur
Architect Sir Arthur Bloomfield
Established 29 March, 1954 as a Museum (now with branches in Mumbai 1996 and Bengaluru 2006)
Collections: 17,813 works of Art, Photographs, Sculpture & Mixed-media (circa 1857- 2013)
Galleries: 12,000 sq.M.
Average Annual visitation at NGMA: 30,000 estimated
(Population of Delhi 16 million +) 2011 census + 50 lakh tourists approximately.
Museum of Modern Art (MOMA) New York
Population of New York City - Approx 8 million
3.09 million visitors during its 2010 fiscal year however, attendance dropped 11 percent to 2.8 million in 2011, due to recession.
Tate Modern, London
Population of London- 8 million
Since it opened in May 2000, more than 40 million people have visited Tate Modern. It is one of the UK's top three tourist attractions and generates an estimated £100 million in economic benefits to London annually.