| | | |
| --- | --- | --- |
| | OPED — Diaspora | |
The new financial hub
Once an unknown outpost, Hong Kong is emerging as a favoured location for young Indian finance professionals. According to a recent census report, a tidal wave of Indians landed on the shores of Hong Kong between 2006 and 2011
Swati Maheshwari
Hong Kong has been rated as the world's top financial centre for the past two years in a row by the World Economic Forum, beating the US and Britain into the second and third place, respectively. The fortunes of the "fragrant harbour" have improved dramatically, propelled by a combination of factors, including the rise of China and the decline of recession-hit western economies. Until 10 years ago, the saying was "Failed in London, try Hong Kong," underlining the inferior status Hong Kong held. Now that has changed to finance professionals making a beeline to this Asian city hoping to escape the recession in the West.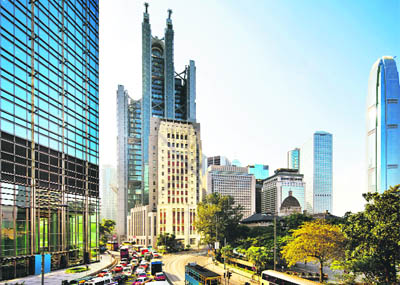 Hong Kong is a destination of choice for finance professionals because of its low rate of taxes as compared to Europe and the US
Unfamiliar outpost
Indian professionals have long preferred to work in New York or London and if stationed in Asia, Singapore has been the unhesitating choice. Nearly every fourth person in Singapore is Indian, which makes Indians feel very at home in the city. In comparison, Hong Kong has been an unknown and unfamiliar Chinese outpost that hardly registered on the Indians' radar. Historically, there have been blue- collar Indian workers and a small Sindhi community of traders settled for decades but hardly any of the younger finance professionals who have made a name for themselves in other financial centres.
China's growing clout and the financial crisis of 2007-2008 changed all that with the city witnessing a steady influx of Indian professionals since then. The census report of Hong Kong's population shows a tidal wave of Indians landing on Hong Kong's shores between 2006 and 2011, an increase of more than 30 per cent in the ethnic Indian population. With most global banks and multinational companies building their regional headquarters in Hong Kong, thousands of Indians have gravitated to the Chinese city rather than its Asian rival Singapore. It must be added that even though Indians have become much more visible in the financial services in Hong Kong, they remain a small ethnic minority in the overall population.
Changed perception
Just how drastic the change in perception about Hong Kong has been is evident when an Indian lawyer reminisced that Hong Kong felt like the Wild West when he moved from New York six years ago! Gaurav Kumar, a banker who shifted to Hong Kong in 2003, says, "We didn't know any Indians here then. If we saw an Indian, we would go up and say 'hi' and strike up a conversation as it was such a novelty. The IIM placements in 2004-2005 changed that significantly. Then the companies who hired Indians liked their quality, which they found was much better than the locals and it became a formal policy to hire from Indian campuses." Saurabh Agrawal, an MBA from IIM Ahmedabad, who moved to Hong Kong a year before Gaurav, says, "If you knew one Indian family and their friends, then you knew all the Indians on Hong Kong island as there were so few but there was a huge amount of hiring after 2004 as companies tried to build their Asian businesses and wanted local talent to build relationships with clients."
Asia growth story
The first significant wave of Indian finance professionals reached the shores of Hong Kong when the belief that Asia would be the growth story of the future became widespread in the years preceding the bust in western economies. Shiva Shankar, an IIM graduate and now a senior-level executive in a global investment bank, moved to Hong Kong from New York. He says there were at least 40-50 IIM graduates reaching Hong Kong every year between 2005 and 2008. With Asia growing at more than 10 per cent and most banks enhancing their strength in Hong Kong, the city presented an added incentive. "I would be able to visit my family in India just once a year from the US, taking 20-hour flights but I can easily go home three to four times a year from Hong Kong while being in the thick of things. Hong Kong has become much more accessible with many flights daily to India. Also, why would I want to work in New York City and London where tax rates for the highest earners are above 50 per cent as compared to less than 20 per cent rates in Hong Kong? Hong Kong has become a lot more visible now and if you want to rise to senior management in banks, this is the place to be."
Enhanced Indian presence
This resulted in a strong network and enhanced presence of Indians in China's global financial centre. The recession and the resulting shrinking of business in the US and London added to its attractiveness, leading to another wave of professionals leaving these traditionally dominant financial centres. Sneha Kohli, a banker who graduated from Chicago business school in 2007, says the market for new graduates in the US was difficult in 2008. She moved to London but there weren't too many opportunities in the global markets and she was tired of looking. "Even though we were not actively looking to move, I thought I'd be able to find something better in Asia. There are many more opportunities for Indians here. Most banks do India from here or Singapore and the equities market is much bigger in HK. It was really a career move."
This was also the time when Indians settled in the US and Europe for many years decided to take the plunge to go to Asia. Rupali Saluja, an IT professional who relocated to Hong Kong after 10 years in the US, says she and her husband had been considering a stint in Asia for a while to be closer to India but the opportunity to move materialised only after the financial crisis. She says, "We wanted to try out Asia for both personal and professional reasons but the opportunity came when our bank shut down its US credit-card options and Asia became big. Hong Kong was an unknown destination and I was quite nervous. I was quite pleasantly surprised at the number of Indians here. Integrating here was much easier than I had imagined."
Prashant Kanodia, another IIM graduate who relocated to Hong Kong after eight years in London, describes the situation in London as much bleaker. "There is definitely more action here. Most people are busy and not so depressed. Contraction is far worse in Europe. I have friends who are keen to move here as the environment and growth is better here."
Transient destination
But for most Indians, Hong Kong is not a long-term location. Rupali says they would like to move back to the US after their Hong Kong stint but they have found that there is a divide and moving cross geographies is difficult. She feels, "Hong Kong is a transient place. It is difficult to grow roots in the city as language is a big barrier." Shiva Shankar adds, "You have to realise that the move from the West is a one-way ticket as business is done very, very differently in these regions compared to the West." Unlike the US or UK, it is far more difficult to integrate with the local population and make it a permanent home.
And now with the optimism about Asia turning out to be exaggerated, banks and other financial service companies are not just downsizing their operations in the West. There have been job cuts across the financial sector in the Asian financial centres too resulting in Indians having to leave.
Sneha Kohli says, "Banks built huge overcapacities in Asia but the growth in Asia has not been as expected or hoped for. Banks want to get rid of expensive senior-level management so these firings are different from 2008-09 firings, which were about pruning numbers of staff." These cuts have checked the tide of Indian professionals in the last year but there is no doubt that Indians have made their presence felt in this currently top- ranked financial centre.


Why Hong Kong takes the lead
Hong Kong was named the world's top financial centre for the second year running by the World Economic Forum (WEF), thanks to the strength of its business environment, infrastructure and a favourable tax regime.

The WEF's annual Financial Development Report considered a wide range of factors and underscored the rise of Asian trading centers and the influence of China as the world's second-largest economy.

Rival surveys based purely on the total value of transactions typically put New York or London in top place. However, stalling capital markets, sputtering economic growth and waning trust in financial organisations served to ensure that the top six positions remained unchanged from 2011, the WEF said. "Macroeconomic uncertainty as well as concerns related to regulation, contributes to inhibiting the financial industry from funding much-needed growth," said Giancarlo Bruno, senior director at the WEF, which hosts an annual meeting of political and business leaders in Davos, Switzerland.

Though the report noted "pockets of improvement" across some banking-related indicators, it said that these signified "only a small step in what will be a long road to recovery". The United States, Britain, Singapore, Australia and Canada followed Hong Kong in the 2012 rankings. The report looked at legal and regulatory factors, business environment, financial stability, banking and non-banking services, markets and access to them.

"Despite these strengths, Hong Kong has a relatively underdeveloped bond market and its financial sector has yet to be fully liberalised," the report said.

Japan, Switzerland, the Netherlands and Sweden made up the remainder of the top 10 financial centres. The report said that policymakers face a "monumental" task to restore confidence in markets as waning trust in the overall system holds back investment. — Reuters