Issue of sensitivity & responsibility
In every nation state the majority-minority syndrome is one of the great political paradoxes of our time since it is in the very foundations of a democratic government that the rights of minorities are most often jeopardised.
Fali S. Nariman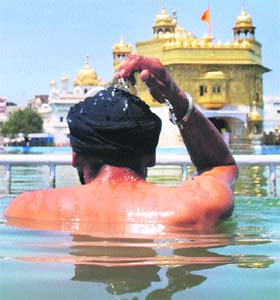 Every religion must go back to its original teachings and make itself more relevant today — Thai activist Sulak Sivaraksa
IN a modern democracy (and no civilised country professes that it is not) everything is determined by counting heads — euphemistically described as "the will of the people" — necessarily the majority of the people. But even though democracy be the rule of the majority, it is important to know that the protection of minorities is not a matter of compassion.
Indian-ness of minorities
Jawaharlal Nehru was the first to emphasise the overriding characteristic of Indian-ness of the minorities. He had written that "Moslems, Christians, Jews and Parsees, who professed a religion of non-Indian origin, coming to India, settled down here and became distinctively Indian in the course of a few generations. Indian converts to some of these religions never ceased to be Indians on account of a change of their faith. They were henceforth looked upon in other countries as Indians and foreigners, even though there might have been a community of faith between them.
This eloquent passage from the "Discovery of India" (1946) describes our true heritage. It inspired us in our college days. It needs to be translated into all Indian languages and more widely disseminated, especially in our educational institutions to inspire the students of today, because it represents India's great cultural tradition.
We all know as to how the word 'propagate' (in the expression "right to freely ... propagate religion") was deliberately introduced in draft Article 19 during the debates in the Constituent Assembly, and was after much discussion adopted. This is now Article 25 of India's Constitution.
But what had been deliberately inserted by the Constituent Assembly was virtually deleted by a judicial diktat of India's Supreme Court in the case of Father Stanislaus decided in the year 1977 - since when the fundamental right to propagate one's religion has been virtually taken away. But like it or not (I certainly do not like it), Father Stanislaus has stood the test of time, and we have lived with it for 35 years without too much inconvenience. No State can presume to confer the right to adopt or change one's religion and no civilised State can take it away.
But all this and more, the minorities in India, including the thrice-born Indian Christians, know and can live with, but what minorities in India simply cannot accept is intolerance and violence directed towards them.
A classic instance of the sense of responsibility of minority communities in India's constitutional history is the following: When the British announced their determination to withdraw from India and political arrangements had to be put in place for filling the void, the Advisory Committee on Minorities in August 1947 recommended separate electorates (i.e. reservation of seats for minority groups on the basis of population: in order to safeguard minority rights). But two years later in May 1949 this decision was reversed with almost rare unanimity amongst all religious groups.
Reservation of seats
Reservation of seats for religious communities, it was felt, led to a certain type of separatism and was contrary to the conception of a secular democratic State. Senior members of the Advisory Committee gave notice of resolutions seeking to recommend to the Constituent Assembly that there should be no reservation of seats in any legislature for any religious community in India.
And this resolution was supported by Father Rev. Jerome D'Souza, the most eloquent member of the Christian community in the Constituent Assembly. He boldly said that in opting for giving up reservation of seats for minorities in legislatures it was not the minorities who were taking a risk. It was the national leaders and the majority community that were undertaking a grave responsibility. He deftly expressed the idea of minorities voluntarily joining the mainstream of Indian politics (with no separate representation) only because of the assurance of the majority that they will be fairly treated.
Protection of courts
Despite the declaration of constitutional rights, minorities (cultural, religious or linguistic) cannot find adequate protection in the normal political process; they need the protection of courts. The Supreme Court of India when dealing with minority rights had for long tended to conceptualise its role to that of a political party in opposition - but only during the first 25 years —not for long thereafter.
Chief Justice S. R. Das - one of the most distinguished members of the majority community of the time - speaking for six other Justices on the Bench in the Kerala Education Bill case had in 1958 said: "So long as the Constitution stands, as it is and is not altered, it is we conceive the duty of this court to uphold the fundamental rights and thereby honour our sacred obligation to the minority communities who are of our own."
It is in this celebrated judgment that the fundamental right of minorities to establish and administer primary and secondary schools of their choice became a reality.
A few years later when it was represented that Chief Justice S. R. Das had gone too far, the Supreme Court constituted a Bench of nine Judges in the St.Xavier's College Ahmedabad case to reconsider the earlier decision. But this larger Bench of nine Judges only re-affirmed that decision and held that even secular education in colleges up to graduation was encompassed within the provisions of Article 30. The minorities now felt doubly assured - educational rights were safeguarded. But not for long.
Educational rights
I regret to say that this was because the minorities stretched Article 30 to almost breaking point when they contended years later that Article 30 gave them an uncontrolled and unregulated right to establish post-graduate and super-specialty courses in medicine, engineering and the like, even for state-aided minority institutions. This is when the minorities lost the sympathy of Judges of the Supreme Court.
And with this contention, the true content and ambit of minority rights (even for state-aided MEIs) under Article 30 got diluted.
In the now infamous - much larger-bench decision of 11 Justices in TMA Pai Foundation (2002) the judges approximated (in my view wrongly) the Fundamental Right of minority educational institutions guaranteed under Article 30 to the Fundamental Right of all citizens under Article 19(1)(g) to establish and maintain educational institutions as a business or 'occupation': the latter as you know is always subject to laws made by Parliament and State legislatures imposing reasonable restrictions: this is how the provisions of Article 30 got diluted assimilating to a 19(1)(g) right.
During and after the decision in the TMA Pai Foundation case the ethos and attitude of many of the Justices of our highest Court has under gone a sea-change. Which is why I welcome the setting up of the National Commission for Minorities (and of State Commissions) by statute. The minorities now badly need these Commissions as we minorities are no longer protected as we once were by the Justices of the highest court.
How then should minorities act in a secular India? Let me begin with an example. At the start of this new century, in the year 2000 a prominent Thai activist was on his way to the Millennium World Peace Summit in New York. His name is Sulak Sivaraksa. He had been persecuted by many dictatorial regimes in Thailand and had been forced into exile. He was asked by the press at a stop-over in New Delhi whether he felt that the major world religions needed to reinvent themselves in order to be more effective in "these troubled times"? And Sulak Sivaraksa answered:
"Yes - certainly. Every religion must go back to its original teachings and make itself more relevant today. For instance, I belong to a school of 'socially engaged Buddhism' as preached by a Vietnamese monk - it preaches that if you are not engaged in society you are not practising Buddhism but escapism."
He was then asked why there were great disparities in the way Buddhism was being practised? And his answer was significant, and for us in India, crucial. He said: "I make a distinction between Buddhism with a Capital 'B' and buddhism with a small 'b'. Sri Lanka has the former, in which the state uses Buddhism as an instrument of power, so there are even Buddhist monks who say the Tamils should be eliminated. Thai Buddhists are not perfect either. I am for buddhism with a small 'b' which is non-violent, practical and aims to eliminate the cause of suffering..."
The middle path
When we discuss the political scenario today, we must never forget its historical context: Minority with a small m should be the watch word. Minority with a small m helps to carry the majority with it.
There are usually two extreme views about minorities - on the one hand is the view that everything done by minorities is preferable since they are always right, and on the other hand the view that if we reject the majority principle there would be anarchy. But there is a middle path.
I first heard this middle-way expressed at a conference in New Zealand way back in the year 1984 by its one-man Human Right Commission. In his opening address the sole member of that commission, Justice John Wallace, said: "The minority view is generally right provided the minority can carry the majority with it." This was not human rights rhetoric but a statesman-like assertion of wisdom and experience.
Excerpted from the inaugural speech delivered by the eminent jurist at a seminar on the theme of "Sensitivity of the Majority, Responsibility of Minorities in Secular India" organised by the National Commission for Minorities in New Delhi on March 13, 2013