Replying to the debate on the President's Address in the Lok Sabha on March 6, the Prime Minister took on the BJP, pointed to its "arrogance" and emphasised that the average growth rate in nine years of UPA rule is 7.9 % compared to 6% of the NDA's six-year rule.
'Judge UPA by its performance'
Dr Manmohan Singh

Our economy has faced a difficult situation in the past one year. Members are aware that our growth has slowed down and the fiscal deficit has risen. Inflation has been a persistent problem in the last two years. The Current Account Deficit is substantially higher than what we would like it to be. The Finance Minister has dealt with all these issues in his Budget speech, and before that the Economic Survey tabled in this House gave a fairly comprehensive picture of the state of the economy. I would therefore be brief in speaking about the challenges that confront our economy and what we need to do to overcome them.
However, Madam Speaker, I do wish to emphatically endorse the view of the Finance Minister that the slowdown in the economy need not persist, and that we are fully capable of putting the country back on a high growth path of 7 to 8 per cent per annum in the next two to three years. To achieve this, we need to increase the rate of investment, especially in infrastructure. Our effort, therefore, will be to raise domestic savings, contain the growth of subsidies and encourage private investment.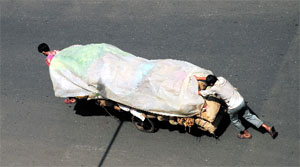 Inclusive growth implies not only reducing poverty, but also improving regional equality across and within States, uplift of the Scheduled Castes, the Scheduled Tribes, Other Backward Classes and minorities, closing gender gaps and generating more and better employment opportunities.
While our aim is to achieve an average GDP growth of 8 per cent during the 12th Plan and agricultural growth of 4 per cent, the focus will continue to remain on inclusive growth. Inclusive growth implies not only reducing poverty, but also improving regional equality across and within States, uplift of the Scheduled Castes, Scheduled Tribes, Other Backward Classes and minorities, closing gender gaps and generating more and better employment opportunities. Our policies have been designed to fulfill these objectives.
Madam, I listened with great interest to the speech of the hon. Shri Rajnath Singh ji, and the best I can do is to compare the nine years of UPA rule with the six years of NDA rule so that our country men and women can draw a proper appreciation of what has been done in these nine years. Madam, first I take the growth of the GDP. If you look at the period of nine years including the current period of slowdown, our average growth rate in these nine years will be 7.9 per cent. As against this, the NDA six years yield is no more than six per cent.
It is true that growth in 2012 has slowed down, but nowhere else this growth profile is in an upward direction. Europe is in recession, the US' growth rate is very low; Japan is stagnating; Brazil's growth rate is less than 2 per cent, South Africa's growth rate is 2.3 per cent and in the light of the prevailing global situation, our growth rate looks to be impressive even though we are not satisfied with it.
Inclusiveness of the growth process can be judged in many ways. The first and foremost is the concern with the wellbeing of our farmers, what happens to agricultural production and as I said earlier from 2004-05 to 2011-12, that is the UPA period, the growth rate of agricultural production and allied activities was 3.7 per cent. The corresponding growth rate from 1998-99 to 2003-04 of the NDA period was no more than 2.9 per cent. Because agriculture has grown at a faster rate, also because of a number of inclusive policies put in place by our Government, like Mahatma Gandhi National Rural Employment Guarantee Programme, the per capita consumption in rural areas during the UPA period is 3.4 per cent. In the NDA period the per capita rural consumption was no more than 0.8 per cent.
I come now to real wages in agriculture. Real wages in agriculture in the
Eleventh Plan Period have grown at an average annual rate of 6.8 per cent. In the previous decade the growth rate of real wages in agriculture was no more than 1.1 per cent.
Madam, with regard to poverty, in the UPA Period, poverty declined at an average annual rate of two per cent per annum. In the preceding ten years, the decline was no more than 0.8 per cent.
Promoting inclusiveness
Madam, it is not my case that what we have achieved is the optimum level. I do recognise that growth requires efforts and further efforts to boost it — we need to do lot more to promote inclusiveness — that health and education require greater attention, that environment protection measures have to be adopted with greater amount of firmness. But I would respectfully submit to this august House that what has been achieved is not something which can be belittled as Shri Rajnath Singh ji tried to do.
I know that BJP has a particular view towards economic and social policy of the UPA. A few days ago, a conclave of the National Council of BJP assembled in Delhi, used the choicest abuses for the Congress establishment and Congress leadership including myself. It is not my intention to reply them in that language because I do believe that our work and our performance are the best judges of what we have achieved.
We have seen this arrogance not for the first time. The Shining India campaign in 2004 led to disastrous results for the BJP. In 2009, they fielded the iron man Advani ji against the lamb that Manmohan Singh is, and we all know as to what was the result. I am convinced that if the people of India were to look at our record in these nine or ten years, they would repeat what they did in 2004 and 2009.
State of agriculture
Madam, several members have expressed concern about the state of agriculture. I share that concern. Farmers in our country are the most important constituent that the UPA cares for. We have done utmost to give our farmers remunerative prices, and here I make bold to say that the procurement prices of wheat, of rice and other products have been raised in a manner which was never seen ever before in the history of this country.
Madam, it is the result of the hard work of our farmers and our policies that the average annual rate of growth in the agriculture and allied sector which was stagnating at the level of 2.4 per cent and 2.5 per cent during the Ninth and 10th Plans respectively increased to 3.7 per cent during the 11th Plan despite the occurrence of a countrywide drought in 2009.
It is true that the growth of the agricultural sector during 2012-13 is, at present, projected at 1.8 per cent. But the revival of the monsoon during the latter half of the kharif season and improved prospects of rabi due to conducive weather conditions give me hope that the actual growth rate during this year would be higher than the figure that I have mentioned. To address the issue of shortage of covered storage capacity, the Government had formulated the Private Entrepreneurs Guarantee Scheme in 2008. A capacity of 181 lakh metric tonnes has been sanctioned under this Scheme, of which 43 lakh metric tonnes of capacity has already been created.
Violence against women
Madam, several hon. Members, cutting across party lines, have expressed concern over incidence of violence against women. This is an issue, which unites all sections of our House; and I sincerely appeal to all sections of the House to speak with one voice. If there are any legislative measures, which we can agree upon, they can be then pushed forward at a much higher speed than is normally done when it comes to legislation through Parliament. I sincerely hope that we will, with one voice, agree to go forward in a manner, which will do justice to 50 per cent of India's population, that is, our women and children. Let me reiterate to this august House the commitment of our Government to ensuring the dignity, safety and security of every woman of our country. We have adopted a series of measures — legislative, institutional and procedural — which reaffirm the collective responsibility of this Government in this direction as more and more women enter public spaces. The Government has been prompt in acting on the recommendation of the Justice Verma Committee, by promulgating an Ordinance amending and strengthening the law to deal with crimes of sexual violence against women. I am happy that 'The Sexual Harassment of Women at Workplace (Prevention, Prohibition and Redressal) Bill, 2012' was passed by Parliament last week.
We have a number of schemes in place to provide the restorative justice to victims of rape and sexual violence through financial assistance and support services. The National Mission for Empowerment of Women would be implementing 'One Stop Crisis Centre' of providing all necessary services for women victims/survivors of violence at a public hospital in 100 Districts. A new umbrella scheme for protection and empowerment of women and a toll free 24x7 helpline for women as a Central Sector Scheme across India is on the anvil.
The Government's resolve is further reflected in the announcement of the Finance Minister in his Budget Speech that an additional amount of Rs. 200 crore has been allocated to the Ministry of Women and Child Development to address issues of gender discrimination. The Nirbhaya Fund of Rs. 1,000 crore announced by the Finance Minister is further testimony of our Government's solidarity with our girl children and women as we pledge to empower them and keep them safe and secure. However, real and effective change in the status of women in our country can come only if there is a change in our societal values. We need to collectively work towards this goal.