Tackling India's mining conundrum
India is gifted with large reserves of minerals. Unfortunately, many of these are located in tribal and forest areas. The proliferation of human and animal rights activism and stringent environmental legislation have almost stymied the opening up of new mines
N. N. Sachitanand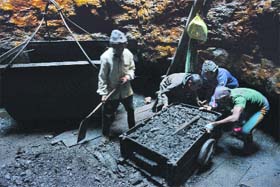 Since it involves harsh labour and risk, mining has become associated with exploitation, child labour and many other unsavoury practices. Photo: AFP
India's Minister for Rural Development, Jairam Ramesh, recently had some harsh things to say about mining, blaming it for leading to environmental degradation, displacement of tribals and their impoverishment. He made these remarks at Lanjigarh in interior Orissa. Ramesh must have reached that spot either in a helicopter or by road in a SUV, both of which use metals (aluminium and steel), derived from minerals which have been mined. Among his other activities during that trip, he laid the foundation of a model school , which will use cement made from limestone which is mined . He would have used a mobile phone which uses a processor made from silicon which is manufactured from mined silica.
Mining and exploitation
Not to belabour the point further, modern human existence cannot survive without mining. It is not, as is mistakenly assumed, an activity born of the Industrial Revolution. It has been around ever since man decided to abandon existence in natural caves and take up living in structural residences which needed stones to be extracted from the earth. As mankind's material needs multiplied in volume, variety and complexity, so did its digging up the earth for different minerals. Thus we had the Copper Age, Bronze Age , Iron Age and so on. Those nations which mastered the extraction and utilisation of minerals ended up at the top of the power heap.
Unfortunately, because it involved harsh labour and risk (especially underground), mining became associated with exploitation, child labour, slavery and such unsavoury practices. In ancient times, slaves, war prisoners and convicts were forced to do mining tasks since they were "cheap" and "expendable". Eighteenth century Wales saw children being sent into the shafts underground because their smaller size needed smaller tunnels. Even today, China loses as many as 3000 miners a year in explosions of methane gas in its coal mines.
Since minerals commanded a special price, mining also became tied up to illegal activities such as smuggling , theft, murder, forced occupation and, of course, war. We have heard of the "Blood diamonds" of West Africa and , in our own backyard Veerappan was a household name in Karnataka in the realm of smuggling granite while the Reddy brothers of Bellary hogged headlines for their alleged illegal mining of iron ore for export.
Impact on environment
And, because it involves tearing up the earth to get at the minerals, mining is inherently an environmentally negative activity. Goa's lush greenery was smothered in the dust raised by iron ore mining and transport, the Damodar river in Bihar became a black sludge carrying canal due to the detritus of coal mining and the once wooded hills overlooking Jaipur are now savagely scarred by rampant stone quarrying .
India is gifted with large reserves of industrially valuable minerals like coal, iron ore, bauxite, limestone, granite, chromite, rare earths and others. Unfortunately, many of these are located in forested tracts of Bihar, Madhya Pradesh, Chhattisgarh, Andhra Pradesh, Orissa, Karnataka, West Bengal, Assam, Himachal Pradesh and Rajasthan. These regions are inhabited by most of India's tribals as well as wild animals.
Since minerals were located in their territories, these mostly Central and Eastern regions in India should have been prosperous. But, due to a legislation created by the wily British during their reign in India, the major minerals were the property of the Central Government and all that the states got was a paltry royalty on the extracted minerals. The tribal inhabitants of these regions, who should have been wealthy because of the minerals in their land, were denied squatters' rights and even had to suffer the deprivation of dislocation when they were evicted from areas to be mined. Wild animals were the greatest sufferers. They either got exterminated or driven away and their annual migration routes were cut off by mined areas.
Forest Rights Act
Since neither of these forest denizens had much of a voice in the early decades after Independence, sanctioning mining was no problem then for the authorities concerned. Not so now. The proliferation of human and animal rights activism as well as increasingly stringent environmental legislation and a proactive judiciary has almost stymied the opening up of new mines during the last decade. The new Forest Rights Act has given ownership rights of the land they are occupying to the tribals which has given them a strong bargaining position regarding the minerals in their areas. The renewed Maoist insurgency in the tribal tracts has further exacerbated the paralysis. Ironically , illegal mining is flourishing under the protectionist umbrella of the paid - off insurgents.
This is not a happy situation. Thanks to the delays in opening up new coal mines, many of our new thermal power plants are running at low plant load factors and the resultant power crisis is playing havoc with industrial production. The entire profitability calculations of the new private power plants has gone askew which, in turn, is now worrying our banks which are their primary project lenders. India has rich deposits of iron ore and was, till recently, a major exporter of the mineral. However, in the last few months, thanks to various bans on mining of iron ore in the country , India's steel mills have taken recourse to importing the mineral.
Is it possible to forego mining and import our mineral needs instead? After all, Japan and South Korea have been doing that. Well, for one, importing minerals is a very costly proposition and a country needs to generate a huge amount of foreign exchange in exports to be able to afford those imports. Japan and South Korea have been able to do that because they have tiny populations to look after and developed internationally competitive product and manufacturing technologies.
Coal imports
Our steel mills may need to import 20-30 million tonnes this year to meet their requirements which could cost anywhere up to from $2 billion . Due to the delay in clearing proposed coal mining projects during the last five years, India's coal imports are expected to surge by 28 % to 127 million tonnes this fiscal, costing nearly $12 billion. With our current account deficit already hitting an all-time high, we can ill afford such imports of minerals plentifully available within the country, especially when we have to import 90 % of our crude requirements and our forex reserves have now slipped below $ 300 billion. And then, there is the tiny matter of generating 100 million more jobs in the next 10 years, much of it expected from infrastructure and manufacturing, which depend on mineral-based products.
An absolutist approach towards mining, therefore, will not do. Nor is it possible to go back to the old style laissez faire and damn the consequences to the environment, animals and tribals. What is needed is a middle-of-the-road mining policy which will aim to meet the mineral needs of the nation, cause the least possible collateral damage to the environment and enrich the local inhabitants. A good beginning is being made by adopting a rational and pragmatic approach to "no go" areas for mining involving tribal settlements and traditional animal migration corridors.
What should be done
Even though India has formidable reserves of some minerals, all of them will be needed sometime in the future to support the growing needs of our large population. Mineral reserves cannot be replenished Therefore, mining for export purposes should be banned. Moreover, mining causes environmental upheaval, and why should we suffer that for the benefit of other nations ? Goa 's iron ore mining for export was a mistake.
Tribals should directly benefit from the exploitation of mineral reserves in their land. The proposed sharing of profits from the mines is not enough . Tribal cooperatives should directly receive a substantial portion of the royalties as well. Means should be explored to enable the displaced tribals to get equity in the mining company involved. The local population surrounding a mine should also be encouraged and enabled , even by means of a reservation system, to become entrepreneurs in ancillary activities such as transport, eateries, kirana stores, barber salons etc. At present, such activities are taken up by shrewd migrants from other regions of the country.
Fragmented and scattered mining is not conducive to high productivity and introduction of the latest technology which limits environmental damage and improves safety. As far as possible, large sized , properly planned mining operations should be encouraged. It is also easier for the administration to keep tabs on a few large mines than hundreds of small ones.
Quicker processing of mining applications is a must since developing a mine after getting the clearances can itself take a few years. As a corollary to this, preference should be given to companies already mining in the region when it comes to allocating new mines in that area, with the proviso that they have been faithful to the environmental and rehabilitation directions.
Captive mining for downstream industries is a controversial issue. Some argue that it enables the processor industries to get away with high profits due to the low cost of minerals extracted. Others argue that they should be rewarded since they are adding value to the mined product. Perhaps, higher royalty for such captive mines can even the balance.