Jalandhar School van Accident
Van was operating without valid permit
Deepkamal Kaur
Tribune News Service
Jalandhar, March 4
While the Jalandhar Deputy Commissioner is yet to order a probe into the lapses on the part of the transport department in connection with the accident involving schoolchildren of Akal Academy, Boparai Kalan, a few illegalities have come to the surface.
The van that met with the accident was a Tempo Traveller with a yellow plate and a PB-01 series registration number, clearly indicating that it was plying on a tourist permit rather than a school permit. The van, which has 12 seats, was overloaded as there are reports that there were 26 children on board when the accident occurred.
Also, the van does not comply with the Motor Vehicle Act as it is not painted yellow and also it does not bear the name of the school and its phone number. Parents said it was Gurdeep Singh, younger brother of the regular driver, who was behind the wheels at the time of the accident.
Eyewitnesses said the vehicle did not have any first aid kit and the driver was not in uniform, as mandated by the Act.
Denying their responsibility, the school authorities said they did not provide any transportation facility. "It was a direct contract between parents and van operators. They were paying charges directly to the operator," said RS Mehta, school principal.
District Transport Officer Dalwinderjit Singh confirmed that the van did not have a valid permit to ply schoolchildren.
Deputy Commissioner Shruti Singh said she would get an action initiated through the transport department not just against Akal Academy but also other private schools in the periphery.
The deceased
Suhkman Toor* (nursery class) of Mudda village
Jashanpreet Singh (nursery) of Talwandi village
Manpreet Singh (nursery) of Mudda
Kanwarpreet Singh (nursery) of Bharo village
Navpreet Kaur (nursery) of Talwandi
Harjasmeet Kaur (KG) of Mudda
Jaskaran Toor (KG) of Mudda
Gurjoban Singh (KG) of Mudda
Gurleen Kaur (Class I) of Talwandi
Manpreet Singh (Class I) of Talwandi
Gurjot Singh (Class III) of Talwandi
Kairanvir Singh (Class III) of Talwandi
Kirandeep Kaur of Mudda
(*As the victims were students from nursery to Class III, they were all below 11 years of age)

Unsafe school transport system in focus again
Dharmendra Joshi/TNS




An inconsolable relative of a victim
Jalandhar, March 4
The Nakodar mishap that left 13 schoolchildren dead has once again brought into focus the blatant flouting of norms meant for operating buses and autos ferrying students.
Officials said a majority of the buses and autos ferrying children to schools openly flouted norms, thereby putting the safety of children at risk. Such mishaps, they said, also raised a question mark at the role of the school bus operators and the authorities concerned in the administration.
After such mishaps, schools usually shun their responsibility by terming the transport arrangement as a contract between parents and bus or auto operators.
On the other hand, the Transport Department parries questions by claiming that it keeps on challaning and impounding erring vehicles from time to time.
The rules governing the transportation of students suggest that it is mandatory for buses to be equipped with a first aid box, a fire extinguisher, convex cross view mirrors for driver, hand rails, low floor doors, window rods, emergency exits and speed governors. However, a majority of school buses do not comply with safety measures. Three-wheelers carrying children to schools are also mostly seen filled beyond capacity. Social activist Rajat Mohindru said it was the responsibility of the transport and police authorities to ensure that buses and autos adhered to safety norms.
District Transport Officer Dalwinderjit Singh said, "We keep on penalising transporters who violate norms. More than 20 buses have been challaned in the last six weeks alone." He said it was the responsibility of the schools concerned to ensure the safety of their students. "We keep on sensitising educational institutes about safety norms from time to time."
Mohindru said apart from issuing operational certificates to school buses, the transport authorities should check the use of mobile phones by drivers, curb over-speeding and ensure optimum seating.

Couple provides emergency care, saves several lives
Deepkamal Kaur/TNS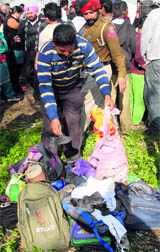 People look for schoolbags of their children at the accident site at Jaheera village near Nakodar
Jalandhar, March 4
It was a good Samaritan couple from Bathinda who came to the rescue of the children minutes after their school van had rammed into a brick-loaded truck at Jaheera village near Nakodar this morning.
It being a Monday, Sonu Chaudhary and his wife Anju Bala were returning to their workplaces when the accident had just occurred on the Jalandhar-Nakodar highway.
"We had never witnessed a tragedy of this magnitude. All the victims are children below 11 years of age. The gory accident did not allow us to move ahead," said the couple. While Sonu runs a travel agency in Jalandhar, Anju is a clinical instructor at a nursing college. Being from the medical background, Anju checked the pulse of all the victims who were being taken out of the bus.
"A few villagers and other passersby also gathered and helped in rescuing the children and shifting them to hospital," said Anju, who has done post-graduation in nursing. "While three children were conscious, all others were either unconscious or dead."
The couple also shuttled between the accident site and a nearby hospital to shift the injured children for timely care. The duo also informed the parents of the victims.
"While all other survivors recalled the phone numbers of their parents, there was a badly traumatised child who failed in doing so. We got him treated and asked him if he knew the way to his house. He responded positively and came along. When we dropped him safely at his home in Talwandi Bharo village, the scene of the family reunion came as a very satisfying experience," said Chaudhary.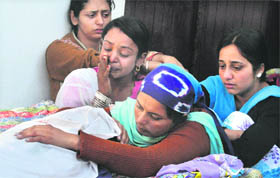 Wailing relatives of a child at Mudda village. Tribune photos: Malkiat Singh
Principal's defence
Principal Amandeep Kaur said: "While the schoolchildren are ferried to schools by three vans, except the staff van, the rest are private vehicles arranged for by parents. Parents are directly paying the van drivers for the service."
School closed
When The Tribune visited the school, a lock hung at the door. A board outside read: 'Tuhade baccheyan de sunahri bhavikh layi' (For your children's bright future). Guards informed that the school shall remain closed tomorrow as well.
Unlucky couple
Fate played a cruel joke on Jaswinder Singh of Mudda village. It was after a long wait of 12 years that Jaswinder Singh and his wife were blessed with two sons (Jaskaran and Sukhman). Both died in the accident today.
Truck driver flees
Truck driver, a resident of Karyal village in Moga, absconded after the accident.

Irretrievable loss: Capt
Tribune News Service
Jalandhar, March 4
Punjab Pradesh Congress Committee president Capt Amarinder Singh today expressed grief over the tragic death of 13 schoolchildren and the bus driver of Akal Academy in a road accident near Jalandhar this morning.
Expressing his sympathies with the bereaved families, he said: "This is an irreparable and irretrievable loss to the near and dear ones. My heart goes out to all the family members who have lost their children in the tragic accident".
The PCC president underlined the need for enforcing strict road safety measures so that "such tragedies do not recur."