Achieving crop diversification in Punjab
After a period of prosperity, the Green Revolution today stands for stagnation and environmental degradation. To intensify and diversify agriculture is the answer, and that requires new policy, technology, and markets
Dr Manjit S Kang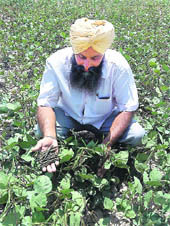 Pulses (moong, above) and cereals like bajra and jowar require less water than the rice-wheat combination. Tribune file photos
Agricultural diversification is traditionally associated with subsistence farming and is an extremely important aspect of food security at the household level. It is generally agreed that agricultural diversification helps humans obtain food security and improved, healthful foods.
In addition, it helps create jobs in rural areas. It has favorable impact on soil fertility and enhances the capacity of land to produce more, besides controlling destructive crop pests. Agricultural diversification is an important mechanism for economic development, especially in rural areas.
After the advent of the Green Revolution in the late 1960s-early 1970s, crop diversification disappeared with the predominant adoption of rice-wheat monoculture in north-western India, especially in Punjab, Haryana, and western UP. In addition to losing crop diversification, many other problems, both environmental and agricultural, have surfaced (depletion of underground water, loss of soil health, and environmental pollution to name a few). There has been much discussion on crop diversification during the past couple of decades. Crop diversification basically means increasing area under various high-value crops and reducing area under the prevalent rice-wheat monoculture.
There is much wisdom in the saying that we should not put all our eggs in one basket. The adoption of the rice-wheat system is in total violation of this adage. We should neither grow a single crop variety in a locale nor should we adopt a single crop or a single cropping cycle. To know 'monoculture' or homogeneity can lead to disastrous consequences, we only need to revisit the 1970 maize catastrophe in the US, which was caused by a fungal disease called southern corn leaf blight.
At that time, maize hybrids were produced by use of a single source of cytoplasm (female), called Texas-type or T-cytoplasm. In 1970, about 80 per cent of the area under maize in the US was planted to hybrids produced by the use of T-cytoplasm. Wherever maize involving T-cytoplasm had been planted, a serious outbreak of southern corn leaf blight occurred, causing millions of dollars worth of crop loss. The lesson we should learn from that disaster is that we need diversification at all levels.
Green Revolution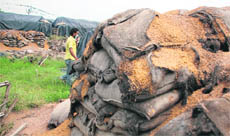 In Punjab, 20 to 25 per cent of foodgrains (rice and wheat) stored in the open go waste. It makes sense to shift 10 to 20 per cent area under rice and wheat to other crops, like maize.
For the purpose of ensuring food security of India, the Green Revolution in Punjab, Haryana, and western UP — called the food bowl of India — adopted the rice-wheat cropping cycle, forsaking diversification. Thus, crop diversity disappeared from this highly productive agricultural area. Ironically, the adoption of this cropping pattern, which eventually caused environmental and agricultural problems of grave magnitude, coincided with the southern corn leaf blight disaster.
There were three main reasons for the Green Revolution in Punjab. First, scientists of Punjab Agricultural University (PAU) developed new varieties of wheat after crossing the local wheats with some highly productive, short-statured Mexican wheats that were provided to them by Dr Norman Borlaug in the mid-1960s.
Second, industrious Punjab farmers were highly receptive to adopting novel technologies. Third, government policies were conducive to the development of agriculture and promotion of Green Revolution. For example, irrigation facilities and inputs (fertilisers) were made available to the farming community.
Benefits of the Green Revolution soon began to be realised as wheat production jumped, between 1965 and 1972, from 1.9 million tonnes to 5.6 million tonnes, further increasing to 15.8 million tonnes in 2007-08. Rice production increased from 1.03 million tonnes in 1970-71 to 15.7 million in 2007-08. India achieved self-sufficiency in wheat production in 1972 and in rice a couple of years later. One of the wheat varieties, WL711, was adopted across a wide area (even in Pakistan). Another variety, PBW 343, released in 1995, alone began to give annual returns of 200 million dollars (Rs 1,000 crore) to farmers. Thus, farmers' incomes soared, and with government-assured marketing through the establishment of minimum support price, rice-wheat system took a firm hold in Punjab, Haryana, and western UP. This was the death knell for crop diversification.
Before the Green Revolution, Punjab farmers used to cultivate more than 200 different crops. However after it, the area under rice-wheat rotation began to increase and that under other crops such as maize, millets (bajra), jowar, sugarcane, groundnut, pulses, gram, barley, mustard, etc., began to decrease. The per capita annual consumption of pulses used to be 27 kg in 1958-59, but it declined to 13 kg in 2010 (a 53 per cent decrease). The reason for this was a decline in production of pulses and increase in prices. The National Food Security Mission did not place much emphasis on enhancing the production of pulses.
The way forward
Agricultural diversification can be brought about by the development of new technology, consumer demand, change in government policy, and trade arrangements. However, it can be impeded by market risk and prices, degradation of natural resources, and socio-economic requirements (example job creation). It can also be hampered by reliance on certain crops for food security or by need to acquire foreign exchange through crops and cattle. Many of these hindrances to crop diversification are prevalent in Punjab.
There is a dire need to accelerate research on those crops that were overlooked during the Green Revolution. The Central Government has made some efforts in this regard. Some of the pertinent schemes that promote non-food-security crops are: ISOPOM (Integrated Scheme of Oil, Pulses, Oil-palm, and Maize), implemented in 14 states; National Food Security Mission (for pulses); Rashtri Krishi Vikas Yojna, under which states could give a fillip to the cultivation of pulses; and Rs 300 crore were earmarked for establishing "pulses villages". Under this scheme, special "arhar villages" are being set up.
What is needed most at this stage to bring about crop diversification is for the Central Government to assure the marketing of crops other than rice and wheat so that farmers can get out of the vicious cycle of rice-wheat monoculture. By promoting other crops, water can be saved because many of the pulses, bajra, jowar, etc. being adapted to arid environments, demand much less water than the rice-wheat combination.
According to Dr Alexander Mueller, ADG for Natural Resources with the FAO, only about 50 per cent of the food produced is actually consumed; the rest is lost in storage, distribution and at the level of end users. In my opinion, in Punjab, 20 to 25 per cent of the foodgrains (rice and wheat) stored in the open go waste. Instead of wasting these precious stocks, 10 to 20 per cent area under rice and wheat should be shifted to other crops in a phased manner. By doing so, we can save our precious natural resources, improve environment and enhance diversification. Pulses can improve soil health and fertility.
Cut area under rice
The 1986 report of a diversification committee appointed by the Punjab Government needs to be implemented. The committee had recommended that the area under rice should be reduced by 20 per cent.
The Chinese saying, "If you think one year ahead, grow rice; if you think 10 years ahead, grow trees; and if you think 100 years ahead, educate people" is most appropriate here. It shows the need for and importance of far-sighted visionary policies. The problems generated by the Green Revolution were the result of lack of such policies in India.
The Prime Minister has been emphasising the need for a second Green Revolution. The first Green Revolution helped farmers in irrigated areas. The second needs to help farmers in rainfed areas. If underground water continues to disappear in Punjab, the state will be rendered 'rainfed'. New cropping patterns requiring less water are needed for the Indo-Gangetic plains.
According to noted agricultural scientist, Dr MS Swaminathan, without intensification and diversification of agriculture, India will face a serious social upheaval because agriculture (including crop and animal husbandry, forestry, agro-forestry, fisheries, and agro-industry) creates jobs for more than 70 per cent of the population. For poverty alleviation and rural development, intensification and diversification of agriculture and value-addition of produce are extremely necessary.
What to do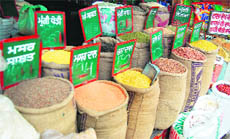 Shun single cropping cycle. 'Monoculture' or homogeneity can lead to disastrous consequences

Market risk and prices, degradation of natural resources, reliance on certain crops for food security can impede diversification

Accelerate research on crops that were overlooked during the Green Revolution; promote non-food-security crops

Assure trade arrangements of crops other than rice and wheat

10 to 20 per cent area under rice and wheat should be shifted to other crops
The writer is a former Vice-Chancellor of Punjab Agricultural University, Ludhiana