CINEMA: NEW Releases


A story worth knowing
Nonika Singh
A simple story beautifully told …. if one line could suffice, the heart warming tale of three friends could easily be summed up succinctly. Only Abhiskek Kapoor's directorial venture with a battery of lesser known actors, including Sushant Singh Rajput who makes his Bollywood debut, deserves to be lauded for more reasons than one.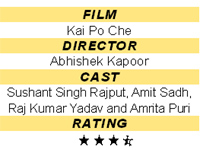 And subtlety alone is not one of his strengths. Based on Chetan Bhagat's book The Three Mistakes of My Life, the film set in Gujarat takes into account the state's cataclysmic moments like the earthquake as also the communal Gujarat riots. Yet it remains till an end an ode not just to friendship but genuine human emotions. In a country where cricket is akin to a God, yet sports is of little consequence, the storyline weaves in the need for sports culture and much more.
So, there they are three friends as disparate as chalk and cheese. While Govind (Raj Kumar Yadav) has an acute business sense and an understanding of maths as well as money, Ishaan Bhatt (Sushant Singh Rajput), apparently a rebellious wastrel cricketer happens to be the man with a heart of gold. The third end of the friendship is held by Omi (Amit Sadh) who is drawn into the world of divisive politics. Together they have ordinary middle class dreams of making it big and start by opening a sports shop and a coaching academy. Only the pursuit of these is marred by the shadow of Gujarat riots.
Since cricket is not the only religion in India, their friendship is soon under test. It is because of young Ali in whom Ishaan senses a cricket prodigy, a fulfilment of his own dreams of becoming a cricketer that they are drawn into mayhem and warring sides. While the director has not shied away from showing the toxicity of religious divide, nowhere has he allowed it to overshadow all else. The basic thread of the film is not so much about secularism but the ultimate truth of humanity.
Supported by natural performances not just by the three lead actors but of the entire cast, Kapoor has delivered a narrative that tugs at your heart strings. Subtly but surely it makes you repose faith in human goodness. All the while telling an tale with humour and warmth, it begins like a breath of fresh air and climaxes as gently.
If the first half keeps you riveted by capturing the joy of small things in life, post interval it takes a bigger leap and creates the big picture amidst the socio-political backdrop. And not for a moment turning jingoistic or preachy.Surprise element keeps the interest going. Love angle (Amrita Puri) too is as believable as the rest of the storyline and characters. Here's an example of how movies ought to be made (shot too as Anay Goswamy the cinematographer does full justice) yet rarely are.
If you are tired of the masala tadka go for it and immerse in the world you and me are familiar with yet have rarely paused to ponder over its beautiful nuances and layers.

Action generates little reaction
Jasmine Singh
It's story of a circuit that fused mid-way, causing a lot of damage to the rest of the set-up. Now, the set was not that brilliantly put up otherwise it would have acted as a good shock absorber.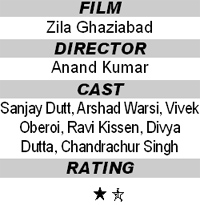 Zila Ghaziabad, directed by Anand Kumar blows off your mind with one single question — What was that! A film that brings on to the screen big names of Bollywood — Sanjay Dutt, Arshad Warsi, Vivek Oberoi, Ravi Kissen, Chandrachur Singh, Paresh Rawal, Divya Dutta, Ashutosh Rana — Zila Ghaziabad still is a tasteless mix of action and drama.
Director Anand Kumar is perhaps a Salman Khan Dabangg fan or he has been watching Gangs Of Wasseypur off late. So, if you find inspector Pritam Singh (Sanjay Dutt) pulling a Dabangg kind of style, do not blame 'baba' for it!
Zila Ghaziabad is a story of a good man turning bad because of some nasty circumstances. Of course, you have heard this before. If we tell you which good guy turned bad, you wouldn't hear the rest of the tale! Anyway, it is Vivek Oberoi. See we told you, you can't ask for the refund of your ticket!
A storyline which the bacha bacha of India knows is what makes the actors fight, cry a bit, fight and kill. And Arshad Warsi as Fauji is the bad man who does so much fighting. Arshad as the bad man rings a bell only for the director and actor! We know Arshad is a dancer who is good with comedy; the director, however, forgot to tell him, yahan naachney ka nahin hai circuit. Zila Ghaziabad is an overdose of action, something like The Matrix, where the actor and villains fly into the stratosphere!
The only 'worth mentioning' job has been done by Paresh Rawal and Ravi Kissen. As for the big name Sanjay Dutt, he is under Salman's spell.
Do you think we missed out on the actresses? Where were they? The music of Zila Ghaziabad is all about blood bath and bullets. You don't hope to hear music here. What you do hear is a bomb that fails to take off!

A good dose of thrills
Ervell E. Menezes
A Good Day to Die Hard is the fifth installment of the series which began in 1989 and is still going strong with hero Bruce Willis as detective John McChane showing little ageing. This time McChane has his son Jack (Jai Countney), a CIA operative joining him in the slam-bang action.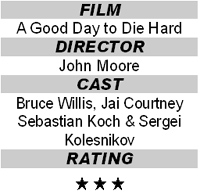 Not surprisingly it's the old enemy, Moscow and WMD, enriched uranium and Chernobyl figure in the plot even though the rapprochement is decades old. This time it is Yuri Kamarov (Sebastian Kock) who has to be freed from trouble because of his secret file and Viktor Chagarin (Sergei Kolesnikov) is the Russian big boss at whose behest he has been jailed.
The establishing shots include one of McChane Sr at target practice. "Nice grouping grandpa" is the comment from a bystander to show that our hero is still in fine nick. That he has not seen his son for five years is meant to indicate how busy or heartless (or both) he is. They meet under trying circumstances, pitted against each other but it doesn't take time for both to be on the same side.
As though two McChanes aren't bad enough we have another child, Lucy (Mary Elizabeth Winstead) join the group and one of her early lines is telling her dad 'try, just try, not to make more trouble than there is'. So much for John's reputation!
Skip Wood's screenplay is studded with sharp wit, the best lines are between father and son who address each other by their first names. Action there is (or else it wouldn't be Die Hard), car chases which make Steve McQueen in Bullitt seem like Stone-age stuff. But they are not in excess. Breaking through glass frontages of houses is also passé as is the one instance of John plucking out a bullet from his son's leg like a plum.
But if one overlooks these 'minor glitches' as one is supposed to, the fare is quite enjoyable. What's more, it is just 97-minutes long and so much easier on the attention span. Jonathan Sela's fluid camera is another asset and so is the taut editing.
There's not very much by way of acting but Bruce Willis manages to look fresh after going through the same routine for the fifth and Jai Courtney shows talent. So does Sebastian Kock but the rest are purely academic.
All in all A Good Day to Die Hard is well worth watching. Only leave your grey matter at home.