| | | |
| --- | --- | --- |
| | OPED SPORTS | |
Celebration of Punjab's muscle power
Prabhjot Singh
Between December and April rural sports are a rage in Punjab. Some of the major festivals, including Lohri, Basant Panchmi and Baisakhi, are also held during this period. Overseas Punjabis too head home to participate in social and cultural celebrations.
Though Kila Raipur remains the Mecca of rural sports, many other villages also organise their respective annual sports festivals in winter every year. The number of such annual festivals is estimated to be around 200.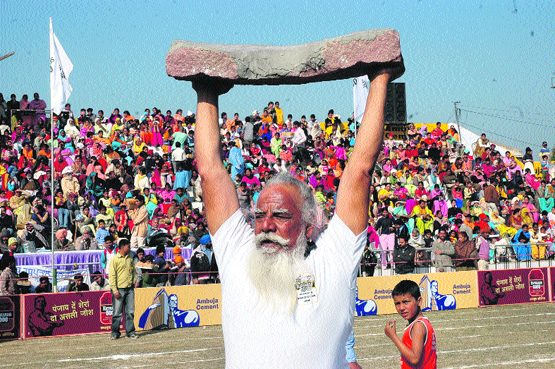 Age no bar: An elderly man proudly displays his physical strength at Kila Raipur. Even as farm machinery has reduced physical labour, many Punjabis keep themselves fit and look forward to show their skills in rural sports.

Bhanbhora, Dhamot, Phalewal, Phulanwal, Budhewal, Sahnewal, Jarkhar, Gurusar Sudhar, Vakilanwala, Ber Kalan, Machhiwara, Mehraj, Jaito, Lall Kalan, Mustafabad, Ghungrali Rajputan, Baja Khana,Mehal Kalan, Kamalpura, Nangal, Mehma Singhwala, Dalla, Jalal, Jodhpur, Dehlon, Dhilwan and Raipur Bhaian, Ottalan, Mirzapur, Mahilpur and Khizrabad, for example, have hogged newspaper headlines for over three decades for their rural sports-cum-cultural festivals.
The common attractions of all these rural festivals are not only competitions or exhibitions of indigenous sports but also competitions in kabaddi, besides the holding of "akharas" in the evening that feature top folk singers.
Symbols of communal harmony
These festivals have become symbols of communal harmony, universal brotherhood and sharing. Even during the two decades of turbulence in Punjab, these festivals were organised. Only once an attempt was made to disrupt Kila Raipur Rural Olympics by militants, who threatened to bomb the event, but the massive turnout of people foiled the design.
The beauty of these festivals is that they are generally organised without any support from the government. Contributions from villagers, including spectators, and donations from overseas Punjabis make them self-sustaining successful events.
Some of these festivals are organised to commemorate the memory of soldiers or those men from paramilitary forces who had made the supreme sacrifices for the country. For example, the Rural Sports Festival at Bhanbhora, near Malerkotla, is organised in memory of Amarjit Singh Sohi (1971 war) and Bahadur Singh (Kargil).
The responsibility of organising these festivals is taken either by gram panchayats or "naujawan sabhas" (youth clubs) or by specially constituted committees like the Grewal Sports Association (Kila Raipur). Needless to mention that on the eve of these festivals, politicians, especially of the ruling clan, evince interest so as to be in the spotlight.
Intriguingly, those who participate in rural sports and those who compete in the regular district, state and national championships of organised sports present a contrasting picture.
'Higher, swifter and faster'
Not many of the participants in these rural festivals are aware of the Olympics. For them the physical expression of their well-being in such seasonal competitions has become an integral part of their lifestyle. They, however, participate in these festivals in the true sportsman spirit, keeping the Olympic ideal of higher, swifter and faster in mind.
Modelled on the lines of the modern Olympics, these rural festivals also have cultural festivals and exhibitions as additional attractions. Unlike the fortnight-long Olympics, these festivals are generally of three to five days duration.
Kila Raipur not only gets some of the top folk singers to enliven the evening cultural programmes -- "akharas" -- but also holds exhibitions on the latest farm practices, agricultural implements, handicrafts and other items.
After the sporting events of the day are over, the playfields have trucks and tractor-trailers taking every inch of available space so that their occupants have a good view of the dais where folk artistes perform. Each of these vehicles not only has a stove or a gas stove but also well-stacked bars of both country liquor and Indian Made Foreign Liquor.
Merry-making is not without a sense of responsibility. One of the organisers confesses that before the start of events on the subsequent day, the organisers have a herculean task of cleaning empty liquor and soda bottles from the playfield.
Ahead of Olympics
Rural sports festivals are in fact a step ahead of the modern Olympics. While separate Olympic games are organised for special people with handicaps, natural or otherwise, and also for veterans, these festivals have them all together at one venue. In Kila Raipur, you will find 80-year-young athletes as well as 16-year-old girls taking part in track and field events, even as an eight-year-old boy gives an unbelievable display of "gateau."
In rural festivals, those farm workers who have their limbs chopped due to unsafe agricultural implements are also among major participants.
Since Kila Raipur is the biggest of all these festivals, participants there, especially those with innovative ideas, end up with no less than a few hundred rupees in their pockets. On an average the audience contributes to cash prizes varying between Rs 20,000 and Rs 2 lakh a day. In addition the organisers announce cash prizes. Throughout the festivals, special kitchens are run for the participants. And at places, community kitchens are organised for the spectators.
The credit of introducing rural sports goes to Ludhiana. It was in the early 1930s that some enterprising and affluent people from villages like Kila Raipur, Palatal, Phulanwal, Lalton, Narangwal and Gujjarwal who had been successful transport business in other parts of the country in general and Bengal (Calcutta) in particular, thought of introducing something unique to showcase the hidden talent of their people back home as well as provide them entertainment. Farmers are virtually free between December and March as the wheat ripens and becomes ready for harvest in April. So after irrigating the wheat fields in December, farmers have little else to do. They therefore get busy in not only "sharpening their physical skills" but also getting their cattle and pets ready for competitions.
Include farming operations
Some of the peculiar and unique events conducted during these festivals are intertwined with farming operations. For example, the loading and unloading of tractor-trailers with farm produce is a major attraction.
The tradition of introducing animal events, especially bullock-cart , rehra and tonga races, goes back to the late 1930s and early 1940s as does the practice of camel, horse and dog races and tent-pegging. Earlier, these festivals used to be an exhibition of "individual excellence" as well as "collective excellence", displayed through various sporting events like kabaddi, tug-of-war, lifting of heavy sacks, lifting of heavy stones, pulling of heavy machinery with teeth and lifting of a plough by teeth.
The bullock-cart race is a unique sporting event that reflects the understanding between a farmer and the bullocks he uses to plough his field. In a way, it is as difficult as horse riding. But since all farmers cannot afford to keep horses, they have found an indigenous version of the IOC-recognised equestrian sport in bullock cart races.
Unbelievable events
The use of wooden logs as munglis -- commonly used by wrestlers -- and lifting of wheat or paddy-filled sacks with teeth, pulling loaded tractor-trailers with hair, teeth or allowing a loaded tractor to move over their muscular bellies are some of the "unbelievable" events at these festivals.
At places Nihang Singhs, popularly known as Guru ki ladli fauj, also join in to display their skill in horse riding, tent-pegging, gatka and archery. Of late, the appeal of these festivals has travelled across the country and archers from tribal areas of Chhattisgarh, Jharkhand and Uttaranchal have also started participating in the Kila Raipur festival.
Among the other traditional participants in these rural festivals are Bazigars, who display their acumen in "mal khamb" and rustic gymnastics, an art that is fast disappearing.
"Our effort has been to blend tradition with modernity. Way back in the early '30s when we introduced Bhagwant Gold Cup Hockey Tournament, stars like the hockey wizard Dhyan Chand came to Kila Raipur," recalls Sukhvir Grewal, chief organiser of Kila Raipur Mini Olympics. The hockey competition at Kila Raipur and rural sports at the Jharkhar and Dhamout festivals are big crowd-pullers though bullock-cart races and kabaddi remain the most popular events at these festivals.
Women participation in these festivals, especially in indigenous events, is negligible. The only time when one can watch girls or women participants is during competitions in regular sports, including track and field, volleyball, basketball, kabaddi and hockey are held.
In some such festivals in the Doab, wrestling and weightlifting are major attractions. Unfortunately, many of the rural festivals are on the verge of extinction as the focus has shifted from sports to "akharas", or the folk events.
If Sunam was known for boxing since it produced some of the top pugilists of the country, Sansarpur and Mahilpur have remained synonymous with hockey and football. Alamgir in Ludhiana earned laurels in wrestling while some top weightlifters who trained either at Phagwara or Ludhiana (Shan weightlifting centre) have also hogged the headlines. Banga and Sunam have produced some of the top cross-country racers while throwers (athletics) are mostly from Gurdaspur and Jalandhar. These nurseries and some rural sports festivals need a revisit.


Inder Singh Grewal

An engineer by profession, Inder Singh Grewal, a visionary, was the brain behind the setting up of the Grewal Education Society by including some of his noted contemporaries -- Mehtab Singh, Baba Kishen Singh, Dangal SIngh and Captain Karan SIngh -- to pave way for the setting up of Khalsa High School, the venue where Rural Olympics took their birth. Interestingly, it was Inder Singh Grewal, who later formed the Grewal Sports Association in 1933 and organised the first Kila Raipur Sports Festival. His three sons Gurcharan Singh, Mehar Singh and Bhajan Singh were well educated. Gurcharan Singh took part in the 1936 Olympics at Berlin and won Gold medal in hockey. Mehar Singh Grewal graduated from Government College, Lahore, represented India in hockey and joined the Punjab civil services and was the president of the Grewal Sports Association for 30 years till 1982.
Joginder Singh P.T. Sahib
Joginder Singh PT Sahib was a founder member of the Grewal Sports Association; a student of Government College, Ludhiana; studied physical education at YMCA, Madras; Joined as P.T. at Khalsa School, Kila Raipur. He was the announcer at the Kila

Raipur Sports Festival from 1933 to 1982. He was a progressive farmer and was honoured by Punjab Agriculture University.

Dalip S

ingh Grewal

Dalip SIngh Grewal was born and brought up in Kila Raipur. He migrated to Calcutta. With hard work and perseverance set up a transport business and became a successful transporter. He was the guiding force behind the Kila Raipur Sports Festival. In the 1950s he was the first man to give out cash prizes to the participants.