State to enact motor vehicles Act
Chandigarh, February 17
Unpaid road tax is an offence, but the Punjab Motor Vehicle Taxation Act, 1924, does not lay down any penalties to deal with it. For other similar offences, the Punjab Act, adopted by Haryana, lays down no punitive action.
International Child Cancer Day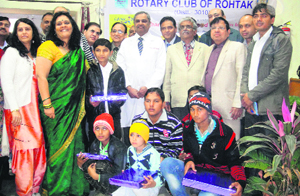 Cancer among kids needs prompt attention: Experts
Rohtak, February 17
The incidence of cancer among children is an important issue that needs immediate attention of parents and doctors, opined experts during a programme organised at the PGIMS to mark the International Child Cancer Day here today.
Dr SS Sangwan, Vice- Chancellor of Pt. BD Sharma Health University, Rohtak, with children and doctors at a function organised to mark the 12th International Child Cancer Day at the PGIMS, Rohtak, on Sunday. Tribune photo

Dera volunteers sweep Rohtak clean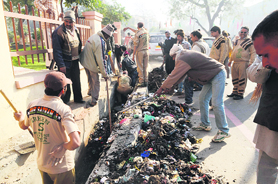 Rohtak, February 17
Thousands of volunteers of a prominent religious and spiritual group descended on the town to carry out a massive cleanliness drive here recently. Hundreds of volunteers of the Sirsa-based Dera Sacha Sauda reached the town and fanned out in various parts of the town, which was divided into four zones to coordinate the work.
Volunteers of the Dera Sacha Sauda engaged in a cleanliness drive in Rohtak. Tribune photo

Missing ammo boxes found in Delhi
Ambala, February 17
To an embarrassment of the security agencies, some miscreants stole three boxes loaded with Army weaponry from one of the special trains at a railway station in Delhi. The matter came to light during routine checking of the 38-wagon special train loaded with artillery which had set off from Pulgaon Railway Station in Wardha district of Maharashtra for Jalandhar Cantonment.
Free martial arts classes for women
Panipat, February 17
An initiative of DAV Police Public School, Panipat, and the police to arm girls and women with martial arts technique for self-defence evoked an overwhelming response with schoolgirls of Class IX to XII turning up in large numbers as training for the first batch started today. About 200 girls had registered for the training.
Mullana supports reservation on economic basis
Karnal, February 17
Haryana Congress president Phool Chand Mullana today advocated reservation for the economically weaker sections and said poor people of all castes should get reservation as this was the only way for their economic upliftment.
Serious Ailments
Govt to bear treatment cost of poor, says CPS
Bhiwani, February 17
Chief Parliamentary Secretary Ram Kishan Fouji said the state government would bear the expenditure of treatment of the poor suffering from any serious ailment and in case the treatment was not available at any government hospital, the same could be availed at any private institution.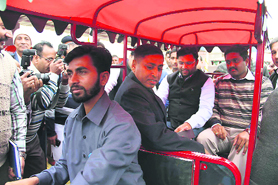 Eco-friendly autos hit Sirsa roads
Sirsa, February 17
Eco-friendly auto-rickshaws driven on batteries are finally on Sirsa roads from today. Sirsa MP Ashok Tanwar distributed 40 battery-driven rickshaws among unemployed youths here today. As a pilot project, the authorities have initially purchased 40 auto-rickshaws.
A youth drives his newly acquired battery-driven auto-rickshaw with MP Ashok Tanwar and DC J Ganesan on the back seat in Sirsa on Sunday. Tribune photo

Baba Ramdev's party to contest LS poll
Sonepat, February 17
Yog Guru Baba Ramdev said the Bharat Swabhimaan Party would field candidates in the coming Lok Sabha and assembly elections in the country. Speaking at the fifth 5th foundation day function of the gaushala at Murlana village, he exhorted the people to vote for candidates with good moral conduct.
Work for development of nation: Guv
Kurukshetra, February 17
Governor Jagannath Pahadia has called upon people to work unitedly for the all round development of nation.
Death in Firing
2 YC leaders suspended
Chandigarh, February 17
The Haryana Youth Congress (YC) has suspended the presidents of its two Assembly units with immediate effect for their alleged involvement in a firing incident in Sonepat district, in which a 13-year-old girl was killed and a 17-year-old boy was seriously injured on Friday.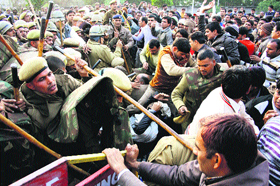 Members of the Patrata Adhyapak Sangh, Haryana, grapple with the police to cross the barricades to submit a memorandum to Chief Minister Bhupinder Singh Hooda through the Deputy Commissioner in Rohtak on Sunday. Photo: Manoj Dhaka

Free health camp held in Rewari
Rewari, February 17
A free health camp was held under the auspices of the Baba Bhani Das Jan Sewa Samiti at Jhanswa village, near Kosli, yesterday.
Three boys crushed under train
Yamunanagar, February 17
Three boys were crushed to death by a speeding rail engine on the Yamunanagar-Saharanpur route at point number 210. The three were reportedly making a video of the engine coming towards them with their mobile phones.
Bhuna trader dies of swine flu
Fatehabad, February 17
A trader from Bhuna town in the district died due to suspected swine flu. Health authorities said they had no information, but family members maintained that the victim died of H1N1 infection.
2 held on fraud charges
Hisar, February 17
The police has taken two youths on production warrants from the Ganganagar police for fraudulently withdrawing Rs 3.36 lakh from an ATM of a State Bank of India branch here in 2011 by hacking the software of the machine.
One killed as earth caves in
Rewari, February 17
Shankar Yadav (25), a migrant labourer of Bihar, died after earth caved in during digging in the basement of a building under construction in a residential colony developed by Dwarkadhish Builders at Dharuhera, 16 km from here, today.