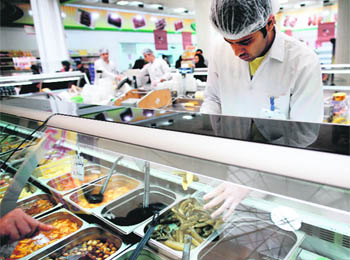 Though retail and other areas have been discussed, marginally, the focus is on the farming sector. It has been made out that the farmer will get better prices, there will be a reduction in wastage and further that MNCs will invest in infrastructure and that they will help raise the productivity. Elimination of the middle man will result in better returns to the farmer.
The discussion about the farming sector is more focused on fruits and vegetables and other perishable produce. The remaining agricultural produce like foodgrains, sugarcane, oilseeds, cotton etc are hardly touched. Only 20 per cent of the area is under horticulture. The production of fruits is concentrated in some states. Vegetables are grown only in major cities. Wastage is always mentioned at around 25 per cent, though no authenticated data is mentioned.
No excessive wastage
A study conducted in 2010 by the Central Institute of Post-Harvest Engineering and Technology revealed that wastage in fruits and vegetables is 5.8 to 18% for different crops. The wastage levels are lower for other items as compared to fruits and vegetables: for crops (3.9-6.0%), cereals (4.3-6.1%), pulses (4.3-6.1%), oilseeds (6.0%), meat (2.3%), fish (2.9%) and poultry (3.7%). These compare favourably with corresponding numbers in other countries, including developed countries. Wastage in India is not excessive compared to even that in advanced countries.
However, that is in the past. It is for the states now to decide whether to permit FDI in retail. They need to lay down sufficient safeguards to protect the interests of farmers in particular and retailers in general.
Sir Chhotu Ram is to farmers what Dr. B.R. Ambedkar is to the SCs/STs. He was the Revenue and Agriculture Minister in the Ministry of Sir Sikander Hyaat Khan in the pre-partition joint Punjab. Between 1935 and 1938 he introduced various enactments to safeguard the interests of farmers. Some of these are:

The Restitution of Mortgage Land Act, 1938


The Punjab Agricultural Produce Marketing Act, 1938


The Punjab Registration of Moneylenders Act, 1938


The Punjab Debtors Protection Act, 1936


Amendments to the Punjab Alienation of Land Act, 1901.
No government since then has acted so comprehensively for the betterment of the farming sector as he did. More important, for this discussion, is the Punjab Agricultural Produce Marketing Act, 1938. Before this was enacted, markets were operated by private traders. There was no compulsion to bring the produce even to those private mandis. Traders could go to the village and buy directly from farmers. Those were the days when there was hardly any radio or other means of communication through which farmers could remain informed about prices and market conditions.
Private markets abolished
The Punjab Agricultural Produce Marketing Act, 1938, abolished the private markets. The mandis could now be established and operated only under the provisions of this Act. These were managed by the government-appointed Market Committees and the State Level Agricultural Marketing Boards provided for in the Act. The Act made it legally obligatory that agricultural produce could be sold or bought only in the state regulated markets.
In due course, it was further laid down that selling will take place by open auction. It is this that ensured proper prices to farmers. No other enactment has benefited the farmers as much as this one. And it is this very Act which will get negated, or at least substantially diluted, by the direct purchases from farmers by MNCs. No doubt, there will be contract farming and they will be offered the mutually agreed price, but difficulties would arise.
The buyer, representative from an MNC, will decide about the quality of the produce. He may reject the whole or part of it and/or apply quality cuts while offering lower prices other than the contracted one. This transaction will happen at farmers' place and not mandi. The buyer's say will be final as there will be no other arbitrator present. For the rejected produce, the farmer will still have to go to the market with the 'tag' of rejected produce.
Before Dr Verghese Kurien's cooperative system was introduced for milk procurement, a representatives of a private or government milk plant, carrying a few test tubes and some chemicals, would go to the farmer, carry out some tests in his own mysterious way, and announce the fat percentage of the milk. That will determine the price of milk. The farmer hardly had any say or choice but to hand over milk to the buyer at that price. It would be the same kind of transactions which are likely to take place in case of fruits, vegetables and other perishable produce. Farmers will be at the receiving end.
The middle man
The middle man has been at the centre of all discussion. He is supposed to be the main culprit who works against the interests of farmers. We must not forget that the middle man, by whatever name we may call him, performs certain functions (service) and has to be compensated for that. An arhtiya also does the same. The buying and selling process will have to be serviced. An MNC's representative will replace the arhtiya. He will have all the traits of an arhita. In fact in his case, as the price, would have been pre-negotiated between the farmer and the buyer, there is no bidding and he will exercise his power of quality control and arbitrarily apply cuts.
Similarly, the government is also a kind of middle man. For providing various services in the market, it too charges market fee. The state governments should evolve an altogether new system for such transactions as to how the contractual cultivation arrangements between the farmer and the buyer will take place so as to safeguard the farmer's interest.
The condition of a minimum of 30% of the local produce is another matter of concern. Is it 30% of fruits and vegetables or of the total goods they are going to market? A visit to any mall will show that only a small percentage of the area is occupied by agricultural produce. In terms of the value of goods, it may be still less. There may even be imports of some agricultural products. For example, coconuts are cheaper in South Asian countries. MNCs will be within their rights if they import cheaper vegetables etc from other countries. This may depress local prices.
Spending on infrastructure
A lot has been written on the fact that MNCs are going to invest heavily in infrastructure. Infrastructure in this case consists of cold storages, refrigerated trucks for transportation and of course the roads. None of these is sunrise technology. Enough know-how is available in the country. The total expenditure required for all this is about Rs.35,000 crore, which is not a large sum or beyond the means of the Government of India. It will be wrong to presume that they are coming to improve our infrastructure. Their objective is profit. They will invest only where it is necessary for them to do so.
The same goes for better seeds and agricultural practices. However, all this falls on the agricultural side and does not come in the ambit of food management. As far as increasing productivity is concerned, MNCs like Monsanto and Cargill, many companies from Israel and others are already operating in the country. It is these multinationals whose core business is agriculture. We have our ICAR and a large number of agricultural universities. They have acquitted themselves very well in evolving new varieties. For MNCs like Walmart and Tesco, agriculture is not their core area. However, if the MNCs do take some steps in this regard, they are welcome.
Creation of jobs
The generation of employment for youth has been another important point for propagating FDI in retail. Two points arise here. First, they will progressively substitute labour with capital. This has been the policy of MNCs in other countries. Secondly, they employ only their core staff on a regular basis. For the rest employment is on a temporary basis. Depending on the market conditions, they keep on hiring and firing. The state governments should, therefore, seriously consider what employment policies of MNCs in FDI in retail should be. As the replacement of labour by capital progressively takes place, the security of job will become more and more important. Evolving proper labour laws in this regard should be a priority of the state governments before permitting FDI in retail in their areas.
All guns in getting through the FDI in retail have been fired from the farmer's shoulder. It is for the state governments to ensure that farmers get their due. It is well known that after getting permission to enter a country, MNCs can get round the government to get conditions changed to their advantage. They slowly are able to get various concessions to increase their profits. The latest is the case of IKEA, basically a company making furniture and household furnishing. Even before starting their operations, they have been able to get round the government to include their food chain business also.
All these and many more aspects need serious consideration by the state governments, lest we should throw the farmers back to the pre-Sir Chhotu Ram days.
The writer is a former Secretary, Government of Punjab