This could be one reason for the increased frequency of visits of ministerial, parliamentary and business delegations from Canada to India. In spite of the intertwining of populations of India and Canada, the growth in economic relationship between the two nations has not much to cheer about.
While Canada has a much bigger and stronger trade partnership with China at $57.8 billion (all figures in Canadian dollars unless specified), its business links with India, with which it shares a common British legacy in legal and political systems, besides the dominant English language, was just $5.2 billion. Interestingly, the Australian economy, which was just half the size of Canadian economy, has bilateral trade with India of more than Australian $15 billion.
Intriguingly, India's size and the common Commonwealth history and ever-bulging number of immigrants, remains miniscule. Bilateral merchandise trade between Canada and India totalled approximately $4.2 billion in 2010. Though it reflects an increase of 46.6 per cent since 2005, it is still 1/10th of the Canada-China trade.
In 2008, India was Canada's 16th merchandise trade partner while being ranked 30th for India. In 2009, the prime ministers of Canada and India set a combined annual trade target of $15 billion to be reached by 2015.
Though Canada and India started working towards a Comprehensive Economic Partnership Agreement (CEPA) in 2010, it may not be signed till the end of current financial year.
Manmohan Singh's visit
That year, Canadian exports made up $2.12 billion of the $4.2 billion trade relationship. Of the $3.57 billion in direct investment between the two countries, Indian investment in Canada, at $2.97 billion, far outstripped the reverse.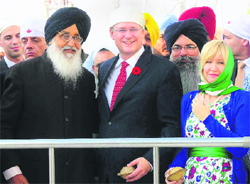 Stephen Harper became the first Canadian Prime Minister to visit Nishan-e-Khalsa
In June 2010, when Indian Prime Minister Dr Manmohan Singh visited Canada, he had set a target to increase bilateral trade to $15 billion by 2015. Before Dr Manmohan Singh, the only Indian Prime Ministers to visit Canada were Jawaharlal Nehru (1949) and Indira Gandhi (1973).
The prime ministerial visit after 37 years, however, was not able to accelerate the bilateral trade as was expected. Against three visits by Indian prime ministers since the Independence, Canadian prime ministers have been visiting India regularly. This was in spite of the lull between bilateral relations after the NDA government went for a nuclear explosion.
Exchange of ministerial visits is normally an indication of cordial and friendly relations between two nations. However, in case of India and Canada, the visits have mainly been one-sided for many reasons, including the Kanishka tragedy. Not many political leaders from India, including states, have been on official visits to Canada though Canada declared 2011 as Year of India and played host to the IIFA awards.
Though both India and Canada have put behind them all such chapters that led to discords earlier, yet the pace for augmenting business ties is still to pick up. Since 1993, the strong Indo-Canadian community has made deep inroads into mainstream politics, both in federal and provincial politics. Since the size of the trade is small, annual increase of 20 to 30 per cent witnessed since 2005 has failed to make it substantial. In the next two years, both nations set committed to triple the size of this trade that for the time being looks gigantic.
Canadian delegations
Recently, a nearly 100-member Canadian business delegation visited major Indian cities, including Mumbai, New Delhi, Bangalore, Kochi, Ahmedabad and Amritsar.
It was a follow-up visit to that of the Canadian delegation led by Prime Minister Stephen Harper that came to India in November last year.
Immediately before and after the prime ministerial visit, several Canadian ministers have been to India. Besides federal ministers, several provincial delegations, including Premier of Manitoba and Finance Minister of British Columbia have been on official visits to India.
A couple of years ago, a business and trade delegation from Punjab had visited Toronto to showcase its inventory. If one looks at the Foreign Direct Investment from Canada in Punjab, it is far from heart-warming.
No Canadian Prime Minister to visit India has skipped visiting either the Golden Temple in Amritsar or the new wonder Nishan-e-Khalsa in Sri Anandpur Sahib. In fact, Stephen Harper became the first visiting Prime Minister to visit Nishan-e-Khalsa. Though a big delegation accompanied Stephen Harper on his last visit to India, it did not meet or hold negotiations with any trade, industry and business organisation of Punjab.
Two years ago, when British Columbia Premier Christy Clark came to India to make a bid for holding the IIFA awards 2013 in Vancouver, she also visited Amritsar and Chandigarh. Here she invited Chief Ministers of Punjab, Haryana and Himachal Pradesh to visit British Columbia to explore possibilities of regional cooperation in the areas of agriculture, power, oil exploration, besides education and trade. Her invitation appears to have remained in papers only.
She, however, honoured her commitment by getting a British Columbia trade office functional at Chandigarh Consul-General in December last year.
Recently, Premier of Manitoba, Greg Selinger, also came to India to invite Punjabis to come and invest in his state. He, in return, offered expertise in the areas of food, including storage and value addition, clean hydel power generation and transmission, education and other areas. Unfortunately, he could not meet any major political leader of Punjab.
Lack of response
Even in November last year, at least one of federal ministers of Canada also rued that in spite of his efforts, he could not meet top political leaders of the state after Prime Minister Stephen Harper had left Punjab.
Investments in Punjab from Canada are limited to remittances and some money that comes under Village Life Improvement Programmed (VIP).
Other than business and trade, India, in general, and Punjab in particular, have been evincing keen interest in immigration policies of Canada as a major source of supply of unskilled and skilled manpower to Canada.
Immigration and Citizenship Minister Jason Kenney travelled to Amritsar, some time back to reveal that that in 2012 Chandigarh office issued a record number of 17,608 Temporary Resident Visas to Punjabi visitors. This was nearly three times the number of such visas issued in 2005. Jason Kenney held that this was made possible because of a greater cooperation from the Punjab state officials in combating illicit activities of unethical immigration agents. He also met with Punjab Minister for NRI Affairs Bikram Majithia to discuss efforts to combat immigration fraud, and implementation of Punjab's new Anti-Human Smuggling Act. Minister of State Tim Uppal and Member of Parliament Parm Gill accompanied him.
Jason Kenney also attended the Parvasi Bharat Divas 2013 in Kochi, besides making his presence felt at the Vibrant Gujarat, an event organised for overseas Indians to seek their investment in the state by its Chief Minister Narendra Modi.
The Canadians are now reaching out to a more and more Indian states.
High-level visits
India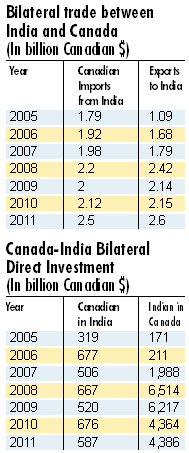 Prime Minister Dr Manmohan Singh visited Canada in June 2010. Before him, the only Indian Prime Ministers to visit Canada were Jawaharlal Nehru (October 1949) and Indira Gandhi (June, 1973)

IIFA awards 2013, for which the British Columbia Premier Christy Clark visited Mumbai in 2011 to make an official bid, would not return to Canada.

The 2011 edition of IIFA awards was hosted by Toronto.
Canada
In 2012, a delegation led by Prime Minister Stephen Harper visited India.
It comprised:

Minister for International Trade Ed Fast

Minister of State Tim Uppal

Minister of State Bal Gosal

Parliamentary Secretary Deepak Obhrai

MPs Devinder Shori, Keyle Seebeck and Parm Gill

Senators Asha Seth and Tobias Enverga Jr

Stephen Harper had earlier visited India in 2009.
Other important visits include:

Clerk of the Privy Council Wayne Woulders in October 2012

Natural Resources Minister Joe Oliver in October 2012

Foreign Affairs Minister John Baird in September 2012

Tim Uppal in January 2013 for Punjab PBD 2013

Alberta Minister Manpreet Bhullar in January 2013 for Punjab PBD 2013

Citizenship and Immigration Minister Jason Kenney in January 2013 for
PBD 2013

British Columbia Finance Minister Michael de Jong in December 2012. Earlier in 2011 BC Premier Christy Clark had visited Amritsar and Chandigarh

Manitoba Premier Greg Selinger January 2013

Besides several former ministers, including Herb Dhaliwal, MPs, sitting or retired, including Nina Grewal, Gurmant Grewal and Ruby Dhalla, besides Alberta MLA Peter Sandhu and Manitoba MLA Mohinder Saran, also visited India in the past six months and attended official functions of the Union Government and state governments.

Toronto hosted the regional PBD 2011

It was "Year of India in Canada" in 2011.