Tarn Taran Assault Case
Magisterial probe ordered; police tenders apology
Chandigarh, March 5
Even as Chief Minister Parkash Singh Badal today ordered a magisterial probe into the alleged thrashing of a woman by policemen in Tarn Taran, the state police tendered an apology for the incident. The Chief Minister has directed the Tarn Taran District Magistrate to ascertain the circumstances leading to the incident and submit a report within three weeks.
State DGP Sumedh Saini with Dinkar Gupta, ADGP (left) and Hardeep Dhillon, ADGP, Intelligence, in Chandigarh on Tuesday. Tribune photo: Manoj Mahajan

Dismiss guilty cops: Victim
Usma (Tarn Taran), March 5
"Dismiss the policemen who brutally thrashed me and my father and put them behind bars," demanded the police assault victim here today. She said she would fight for justice till the last and would not hesitate ending her life if justice was denied to her family.
Man who shot video living in fear

Usma (Tarn Taran), March 5
The shameful police assault on a young girl in Tarn Taran would have been brushed under the carpet had not her cousin, Jagjeet Singh, shot a video footage of the incident and exposed the brutal face of the khaki. Jagjeet Singh said when he saw policemen thrashing his cousin sister, her father and brothers, he took out a video camera. "I shot the incident as I knew that without any clinching evidence, the policemen would not only walk free, but also implicate us in a false case." Jagjeet Singh

Voices against police brutality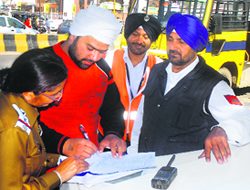 Jalandhar School Van Accident
Violations galore, still no action against van owner
Jalandhar, March 5
Though the police officials investigating yesterday's accident that left 13 children dead have identified the ill-fated van's owner, no action has yet been initiated against him under the Motor Vehicle Act for flouting norms.
A day after the accident, police officials challan a school bus for overloading students in Jalandhar on Tuesday. Tribune photo: Malkiat Singh


Driver may have been on drugs
381 accident-prone points in state, maximum in Gurdaspur
Muktsar, March 5
There are 381 accident-prone sites across the state and the erstwhile Gurdaspur police district, which includes Pathankot, tops the list with 45 such locations, as per the figures uploaded by the Punjab Police on its official website.
'Molested' by neighbours, Dalit girl sets herself afire
Faridkot, March 5
Fed up with "repeated molestation and harassment" by five youths, a Class X Dalit girl set herself afire in Ambedkar Nagar area of Faridkot today. Daughter of a rickshaw-puller, the victim sustained 90 per cent burns and is battling for life at the local Guru Gobind Singh Medical College and Hospital. The police has arrested three of the accused, who lived in her neighbourhood, while two others are absconding.
5 days on, govt staff yet to get salaries
Chandigarh, March 5
Five days into March, the Punjab Government employees are yet to receive their salaries for the month of February. The amount normally used to be paid on the first day of every month.


Ailment during service
Presumption to be drawn in Armymen's favour: HC
Chandigarh, March 5
The Punjab and Haryana High Court has made it clear that inference has to be drawn in favour of an Armyman that ailment acquired by him at a later stage was either attributable to, or aggravated by military service, unless established otherwise. This was in case of Armymen who entered the service in robust health, but acquire a disease later.
Farmers' protest to hit rail traffic in Punjab today
Patiala, March 5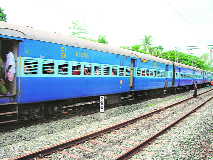 Rail passengers may have to face inconvenience tomorrow as over a dozen farmer organisations have threatened to block rail traffic across Punjab. The Punjab Police, Government Railway Police and the Railway Protection Force have already sounded an alert in this regard. Following reports of the planned dharna by farmer unions, all district police chiefs and reserve battalions have been told to remain vigilant. Sources said as a precautionary measure, additional police force had been withdrawn from various places to keep a vigil at railway stations.
Compensation hiked for land acquired 25 yrs ago
Chandigarh, March 5
Almost 25 years after proceedings for acquisition of land for establishing a mandi township at Kapurthala were initiated, the Punjab and Haryana has allowed a considerable hike in compensation to be paid to the landowners.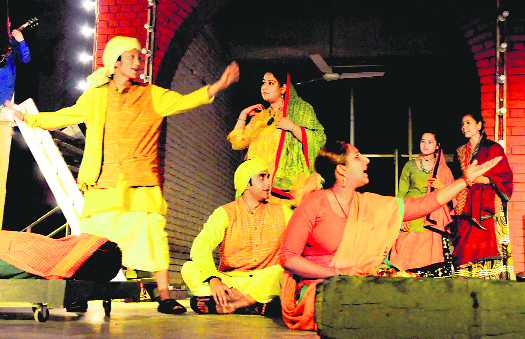 Artistes stage a play, "Playan", at Punjab Kala Bhavan in Chandigarh on Tuesday. Tribune photo: Parvesh Chauhan

3 BRD gears up to get President's Standards
Chandigarh, March 5
Hectic preparations are underway at the Chandigarh Air Force Station ahead of the visit of President Pranab Mukherjee, who is scheduled to present Standards to the IAF's No.3 Base Repair Depot (BRD) here and the Delhi-based Air Force Central Medical Establishment (AFCME) on March 15.
Fund shortage hits PRTC's kilometre scheme
Patiala, March 5
The shortage of funds has once again hit the PRTC's kilometre scheme as the bus owners have not been compensated for the past five months. Since most of the operators had bought buses by availing bank loans, they rue they will have to sell their buses if their dues are not cleared.
4 students still in hospital
Jalandhar, March 5
There are four children among the victims of yesterday's accident who are undergoing treatment and are said to be stable now. Cousins from Mudda village Manvinder Singh and Gurvinder Singh, both aged 10 years, have minor internal head injuries and are undergoing treatment at Chhabra Neuro Hospital here. The cousins lay along one another in the ward beaming at each other as their grandmother Avtar Kaur just kept on reciting hymns thanking God for saving both her grandchildren.
Day after inmate's escape, Jail Dy Supdt suspended
Bathinda, March 5
The state government today placed Bathinda Central Jail Deputy Superintendent Manjeet Singh under suspension for his alleged negligence leading to the escape of an inmate from the local Civil Hospital.
Lovers commit suicide in Moga
Faridkot, March 5
A 22-year-old boy and a 20-year-old girl allegedly committed suicide by hanging themselves from a tree in Nathuwala Jadeed village in Moga. The deceased belonged to the nearby Dhurkot Kalan village. They lovers reportedly committed suicide after the girl's family fixed her marriage.
Patiala land scam
Another accused joins probe
Patiala, March 5
Former Patiala Naib Tehsildar Gurinder Singh Walia, one of the accused in the Patiala land scam, today joined investigations at the Patiala Vigilance Bureau office. Pritam Singh, Senior Superintendent of Police (SSP), Vigilance, said Walia had already got bail in the case pertaining to the transfer of government land worth Rs 250 crore to private individuals. "We had summon him for questioning," he said.
Visitors allege inconvenience at suvidha centres
Sangrur, March 5
A majority of the people who avail the services of suvidha centres here are of the view that they have to face inconvenience in getting their routine works done through these centres.
Class XII exam
Supervisor suspended in copying case
Sangrur, March 5
The Director General School Education (DGSE) today suspended Sohan Singh, a science master, for allegedly providing copying material and tips from his mobile phone to students taking a Class XII examination at at Government Girls Senior Secondary School, Malerkotla.
ASI's murder: Robinjeet cross-examined
Amritsar, March 5
The defence counsel today cross-examined Robinjeet Kaur, prime witness to the murder of her father Assistant Sub-Inspector (ASI) Ravinderpal Singh, in the court of Additional district and Sessions Judge here today. Dr Ashok Chanana who had performed the post-mortem examination of the deceased, also gave his statement.
Waraich gurdwara foundation laid
Amritsar, March 5
The foundation stone of a gurdwara at Waraich village, alleged demolition of which had sparked a row, was today laid on Dera Radha Soami Beas premises. Later, the dera head and representatives of various Sikh outfits paid obeisance at the Golden Temple to thank the Almighty.
Patiala land scam: Accused joins probe
Patiala: Former Patiala Naib Tehsildar Gurinder Singh Walia, one of the accused in the Patiala land scam, on Tuesday joined investigations at the Patiala Vigilance Bureau office. SSP Pritam Singh said Walia had already got bail in the case pertaining to the sale of government land worth Rs 250 crore. — TNS


10 minors facing trial before juvenile boards in rape cases
Chandigarh, March 5
Involvement of juveniles in rape cases is no minor affair in Punjab. Information supplied to the Punjab and Haryana High Court by the State of Punjab reveals that trial against no less than 10 minors is pending before Juvenile Justice Boards across the State for more than a year.