Dismiss guilty cops in 48 hrs, assault victim warns govt
Tarn Taran, March 10
The family of the Dalit girl of Usma village, who was beaten up in full public view by policemen a week ago, has given a 48-hour ultimatum to the state government to act against the officials.
Police assault victim
Several Cong leaders lose security cover
Chandigarh, March 10
The SAD-BJP Government has completely withdrawn security to several Congress leaders, including its vocal critics former Bholath MLA Sukhpal Khaira and Youth Congress president Vikramjit Chaudhary.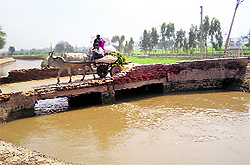 Shivratri festivity turns into mourning
Abohar, March 10
A minor drowned while his companion is also feared to have met the same fate after the bicycle they were riding on fell into a sub-canal off a damaged bridge near here today.

The damaged bridge near Abohar from where the minors slipped into the Malukpura sub-canal on Sunday. Photo: Raj Sadosh


Relax criteria to upgrade schools, CM to HRD Minister
Chandigarh, March 10
The Union Human Resources Development Minister, Dr Mangapatti Pallam Raju, visited Chief Minister Parkash Singh Badal at his official residence here this morning.

Parkash S Badal, Chief Minister
Projecting too many leaders from one seat harmed party: Bajwa


Chandigarh, March 10
In a change of strategy, only one leader will be projected in each constituency for the 2017 assembly elections. The newly appointed Pradesh Congress chief, Partap Singh Bajwa, said the "blessings" given to four or five candidates in each constituency led to a revolt and damaged the chances of official party candidates during the last elections.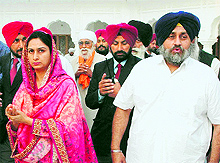 Golden Temple plaza by year-end
Amritsar, March 10
The construction work on the prestigious Golden Temple entrance plaza would be completed by the end of this year, said Sukhbir Singh Badal, Deputy Chief Minister, here today. accompanied by his wife, Bathinda Member of Parliament Harsimrat Kaur, he was here to pay obeisance at the Golden Temple.

Deputy CM Sukhbir Badal and Harsimrat Kaur at the Golden Temple in Amritsar on Sunday. Photo: Sameer Sehgal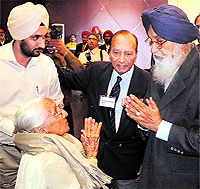 String of benefits for decorated soldiers
Chandigarh, March 10
Announcing a 20 per cent increase in the allowances for gallantry award recipients, Chief Minister Parkash Singh Badal has sanctioned a grant of Rs 50 lakh for a welfare trust for the benefit of the state's war heroes. Speaking at the triennial convention-cum-reunion of the War Decorated India, an association of Param Vir Chakra (PVC), Maha Vir Chakra (MVC) and Vir Chakra (VrC) recipients, he said a unique state-of-the-art memorial for war heroes would come up at Amritsar.
Chief Minister Parkash Singh Badal honours Balbir Kaur, widow of Major Malkiat Singh Brar, in Chandigarh on Sunday. Tribune photo: Pradeep Tewari

State has no public bus service to Delhi airport
Chandigarh, March 10
Despite being one of the largest providers of traffic to the Indira Gandhi International Airport, New Delhi, from North India, Punjab does not have a single direct public transport bus service from the state capital to the airport.
Shortage of gunny bags alarms govt
Chandigarh, March 10
The state government has urged the Cente to expedite the supply of 4.48 lakh gunny and plastic bags to stack fresh wheat that will start arriving in the market in four weeks. So far only 60,000 bags have arrived. "We were assured that 3.6 lakh gunny and plastic bags would be made available to us by March 31," said a government official.
Mega housing projects skip EWS quota
Chandigarh, March 10
The Punjab Government has failed to ensure that mega housing projects in the state implement reservation of housing units for the economically weaker sections (EWS). The government has ignored its own rules to ensure affordable housing for the poor. In fact, it seems to have been diluting the reservation over the years, thus favouring real estate developers.
Mata Kaushalya Scheme
Institutional deliveries in Patiala increase three times in 7 yrs
Patiala, March 10
The Mata Kaushalya Scheme and Janani Suraksha Yojna implemented in Patiala district has enabled the local Health and Family Welfare Department to increase the number of institutional deliveries three times in the past seven years.
Fish that checks dengue
Ludhiana, March 10
The State Health Department will breed Gangusia fish in perennial ponds across the state to check the menace of dengue and malaria.
NGOs bat for renewable energy at Patiala seminar
Patiala, March 10
The NGO "Indian Doctors for Peace and Development" organised a seminar on "Renewable Energy Sources and Sustainable Development" in Patiala on the eve of the nuclear disaster at Fukushima in Japan on March 11, 2011.
Mere 377 policemen deputed to check crime in Ropar
Ropar, March 10
Though 1,211 police personnel are on the rolls of the district police, a mere 377 are available for deployment at the nine police stations and 11 police posts in the district.
Malerkotla residents demand ban on sale of drugs
Sangrur, March 10
Some social organisations today blocked the Malerkotla-Ludhiana main road at Jarg Chowk in Malerkotla in protest against the alleged sale of drugs and intoxicants at medical stores in Malerkotla.
Dera Bassi judicial complex will increase congestion: Residents
Dera Bassi, March 10
The Law Department will construct the local judicial complex near the Tehsil Department. However, lawyers and residents are unhappy with the decision. Lawyers say the complex should be built on at least four acres whereas the Law Department will construct it on two acres.
Consider alternative allotment if site can't be developed, says HC
Chandigarh, March 10
The Punjab and Haryana High Court has ruled that it is imperative for the authorities concerned to consider the desirability of making alternative allotment if they are facing any difficulty in developing an area.