45 hospitals get notice for violating norms
Jalandhar, March 8
Tightening noose around hospitals and nursing homes in this part of the region, the Punjab Pollution Control Board (PPCB) has issued notices to 45 institutions for violating the Bio-Medical Waste (Management and Handling) Rules 1998.



Bajwa to be installed as state Cong chief on March 23
Chandigarh, March 8
Newly appointed Punjab Congress president Partap Singh Bajwa will take over the reins of his office on March 23 at a function which is likely to be attended by senior leaders and dignitaries from Haryana and Himachal Pradesh.
Panel to find ways to mop up additional revenue
Chandigarh, March 8
Concerned over the slow growth in revenue receipts, disabling Punjab against exploiting its Annual Plan outlay to the maximum, the state government has decided to form a sub- committee for additional resource mobilisation.
More shame for Punjab Police on Women's Day
Moga, March 8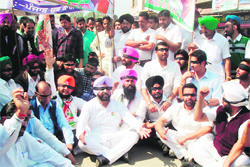 Four days after two policemen were caught on camera beating up a Dalit woman outside a marriage palace in Tarn Taran, another personnel has brought shame on the Punjab Police by allegedly molesting a girl in a bus near Moga.




Youth Congress activists stage a dharna to protest crime against women, in Tarn Taran on Friday. Photo: Vishal Kumar
Assault victim calls Women's Day a farce
Usma (Tarn Taran), March 8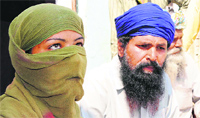 The police assault victim today slammed the government for holding events to mark the International Women's Day "at a time when women are not safe anywhere in the state".



Tarn Taran police assault victim and her father at Usma village on Friday. Photo: Vishal Kumar
No physiotherapist at Sangrur Civil Hospital since Nov
Sangrur, March 8
The Physiotherapy Department of the local Civil Hospital has remained shut since November last year when Pankajpreet Singh, physiotherapist stationed there, was transferred to Fatehgarh Sahib. When the department was functioning, 10 to 20 patients received treatment here daily. But now these patients have to shell out several hundred rupees to get the same treatment from private clinics.
Declared dead, former minister found alive
Pathankot/ Ludhiana, March 8
Call it the hand of God or a gaffe by doctors at a Ludhiana hospital. A former Punjab minister declared 'dead' in the wee hours today started breathing as the vehicle carrying his 'body' reached Mukerian, 25 km from Pathankot. He was rushed to a local hospital by shocked family members.
Village panchayat finds way to keep eunuchs at bay
Patiala, March 8
Harassed by greedy eunuchs during weddings and childbirth, the panchayat of Bosarh Kalan village in Patiala has decided that enough is enough. It has passed a resolution, fixing the remuneration to be paid to them for various occasions.
ASI's family seeks truth behind death
Bundala (Amritsar), March 8
A day after the cremation of Assistant Sub-Inspector Kulbir Singh here, his family members today said they were satisfied with the police action against the culprits. But, they said, they wanted the police to bring out the truth and tell them how he lost his life.


Supreme Court rejects petition against renaming Amritsar's Rajasansi airport

New Delhi, March 8
The Supreme Court today virtually put its seal of approval on the renaming of Amritsar's Rajasansi airport as Sri Guru Ram Dass Jee International Airport by rejecting a PIL challenging the government's notification in this regard. "Changing the name of an airport does not undermine the contribution of any individual to the national cause," a three-member Bench headed by Justice RM Lodha remarked while dismissing the plea by an organisation representing the 'Sansi' community.

Patiala land scam
Court issues 3rd warrant against Garg
Patiala, March 8
A local court in Patiala today issued a third warrant against ex-Deputy Commissioner (DC) Vikas Garg in the case pertaining to the Rs-250 crore Patiala land scam.
Vikas Garg
Similarly placed persons entitled to benefits of court order: HC
Chandigarh, March 8
In a significant judgment, the Punjab and Haryana High Court has asserted that the state government or its agencies are expected grant benefits flowing from a court order to similarly placed persons instead of acting discriminately.


Father- son duo held with weapons in Patiala
Patiala, March 8
The Patiala police today arrested a father-son duo on charges of smuggling weapons from Uttar Pradesh. The police is further investigating the matter to ascertain the role of others in the case. Police recovered seven pistols and 19 live rounds from them.